The McBride program at Bryn Mawr College gives women a chance to go to a school later in life.
By Juliana Reyes
Four women sit around a table and there's a language barrier. Yvette Tucker, a black woman with short braids, manicured nails and silver butterfly earrings speaks broken French. Elisa Landaverde, a young, stylish girl from Mexico speaks Japanese. Georgette Hedberg, 63, speaks a little Polish. Marie Steeb, blond and pretty, speaks German and sounds like a native. They all concentrate when Tucker poses a question.
"Qu'est-ce que tu fais ce soir?" she says. Her French accent is getting there.
The women pause and look around. Then Hedberg breaks the silence.
"I think it sounds like, 'You're ugly.'" The women all burst out laughing.
Though they may seem completely different, these women are intimately connected. They are McBride scholars at Bryn Mawr College.
The McBride program, named after Katharine McBride, the fourth president of Bryn Mawr, began in 1985. It allows women who are beyond traditional college age to study at Bryn Mawr in order to receive their undergraduate degree. Though they range in age from 24 to 77, they are similar to the other Bryn Mawr students in many ways.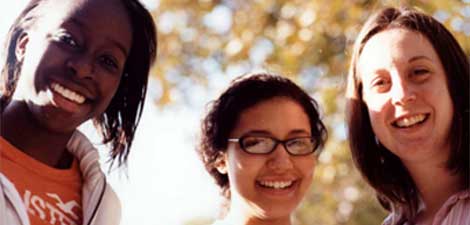 They are expected to fulfill the same requirements, they are eligible for financial aid and they have the opportunity to live on campus if they wish. One main difference is that McBrides do not have to attend Bryn Mawr full time. This is called "self-pace" and it allows them to choose how many classes they take each semester. Because of self-pace, McBrides sometimes stay for longer than the normal four years.
Rona Pietrzak, Associate Dean and Director of the McBride Scholars Program, says that some McBrides leave Bryn Mawr for a couple of years for different reasons, such as family problems, but they almost always come back.
The McBride application process is unique because as Pietrzak says, "We have their whole lives to look at." Pietrzak explains that the application involves three letters of recommendation, four "fairly substantial" autobiographical essays and no SAT scores. McBride Scholar Joanne Bunch calls the application process "the most daunting thing about being a McBride." She says she was going to apply to Smith College as well, but when she saw that Smith required one essay as opposed to Bryn Mawr's four, she thought, "You can fake one essay, but you can't fake four." She thought of it as Bryn Mawr's way of weeding out the weaker candidates.
"You have to be very determined to go to Bryn Mawr in order to write four essays," she says.
Meredith Tuohey, 37, a second year McBride Scholar, had a similar experience.
"I spent three months on my essays because I was so anal about them," she says. "I didn't finish my applications anywhere else because I was so determined to get into Bryn Mawr." Her hard work paid off and she was accepted, but she still feels insecure about being at Bryn Mawr.
"I always thought, 'Why would Bryn Mawr ever want someone like me?'" she says. Tuohey dropped out of high school when she was 15 in order to take care of her family. At that
time, she says she also "totally started rebelling." Before she decided to attend Bryn Mawr, she traveled all over the country following the Grateful Dead.
"Now, I still feel at times, like, 'What am I doing at Bryn Mawr?'" Tuohey says. "But it's an amazing experience."
Bunch, a senior, remembers feeling the same exact way.
"My first class with [Professor] Anne Dalke, when she breezed through the room with her scarf, I looked at her and thought, 'What the f— am I doing here? I need to go back to work.'"
Bunch had a difficult time when she started at Bryn Mawr because it was so different from her old life.
"For a while, I felt disconnected from my friends," she says. While they were going off to Happy Hour and talking about retirement, Bunch was doing homework. Even though it was hard, Bunch says, "Why would I leave? That's crazy."
For most McBride scholars, it's a matter of adjusting and getting used to their new lives at Bryn Mawr. Bonnie Balun, 45, graduated in 2008 and she says there were times in classes, "especially in Statistics," when she had no idea what anyone was saying.
"I had to get used to living in that gray area where you don't know everything," she says. "It was one of the most important things I learned. You might not understand it the first time, but pretty soon, you do if you don't give up."
Though she struggled in Statistics at first, Balun is now looking for a career in psychology as a research assistant, which involves lots of work with statistics.
"The first time I took it, I really was just lost," she says. "I love it now."
Balun has always wanted to go to Bryn Mawr, or at least one of the schools in the Tri-College Consortium, including Haverford and Swarthmore. She sent for catalogs for each of the schools back in 1982, but since she was working in professional musical theater for six years after high school, the time simply wasn't right. After she finished her musical theater career, she met her husband and had children. Since it was important to her to stay at home with her children, she never actually attended Bryn Mawr until 2002, 20 years after she sent for those catalogs.
Tuohey also had childhood dreams of Bryn Mawr. Her father ran a farmer's shop in a town not far from Bryn Mawr, and Tuohey would deliver flowers for him. She remembers being on Bryn Mawr's campus and looking at all the Welsh architecture and the busy, hardworking women.
"I didn't know what they were doing," she says, "but I wanted to be doing it."
After spending some time at Delaware County Community College in Media, Pa. Tuohey came to Bryn Mawr. It was the last time she was going to try to finish college, she says.
"I did not want to work a minimum wage job for the rest of my life," she says. "And I wanted to show my girls that if you don't finish college, you can go back."
College is not easy for a single mother with two daughters, especially not the rigorous academics of Bryn Mawr. Tuohey says that sometimes she would get upset because her professors did not seem to understand that she was different from the traditional students.
"Some professors don't really understand," she says. "It's not that I want to be treated differently because I'm a McBride but I am a single parent with two children."
Tuohey says that she feels that professors here should really be educated in the needs of McBride scholars. Still, Tuohey's daughters are a source of support during her time here at Bryn Mawr. They'll all study together, or her daughters will watch "Go, Diego, Go!" a Nick Jr. cartoon about a Latin American boy traveling through the rainforest, while Tuohey does her Spanish homework. She even brought her 11-year-old daughter to Bryn Mawr's annual end-of-the-year celebration, May Day, last year and they danced around the May Pole – or May Hole, as it's called at Bryn Mawr, since the pole is considered a phallic symbol, together. It isn't always celebrations and dancing though.
"I think my older daughter gets frustrated when I have a lot of work," she says. "You know how it is, when you have a lot of work. You get short with people. I'm just like, 'You just need to go to bed!'"
Balun's children feel the same way. One of the things Balun does not miss about Bryn Mawr is how much time it took away from her family. She says this is the first December in four years that she hasn't had a 25-page research paper to write.
"This year my daughter said, 'I'm so glad you could do the tree with us this year,'" she says.
For McBride scholars, attending Bryn Mawr can sometimes be a strange experience, since they are taking classes with students who are their children's age and learning from professors who are sometimes younger than them. Amanda Root, 28, a McBride scholar who graduated in 2008, says that sometimes she witnessed a stigma when it came to the younger students.
"Some older students had difficulties with younger students," she says. "They'd belittle the younger students' experiences."
Root is quick to say that she does not believe that all older students have that kind of judgment, but in a way, she says, it is nearly justifiable.
"Some are moms, some are 70-years-old," she says. "But it's important to let that critical eye go."
Beverly Burgess, 27, is a medical school student who graduated from Bryn Mawr in 2007. She says she tried to minimize the fact that she was a McBride scholar because she noticed that students sometimes became uncomfortable when they realized she wasn't a traditional student. She says many of her friends were surprised to learn that she was a McBride scholar.
"A lot of people, when they find out that you're a McBride, they become guarded," she says. She credits this to students being afraid that an older student will judge them or think less of them. Burgess saw that some graduate students at Bryn Mawr would look down on the
undergraduate students, and she found that ridiculous. She felt comfortable with the traditional students.
"We could sit and have lunch together or study together," she says. "You don't feel the age difference that much."
Traditional students also feel like they benefited from the McBride presence in their classes.
"It definitely changes dynamics," says Silvena Chan, a Bryn Mawr senior, who has had many classes with McBride scholars. "It adds something to the class because they have different life experiences, a whole different frame of reference."
Bryn Mawr Sociology professor David Karen agrees.
"They are a huge net gain to the classroom," he says. "Often they feel quite confident about their perspectives because they've been developing them longer than the 18-22 year olds in the class."
He also says they seem to be more prepared and more dedicated.
"They are incredibly committed because it requires an unbelievable undertaking to come back to school," he says. "They are the ones who have done the reading not once, but twice."
In turn, it seems like the McBride scholars have been inspired by their professors as well. Many of them want to become teachers.
"Recently it has been put in my heart to teach," Bunch says. "I want to influence at least one person. I want to show them that there are possibilities that they didn't know about before."
Tucker, 43, feels the same way. She would like to English at an inner city high school because "that's where good teachers are needed the most."
"I want to be there to fill some of that space," she says. "If I can just help someone else, I've fulfilled my portion."
The McBrides' dreams echo Pietrzak's hopes for her students.
"My hopes are that this experience at Bryn Mawr will make a significant impact on their lives," she says. "Open new doors. For some, that's graduate school, a new job, a richer life. I want them to expand themselves."
Long after their Bryn Mawr experience is over, McBride graduates say the sense of community always stays.
Burgess was pleased to be interviewed at Bryn Mawr because it gave her a chance to return.
"I've been trying to come back, to ground myself," she says. "It's like home."