Professor Kate Thomas on food & literature
By Clare Mullaney
In Bryn Mawr College's English department, novelist Mary Wollstonecraft Shelley isn't just a great writer, but a vegetarian. 
This is how Kate Thomas, an associate professor of English at Bryn Mawr, describes the 19th century author.  She brought her interest in food studies to the college in 2005 with the creation of a class entitled "Eating Culture:  Britain and Food 1789-1929," which explores the role of food in English literature, specifically highlighting food's effect on power, politics and trade. 
Primarily a Victorianist and a critical and cultural theorist, Thomas found her interest in food studies later in her career after graduating from Cornell University Graduate School in 1996. 
She later returned to Oxford University, where she had studied as an undergraduate, to get her doctorate in English Literature in 2003.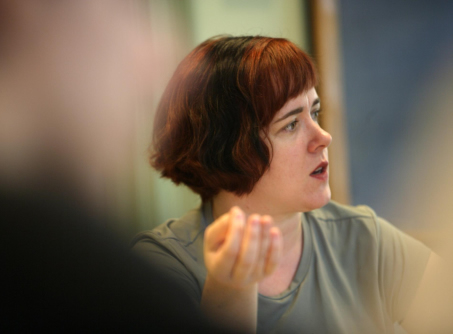 Thomas had been doing reading about how food hadn't received much attention in the academic world and decided to incorporate food into her study of literature. 
Food studies is a relative new academic subject, said Thomas, but it encompasses many different disciplines, ranging anywhere from anthropology, to botany, to history, to English. 
Nonetheless, food studies tend to focus more on the social sciences than on literature, something that Thomas hopes to change through her own studies and teaching.
Eating Culture
Thomas emphasizes the importance of academic study in assessing cultural issues such as food. 
"If we don't have scholarship, we're missing a vital piece of how to culturally work together," she said.
Thomas previously taught at Dartmouth and Oberlin Colleges, but it's at Bryn Mawr, whose faculty she entered in 2004, that she got the chance to explore food studies with her students.
In addition to her "Eating Culture Class," which focuses on topics such the potato famine and the relationship between sugar and the slave trade in slave narratives, Thomas is currently co-pioneering a course entitled "Food Revolutions" with one of her colleagues from Swarthmore College. 
The class, which has an overwhelming enrollment of 75 students, studies the cultural, political, and philosophical role of food from the industrial revolution of the 18th and 19th centuries to the present day. 
What caused a class originally intended for 30 students, to fill Bryn Mawr's biggest lecture hall? 
Thomas attributes students' interest in food studies to a generational shift. 
"People are more aware of environmental concerns than they used to be," she said.  "I think it's clear to anybody that takes in any kind of media that these are the questions that policy makers are addressing right now." 
Maybe the popularity of her "Food Revolutions" course isn't just because of the subject, but Thomas herself.  One of Bryn Mawr's most beloved professors, she always finds a way to make her courses move beyond text.  
In her "Eating Culture" class, Thomas showed her own passion for cooking by making dishes from a 19th century cookbook.  A ginger custard particularly comes to mind, she said. 
Kneading dough
Although Thomas doesn't claim to have a particular specialty in cooking, she does make a lot of breads. 
"I think it's one of these things that people should make time in their day for," she said. 
A couple of weeks ago her "Food Revolutions" course moved outside the classroom and onto a farm in Phoenixville where students got the chance to see the workings of sustainable farming first hand.  
Students walk away from Thomas's classes with a new perception about food.  No longer do they mindlessly consume their meals, but recognize the history behind food and ways in which it's a victim to both time and culture. 
"You learn to examine the food on your plate!"  Thomas said. 
In along with "Food Revolutions," Thomas is currently working on a book, Victorian Fat and Thin, which studies food, culture, and class in the industrialization of the 19th century. 
In 2008, she gave a lecture at Temple University about one of her articles, "Matthew Arnold's Diet," in which she discussed the 18th century poet's use of "tasteful" literary devices while highlighting the connection between cultural and food studies.
She also wrote an essay entitled "Alimentary" which explores the culinary mass market in the 19th century through the relations between two prominent Victorian literary figures. 
Thomas's writings about food aren't purely academic.  She has a blog entitled "Syllabub:  Words on Food," which in addition to analyzing the role of food in different literary works, also discusses her own eating experiences and lists different recipes that she finds enjoyable. 
She does, however, sneak a few academic references in her entries.  Her latest post discusses how the presence of a prune in Virginia Woolf's A Room of One's Own serves as a symbol for the "withering place of women in education."   
Thomas also gets outside the classroom and volunteers at the White Dog Café Foundation's Fair Food Stand in the Reading Terminal Market once a week.   The farm stand carries produce, meats, and dairy, from sustainable and organic farms throughout southeast Pennsylvania. 
Cleary food, an important aspect of both her personal and professional life, is one of Thomas' greatest passions.
"Food is such an unexamined aspect of culture, and so foundational to who we are," she said.