Haverford College carries on the collegiate cricket tradition
By Jordan Schilit
Philadelphia is the capital for cricket in the United States. And Haverford College is the home of that tradition.
"Cricket is included in every bit of admissions literature," said junior cricketer James Merriam. "It's one of Haverford's most unique traditions."
The school is cricket's American headquarters. The C. Christopher Morris Cricket Library, located in Magill Library, is the largest collection of cricket literature and memorabilia in the Western Hemisphere.
Haverford has maintained Cope Field's picturesque home pitch for over 170 years. The "pitch" is a clay strip with wickets on the ends, located on a massive field of grass.
Cope Field is named after Henry Cope, who graduated from Haverford in 1869. He was one of the earliest varsity players for the school.
William Carvill, the landscaper for Haverford College, introduced the game to the school originally. Thirty years later, the first intercollegiate cricket match, between Haverford and the University of Pennsylvania, was played in 1864.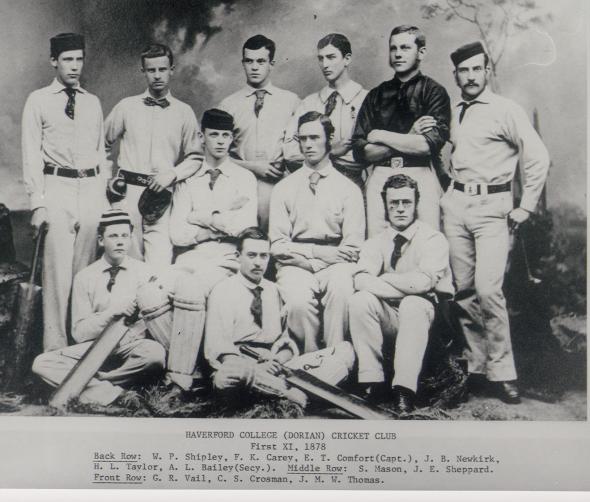 Haverford's defeat over the University of Pennsylvania in 1864 started the third-oldest rivalry in intercollegiate sports, only behind Williams/Amherst baseball and Princeton/Rutgers soccer. That Haverford squad was the first cricket club made up entirely of American-born youth.
Cricket was a distinctive element in the social life of the Philadelphia area in the 19th century, since crowds of up to 20,000 would attend matches played at Haverford. At the time, attendance and media coverage were on par with baseball games.
Almost every student of that era played some form of cricket at Haverford. Most players were Americans who first learned how to play cricket at Haverford, although players with international cricket backgrounds slowly assimilated. Cricketer Osmond Pitter '26, for example, was the first Haverford student with African descent.
New coach, new players
But with the arrival of current Head Coach Kamran Khan in 1974, tradition changed significantly. While there was a big American population participating in the sport, students from former British Commonwealth countries began to arrive. They were experienced and talented cricketers from India, Pakistan, Sri Lanka and Bangladesh. Today, cricketers with international playing experience still choose to play for Haverford College.
Khan, a former Pakistani national team member, played as the captain of the United States' national team from 1980-1992. Khan helped guide the Haverford cricket team to several successful international tours to England, Scotland, and Canada in the early '90s, and an undefeated tour of England in 1996.
"We haven't been able to go on tour out of the country during my cricket career thus far," Merriam said. "Trips for the cricket team in general have been less common due to several students choosing to study abroad during their time at Haverford."
Although the NCAA doesn't include cricket in its list of sports, Haverford remains as the only varsity cricket squad in the United States. Cricket at Haverford is treated like any other varsity sport, whereas cricket at other colleges or universities is essentially "organized pick-up" matches. Those teams may practice, but do not always have coaches.
Nonetheless, Haverford doesn't have trouble finding cricket opponents. There are many clubs in the Philadelphia area and more colleges around the country are adopting the sport every year. There are officially over 60 college clubs and over 80 cricket leagues in the United States.
An annual fall match with Haverford College and the College of Wooster in Ohio was initiated in 1996, and the teams will exchange visits during alternating years. Haverford plays in a Philadelphia intercollegiate league with the University of Pennsylvania, the University of Delaware, Drexel University, Villanova University, and Temple University. Haverford hosts almost all of their matches.
Fall & Spring seasons
"It's a very short, but intense season," Merriam said. "The matches last anywhere between three to six hours each."
Haverford cricketers compete in two seasons. One is during the beginning of the fall semester, and the other is during the end of the spring semester.
The Haverford cricket season typically consists of five consecutive weeks of matches. Two matches are played during each of those weekends. There is an Alumni match at the end of each season too. The matches start at 12:00 p.m.
"We do have cricket recruits and cricket prospective students from time to time," Merriam said. "But ironically, some of the best players end up being the ones who start their careers at Haverford."
The current Haverford squad consists of 15 players. Eleven of them make up the starting lineup, which is commonly referred to as the XI in cricket terms. "We have some international students who have cricket experience, but we also have people who have never played before," Merriam said.
Cricket at Haverford College is among the school's greatest traditions. White-clad cricketers playing on Cope Field finished a strong Fall 2009 campaign against neighboring Philadelphia schools, only losing to Temple University. The school's tradition will continue in the Spring of 2010 and for many years to come.