Haverford College now has 7 – count 'em – 7 a cappella groups
By Mara Miller
Haverford College likes to pat itself on the back for things like its varsity cricket team (the only one in America) and the witty and attention-grabbing 13-mph speed-limit signs on campus.
 Another of the small college's claims to fame is its national record for the number of a cappella singing groups per student capita.
For years, there have been five well-established groups at Haverford: two male, two female, and one coed. Add to that a handful of groups made up of students from Haverford as well as Bryn Mawr and even Swarthmore and, well, if you want to sing you've got a lot of options.
But in the last two years, that smorgasboard has grown even larger with the addition of two more a cappella groups to the Haverford and Bryn Mawr consortium: Counterpoint, whose name itself sounds like a challenge to the status quo, and the Mainliners, whose name refers either to the college's ritzy environs or to a method of heroin injection, whichever you prefer.
At first, Haverford didn't take so well to these new groups. A cappella is the stuff of tradition, and being accepted by the S-Chords or the Humtones, the two revered all-male groups, is like getting into the coolest frat. You can't just build a new frat. Or can you?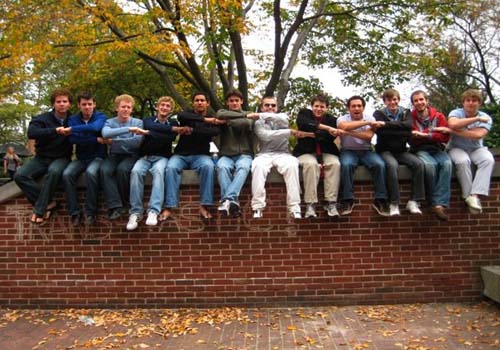 Counterpoint was founded in 2007 by two Bryn Mawr students disgruntled with their former troupe, the Night Owls. Counterpoint started out as coed, but is now all women, though its members attend both Bryn Mawr and Haverford. Of the original male contingent, one left to focus on academics, one graduated, and one got into the S-Chords, "which he'd dreamt about since birth," said now-senior Ryan Mulligan, the last man standing. When Counterpoint made the all-female switch, Mulligan hung around to help with administrative work.
He said that Counterpoint has always struggled for recognition, battling the assumption that people only start new groups because they can't get into the "real" ones.
"We want to be seen as a legitimate and viable group," he said.
College funding has been a source of conflict. This year, instead of divying up money among the groups as is usually done, Student Council allocated a pool of funds for a cappella in general and told the groups to divide it among themselves.
Fight for funding
"Other groups think that their auditioning process creates a meritocracy," said Mulligan. "Earlier this semester we had a hard fight for funding."
Fiona Shaw, now a senior at Haverford, started the Mainliners because she wanted a coed group with a more mainstream repertoire than the Looney Tunes, Haverford's other coed option. She agreed that recognition didn't come easily. "This year it's gotten to the point where it's clear we're here to stay," she said. "That definitely wasn't the case in the past."
Mulligan said that it's a frustrating system, but there are bright spots. "We seem to exceed people's very low expectations," he said.
Senior Nick Lotito is president of the Humtones, Haverford's oldest and arguably most exclusive group. He is honest about the hierarchy: "In the a cappella world, the older groups are generally the better ones."
"It's great for everyone on campus who enjoys singing to be able to join a group and have fun with it," he said. "The problem is that when new groups form, they want to be treated as equals with the existing groups."
That, he said, takes resources away from those who deserve it. He compared it to college sports, explaining that intramural athletics are a positive thing but if they all
start demanding varsity status, the school has a problem. If people really want to sing, he said, they can take that desire elsewhere, "like Chorale, for example."
Awkapella rules, man
Junior Patrick Lozada, a member of the fledgling Mainliners, may have found a way, however fleeting, around all this drama. Over the summer, he and seven musically-inclined friends living on campus threw together a pickup a cappella group. They dubbed it Awkapella (as in awkward, a trademark Haverford trait) and enjoyed singing whenever, wherever, to whomever they wanted. They got rave reviews, regardless of vocal prowess or lack thereof, for their caution-to-the-wind approach to a longstanding Haverford custom.
Once, they turned up uninvited at a student's summer farewell party-they sprinted in, set down a bottle of vodka they had in tow, arranged themselves in a line, and treated the confused but amused guests to a short concert.
"I believe one of the songs had a stripping scene," said Lozada.
Another evening, Awkapella ambushed college president Steve Emerson.
"One time we just showed up at the president's house, and sang for him and his wife," said Lozada. "He joined in a little. It was so much more laid back than school-year a cappella."
Since Awkapella asked for no money, or even respect, really, it was clear they weren't out to dethrone any ancient a cappella gods. They were just having fun doing what they like to do-singing, with none of that elusive "legitimacy" on the line.
"A cappella is a way to take art into your own hands," said Lozada. "That's part of why it's so popular here. And you know, that should really happen more at Haverford."
See a performance by the S-Chords, circa 2008: