More and more Bryn Mawr students are coming from overseas
By Amanda Kennedy
To enter Madhavika Bajoria's room in the Rhoads North dorm at Bryn Mawr College, one must first walk through elephants-and parrots and fish, too.
These vibrant mobiles from her native country of India hang from the ceiling, a combination of jangling beads and embroidered animals in bright pinks, yellows and blues flecked with gold yarn. Bajoria, 20, a sophomore, got them last year at home in Calcutta over winter break to brighten her room during a bleak winter.
"I really need color," she said.
Bajoria is used to "pleasant" winters in India that feel more like fall, she said. She especially misses home when the rain falls in Bryn Mawr because the showers remind her of the monsoons in India.
Bajoria has had to adjust to many other aspects of life at an American college: classes held in English, American food at the dining halls and being thousands of miles away from family, to name a few. But the lure of studying at a liberal arts college in the United States, where young women gain insight on independence and intellect, helped her to hop on a plane and never look back.
Bajoria is one of a growing faction of international students who choose to study at Bryn Mawr each year. In fact, the number of international students attending Bryn Mawr during the 2010-11 school year is the largest in history, with 18.9 percent of the student body from 62 countries represented, up from 17.4 percent last year.
Bryn Mawr is part of a national rise in bringing more international students to college campuses-the Chronicle of Higher Education reported in July that foreign enrollment increased by 2 percent in American colleges and universities to 586,000 students for fall 2009.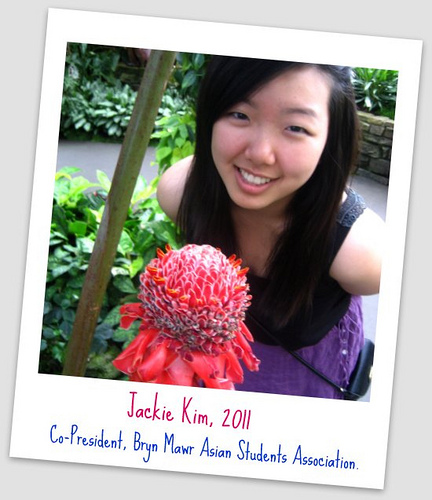 Each year the freshman class at Bryn Mawr includes more international students. While class size has remained the same-around 370 students-the percentage has risen, from 20 percent international for the Class of 2012 to 21 percent international for the Class of 2013, "the most international yet," Bryn Mawr President Jane McAuliffe proclaimed in 2009 at convocation. The Class of 2014, however, trumped all previous years with 27 percent of entering freshmen coming from overseas.
The sudden increase in enrollment in the past two to three years is thanks to Bryn Mawr's ability to provide financial aid to international students, as well as the development of the global economy, said Jenny Rickard, Chief Enrollment and Communications Officer.
The world is flat
"That I would attribute to the world is flat," she said. "With the economy changing, now more students of those who don't need financial aid or those who aren't needing as much financial aid as before [can come to Bryn Mawr] just because of the economies in other countries have grown. It's a situation we hadn't seen before."
Because of the large influx of international students in such a short period of time, Growth and Structure of Cities professor Gary McDonogh and other faculty members on the Diversity Council would like to gain more knowledge about the make-up of the student body.
"What I think has struck some of us is, that this is a serious change that demands some discussion," he said. "It's not to say that incoming students have caused problems. It's more significant that it is a conscious shift."
The Diversity Council is considering hiring people to work with the deans' office to run focus groups and compile questionnaires for the student body to complete. Responses of international students would be compared to responses of domestic students to gauge how international students are fairing with the rest of the student body.
Many of the international students at Bryn Mawr come from the "BRIC" countries-Brazil, Russia, India and China-whose economies have especially developed and become more global, Rickard said.
Rise in Chinese student
The number of Chinese students on Bryn Mawr's campus has soared over the past four years, college data reported. In 2006, 12 students hailed from China. By 2010, it increased nearly seven times to total 67 students. China has held the top spot in foreign countries represented for the past two years.
Elisa Yang, 19, loves the intimate community she has found at Bryn Mawr. She and two of her other classmates at her boarding school in Chengdu, China were accepted to Bryn Mawr's Class of 2014, and another friend from school, who told her a lot about Bryn Mawr, is a sophomore.
Yang recently experienced her 19th birthday at Bryn Mawr-a joyous celebration of new friendship. "I almost cried," she said.
As Yang studied in the library, a friend came to tell her to come back to the quad she shares with three other girls-two of whom are also international students-in the Pembroke West dorm. Confused, she followed her friend back, only to find a group of friends awaiting her arrival to sing "Happy Birthday."
"I feel myself adjust to my life in America because people here are so nice," she said.
The adjustment to classes in English has been more of a challenge. One of Yang's friends from boarding school is also in her Introduction to Psychology class, where they usually sit next to each other. "The teacher went so quickly, and all we did is look at each other," she said, laughing. "We didn't understand anything at all…we were so depressed."
Yang is no academic lightweight, though. She is taking five courses this semester and credits her Chinese boarding school for her habit of being hard-working.
Bryn Mawr has given Yang the opportunity to try new things socially, culturally, and academically, experiences she said she would not have had if she had studied in China.
"Chinese education doesn't really give me the chance to explore," she said.
All of the students interviewed professed their interest in studying in the United States because of the liberal arts aspect.
"It's quite unique," said Bajoria, who wanted to study in the United States solely because of the liberal arts. Coming to Bryn Mawr from an all-girls high school in India, she was amazed by the diversity of the college.
"It's huge for me because I come from a place where there's no diversity," Bajoria said. "I've been pretty sheltered. I have friends [here] who think Bryn Mawr isn't as diverse as their high school…for me it's like insane. I've never met so many different people from so many walks of life."
Bajoria said she feels "more Indian" at Bryn Mawr than back home in India: "In terms of my sense of self, I've definitely become stronger, by that I mean my roots, where I come from, my culture, so it's definitely I'm more aware of it here in a very good way."