Food trucks are using social media to make new customers
By Stephanie Trott
With effortless ease, Tom McCusker, owner of Honest Tom's Taco Truck, ladles some hand-chopped salsa on top of his two beautifully made tacos, hands them to an eager customer, and whips out his phone to post a message on Twitter: he had just run out of sweet potatoes. He had just served the last sweet potato tacos.
McCusker is part of a new wave of food vendors, ones who are using the Internet as a means of free advertising and to gain a steady following among Philadelphians. Popular social networking websites such as Facebook and Twitter allow entrepreneurs to set up a free website containing information, pictures, events, and specials.
According to Facebook's online statistics, the website has over 500-million active users, spending approximately 700-billion minutes on the website per month. As of April 2010, Twitter reported to the Huffington Post that it had 180 million visitors in the website every month and 37% of those users update their pages through use of their cell phone.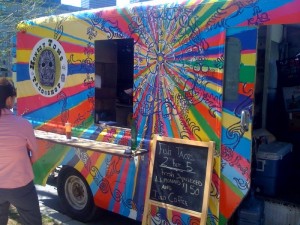 Though word-of-mouth initially helped McCusker get the wheels of Honest Tom's Taco Truck rolling back in the summer of 2009, it was his decision to bring his business to the Internet that brought in a more steady stream of customers.
1,000 followers
"I wasn't familiar with Twitter when I started," said McCusker in a recent interview in his lunch truck, located in University City at 33rd and Arch Streets.
He cited his brother's roommate as getting him interested in Facebook and Twitter, both of which he now regularly updates. His Facebook page, which boasts over 1,000 followers, also contains the same                                         Honest Tom's Taco Truck
updates as his Twitter page. Using both of these websites has allowed McCusker to gain stand out among the sea of vendors in University City, and has also improved his business.
"There was definitely an increase once we got onto the Internet," he said, referring to the amount of patrons visiting his truck.
The beauty of Twitter, noted McCusker, is that the updates are short and simple. "I don't write too much," he said, "just my location and any specials."
Stationed outside of his alma mater, Drexel University, for the remainder of the winter, McCusker described how he used to travel all over Philadelphia without letting his customers know of his whereabouts. "I wouldn't advertise, and people wouldn't show."
He plans to stay in University City for the remainder of the winter, then will move back to Center City once Spring arrives. "If we survive the cold," he chuckled.
While McCusker now updates Honest Tom's Twitter on a daily basis, figuring out the correct frequency for updates was tricky.
I used to update at 5 a.m. and not check it again until after 7 p.m.," he said of his first few "tweets," the term used for messages relayed through Twitter. In that time, customers would respond with questions or comments, left unseen until McCusker finished his 15-hour workday.
Free advertising
The best part about using social networking methods such as Facebook and Twitter is the free advertising, a point stressed by both Honest Tom's and the Sugar Philly Truck, another vendor located just a few blocksnorth on the campus of the University of Pennsylvania.
Like Honest Tom's, the Sugar Philly Truck also uses Twitter and Facebook to attract new customers and maintain a business relationship with steady patrons.
"We have an oven in the truck that we often bake in," said Dan Tang, the Truck's head chef. "We can send out a tweet that we're baking and will be ready to sell in 20 minutes."
One customer who approached the truck in search of some French macaroons, the truck's signature treat, presented Tang with a Groupon, another online development utilized by the Sugar Philly Truck. Tang explained that Groupon, a marketing company, releases one coupon per day via email for a specific market. If a predetermined number of people sign up via e-mail for the coupon and intend to use it, it becomes available to the public.
Tang remembered using Facebook as a student at Temple, though it was his business partners, Franklin Shen and John Suh, who embraced social networking and decided to infuse it into their business.
Tang described an instance last year when Food Network Canada wanted to showcase the Sugar Philly Truck on one of their television shows. The crew was to arrive and film on a Sunday, despite the fact that the truck wasn't open on the weekends and would most likely not be able to generate its normal crowd.
Suh, who maintains the Sugar Philly Truck's social media efforts, created an event page on Facebook for the filming. Within ten minutes, over 500 people had been invited to the filming.
Both Honest Tom's and the Sugar Philly Truck have long-term goals involving expansion, both of which depend upon the increase of customers they are able to generate in the future. "I'd eventually like to get a second truck," said McCusker, "though I just got the hang of this one."
As for the Sugar Philly Truck, Tang said that the goal is to one day branch off into catering. The truck advertises personal catering events, where Philadelphians can have vanilla crème brulée and crème fraiche cheesecake by the dozen.
These are just two examples of how the Internet has woven its way into our daily lives, increasing knowledge and appreciation for our communities, events — and even sweet potato tacos.
"No matter what," said Tang as he frosted some macaroons, "we'll always have Facebook."