Bryn Mawr students describe themselves as hardworking,  smart — and a little strange

By Amanda Kennedy

Bryn Mawr College students are like diamonds. They have many facets.
Each student stands out in different ways, but many share qualities that define the student body at the women's school on the Main Line in suburban Philadelphia.
Sophomore Kendra Kelly has noticed a radiance about her peers, a "certain something" that brings everyone together.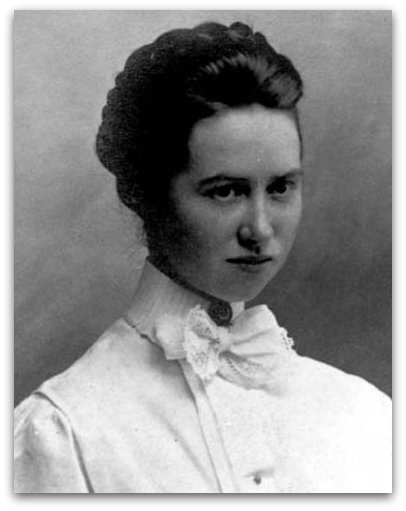 "It's hard to put my finger on exactly what it is, and I definitely noticed it," she said. "And I think for me that's why it's been so easy…to make friends here because there's so many people that have a certain something that makes it really easy to click with them, even if we have completely different interests…"
To get a better picture of how Bryn Mawr students characterize themselves, the English House Gazette composed an online survey that listed various attributes that Bryn Mawr students could pick from to best define their student body. About one-third of the student body-412 out of 1,293 students-replied.
The survey was devised by conducting a series of campus interviews with students, asking them to name the one- or two-word attributes than best defined Bryn Mawr students. The top responses were then put into survey form and sent to the student body in November. The 10 attributes they were asked to consider were: approachable, awkward, eccentric, hardworking, outspoken, partyer, shy, smart, snobby and strange.
The results give telling insights into the essence of Bryn Mawr students, about how they see themselves collectively. The top five attributes students chose to describe themselves were hardworking (chosen by 91 percent of respondents), smart (87 percent), eccentric (67percent),  outspoken (60 percent) and approachable (also 60%).  See chart below for a complete listing.
At the other end of the scale, only 9 percent of the students described themselves as 'partyers'; 15 percent said snobby and 25 percent picked shy.
Loveable but Strange
On her way to dinner at Haffner Dining Hall on a recent December evening, Kelly found a wand.
It was really just a stick lying in the middle of the road, but Kelly immediately picked it up, thinking it was the "perfect" size for a wand, much like the ones used in the Harry Potter series. Excited about Bryn Mawr's upcoming Hogwarts School of Witchcraft and Wizardry End of Term Feast on December 9, she took her newfound treasure back to her dorm room and began shaving off the outer layer of bark to transform it into her wand.
Her roommate, sophomore Sarah Henkind, was inspired by Kelly's "wand" and found one of her own. The pair "played Harry Potter" in the hallway of the Rhoads South dorm, Kelly said, and had a duel, shouting spells at each other and pointing their wands at each other with flicks of the wrists. Kelly recalled Henkind yelling "Expelliarmus!" a spell from author J.K. Rowling's series, which is meant to disarm one's opponent. A mint shot out of Kelly's mouth. It was, she said, "hilarious."
Kelly sees this same eccentricity and whimsy in many of her Bryn Mawr peers. And her peers agree: 67 percent described themselves as eccentric; 41 percent picked "strange" at a telling attribute.
"I think we're highly playful and highly imaginative and a lot of Bryn Mawr students are willing to break that kind of boundary that is kind of set up at a certain age where you have to stop playing make believe," she said, "and I think a lot of Bryn Mawr students really enjoy using their imagination…sometimes that can be seen as strange and weird but I think that is also what makes us such a diverse campus…strange, weird and loveable, I guess."
Sophomore Kersti Francis also acknowledged the eccentric nature of the Bryn Mawr community. "We're honest with ourselves here," she said. She saw the unique campus traditions as something that brings out the quirky side of students. "To an outsider [we're] weird. We sing in Greek. We streak. We have lanterns. We have that Hell Week thing. We are completely at liberty to be who we are without censorship."

Working Hard
On the survey students were asked: "If you had to choose, which one of these attributes most strongly characterizes Bryn Mawr student." The winner, hands down, was hardworking. Nearly 39 percent of students chose the word. (Smart ranked a distant second at 19 percent.)
Junior Dakota Garrity has noticed a peer pressure of sorts to work hard at Bryn Mawr. "I go to [friends'] rooms in the evening, and they always have their work out and they're studying," she said. "When you see other people studying you want to study, too. Because a lot of people work hard, you want to work hard, too."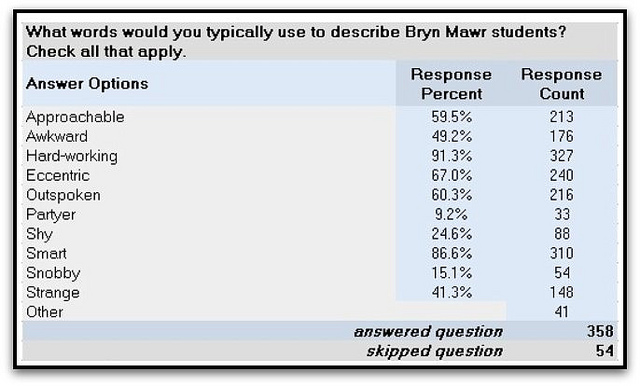 Sophomore Alisha Park is also thankful to be a part of a hardworking college community.
"One concrete thing I was certain about was spending time studying and trying to learn new things," she said, "and academic commitment was something I wouldn't be judged about and something my other friends understood."
As a tour guide, junior Elizabeth Held always gets asked the question of attributing one characteristic to the Bryn Mawr student body as a whole. Her answer? Passionate.
"All Bryn Mawr students are different, but at the end of the day, they're all passionate about something. We all have this drive within us."
She mentioned friends who ran a capella groups and another friend in particular who has worked in the same science lab since the summer after her freshman year as students who have put so much work into their activities.
Two students also wrote the word "passionate" to describe their peers in the comment box on the survey. (The survey encouraged students to add comments to their answers or to supply other characterizing words. The responses were confidential. The names of the respondents were not known.
"Your passion doesn't have to be your major," said junior Reetu Bajij. "Finding that outlet is really amazing."
Bajij's freshman year roommate had her heart set on becoming a chemistry major, a fact that made Bajij a little envious. She did not know what she wanted to do for a major. Yet she was discovering more about herself thanks to the guidance of extra-curricular activities that impassioned her-she is now the president of South Asian Women.
"Passion correlates with enthusiastic because Bryn Mawr students get excited about things that we do even though we hate it."
She cited homework as an example.
"I never imagined I would stick in the library at 3 a.m. with my friends and wake up three hours later and continue working," she said.
Another tour guide, sophomore Lakshmi Somasundaram often gets asked on tours why campus is always so quiet. She explains that Bryn Mawr students are hard at work in their rooms studying most of the time." During the weekends, it's really obvious," she said.
Brain Power
Bryn Mawr students also recognize their brain power in the classroom. In the survey, 87 percent described their fellow students as smart.
Francis is currently taking a Methods of Literary Study class. "I'm continually blown away by people's analysis," she said. When she formulates certain thoughts in class, she often finds that her classmates build upon that and take them to an entirely new level. "That's awesome theory."
Francis competes on the college debate team, which, she said, has a "big focus on the intellectual component."
To others, being "smart" might not necessarily be a good thing. Growing up in an urban Boston community, Park found there was a "big divide between students who did want to learn and had motivation to learn and students that didn't," she said, especially in elementary school.
"It was very demeaning for me to be labeled smart," she said. "[Classmates would say] 'Alisha's a know-it-all. She's so smart'…I feel like there's more cynicism behind it than laud and praise."
She preferred the word "knowledgeable" to describe herself and her Bryn Mawr peers.
Speaking Their Minds
According to the survey, Bryn Mawr students aren't afraid to speak up. Sixty percent of those who took the survey said Bryn Mawr students were outspoken.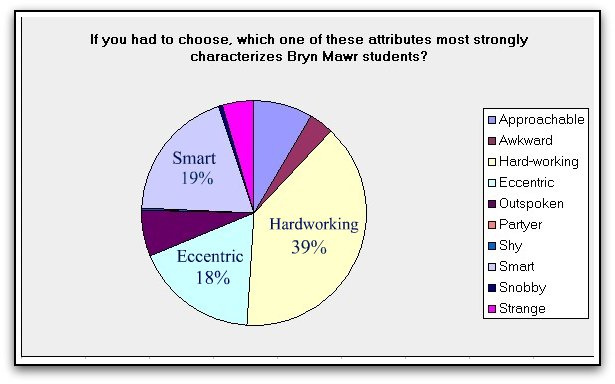 Freshman Amanda Beardall thought the word "outspoken" carried both positive and negative connotations. She valued student voice in the Bi-College News and the College News, Bryn Mawr's feminist newspaper, and the political push from the Bryn Mawr Democrats to bring President Bill Clinton to campus before the November midterm elections.
On the other hand, Beardall said there were certain people on her hall who are very vocal and forward about their beliefs, who are "very passionate in their opinion," she said.
Such sharp-tongued students can be like pit bulls let loose on Merion Green. Senior Aigne Goldsby thought outspokenness in some Bryn Mawr students has at times developed into something much more ferocious.
"[They] can come across…forceful a little bit in their ideas," she said. "When people have issues or there is a certain type of way, they expect other people to be understanding of the way they are."
Goldsby said that this is a big turn off.
"I myself have felt isolated from what people say," said Goldsby, who saw aggressiveness in the way some of her peers portrayed their personal opinions and issues they cared about.
No One is the Same
Senior Kimberley Tuthill was careful not to make generalizations about attributes of the Bryn Mawr student body. A psychology major, Tuthill looked to a psychology study she learned about to support her claim. This study found no correlation between IQs and SAT scores. Students applying to college generally had SAT scores on the higher end of the score spectrum, but those who weren't going to college and didn't take the SAT had scores that ranged across the spectrum.
She said it was hard to make generalizations about Bryn Mawr students when she hasn't had any other student bodies to compare them to.
"If we're only looking here at qualities of people, then you might think that we're different individually," she said, "but compared to everyone, we might be pretty similar, so it's kind of hard to make generalizations of how Bryn Mawr students are compared to people at other schools or who aren't at college."
Some students who took the survey agreed. They commented on the generalizations they would make by summing up the student body in only a few words. One student said she liked the "diverse personalities" of her peers. Another student noted the breadth of student personalities and that it is "easy to choose all of the above options."
Embrace the Differences
That said, the top four attributes of the survey-hardworking, smart, eccentric and outspoken-come together in many Bryn Mawr students, along with other qualities, to give a special character to the student body.
Beardall sees the "very open and supportive environment" of the campus as a reason why so many qualities can thrive.
A native of Portland, Ore., which Beardall called "the whitest city," she found the diversity of Bryn Mawr to be a breath of fresh air. She attended Q-Forum in the fall, which sets up a space for students to talk about sexuality on campus. Beardall asked a student who identified as a man rather than a woman why he chose to go to Bryn Mawr, a women's college.
"[He] knew the people here would be really accepting," she said.
The accepting nature of Bryn Mawr students has made Beardall and others interviewed grateful to be a part of the community.
"I've learned a lot from the people I've lived with about kindness and loving," Kelly said. "I don't know if that's unique to Bryn Mawr, but I haven't found it to such an [extent elsewhere]. There's a really large number of people who are very self-aware and confident in themselves enough to reach out to others, which I find really beautiful, and I've learned a lot from them. How can you not be positively affected by that?"
Survey Design: Students in Art264W at Bryn Mawr College
Software used: Survey Monkey. www.surveymonkey.com
Response Rate: 31.8% of the undergraduate student body responded
Photo: Marianne Moore, Bryn Mawr Class of 1909,
courtesy Lower Merion Historical Society