Ellen Polsky's job is to help immigrants learn English. It's a her life's work and she loves it.
By Saira Kitagawa
     Ellen Polsky's office in Central Philadelphia was a mess. There were papers, books and files everywhere. Her business cards were all over the floor and posters were half hanging off the walls. Her desk was also a mess except that a photo of her daughters, Samantha and Lia, who strongly resemble their mother, was somehow visible between the piled up papers and files.  Behind her seat, there was a calendar, but number of days was completely hidden underneath the crazy scribbles of schedules.
     "It's ridiculous, it's ridiculous!" Polsky said as she swung her head to keep her grey-brown shoulder length hair out of her face and took a bite of her cold hoagie with tomato, cheese and lettuce from Wawa.
     Polsky is the Director of Education in National Service Center for Immigrants and Refugees. Since she lost her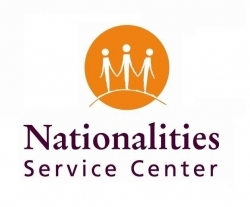 assistant recently and NSC is looking for a new Executive Director, schedules had been pretty hectic for her.
     She explained this was one of the reasons why the new ESL program for Muslim women at Al-Rashadeen Mosque in Northeast Philadelphia had been on hold for the last month. The last class was held after the Ramadan in September. Polsky had found two women to teach at the mosque, but because of a lack of staff and funding, she was not able to get back onto the program.
    She hoped that NSC could reopen the class before December when everything is more settled. She explained this all in a rush as she finished eating her hoagie, rolled the Wawa wrappers in a ball and threw it in the rubbish bin 3 meters away from her. She missed.
     Polsky, 56 was wearing a white-and-black shirt with flowers and neat black pants. She recalled that she used to look similar to the young Patty Hearst. When she was 20 and near the Ecuador border, she was captured by the local police who thought that she was Hearst who had been kidnapped by terrorists. Since she did not have an ID card or a passport, she had trouble explaining that she was not the kidnap victim.  She laughed and her brown eyes twinkled behind her grey glasses as she told the story.
     "I love my job, Polsky said. "I always come in with a smile and leave with a smile.  I may be tired but I will be happy."
     At the NSC, Polsky is in charge of the English as the Second Language program for new immigrants and refugees. Although the non-profit world is tough with less money and long work hours, she has always enjoyed creating the "comfortable environment".
     "It's challenging in a really fun way," she said.  "I always try to tell the students that you might think you are learning much from me because I speak English but I am also learning a lot from you because you have many things to share. I will always continue learning."
      Since many refugees and immigrants had gone through the trauma of running across the border, abandoning their families, Polsky always remind herself to be sensitive over words and cultural matters, including the importance of "respect each other." 
     Having to teach English to the new students is hard because of the materials and readings. Works that involve cultural regions and gender done in class must be chosen very carefully so that it will not offend a student's culture. At the same time, ESL allows students to learn basic American culture, such as learning how to write checks, basic mathematics with dollars and how to achieve citizenship, all survival tools needed in this country. In addition, every year in March and April, Polsky offers a conference on cultural awareness, where discussions and panels are held.
     Polsky got her bachelor's degree in Spanish at Temple University but she started at University of Colorado. When a professor at University Colorado from Colombia said that she should go to his country and teach English there, that is exactly what the active young Polsky did.  Since the Latin American Department's Studies Program at Temple University was going to Columbia that year, she went with them to do her job interview.
     "It was $215. I remember it. $215. It included a round trip, 10 days of hotel and two meals per day." It was 1976 and she was 19. She got her job as an English teacher in Cali and worked there for four years. In these four years, she was arrested by the Columbia government for working with a tourist visa, got threatened by her nasty American government boss at her school who did not like her and finally, she got caught for looking like Patty Hearst. Many things happened but overall, her life in Columbia was an experience which helped her interest grow in the current work field.
     After she worked at Temple University  for two years, she decided to go to University of Colorado for her master's degree. She taught ESL both in the linguistic department in Colorado and intensive English program on Temple. She started getting bored with the university so she became a community service coordinator. So she trained volunteers and opened an ESL class for prisoners in Boulder who did not speak English. "It was my favorite job, I loved that job," said Polsky." I loved that job!"
     The reason that was her favorite job was because the prisoners were the most grateful students she had ever had in her life.
      "We were the one good thing in the day. Everyone was treating them bad in the day and we were coming, smiling and teaching. They were so happy to be in class so that made me realize I wanted to teach a community."
     When she came back to her hometown, Philadelphia, she saw the opening post for her current job. 
      "We love our community so much. It makes me feel good to give opportunity to education ad see people our making progress, its makes me keep going," she said.