Beer consumption is declining on college campuses
By Ryan Gooding       
In many ways, Dan Hopkins, 21, fits neatly into the stereotypical vision of a college-aged male: tall, slender, sandy blonde hair, a snappy sweater to go over his slim-fit khakis.  But in one regard, Hopkins breaks with the mold: he's not a fan of beer.
"Beer is nasty," said the senior at Haverford College on Sunday afternoon in his on-campus apartment.  "I think it's just an acquired taste that I've yet to acquire."
In the early 1990s, Hopkins would have been something of a standout.  According to data collected by Gallup's Consumption Habits poll between the years of 1992 and 1994, nearly 71% of 18-29 year olds preferred beer over wine and liquor.
Today, however, Hopkins is far from alone. By 2014, the same annual survey found that preference for beer amongst young people plummeted 30 percentage points, making beer less popular than wine and spirits amongst young people for the first time since Gallup began collecting alcoholic preference data in 1992.
At Haverford, the story is no different.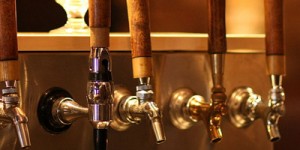 Though no internal data exists demonstrating a reciprocal decline in the popularity of beer at the elite liberal arts college, talking with Hopkins, his peers, and campus administrators quickly reveals that, for a variety of reasons, the trend is alive and well locally.
Quality Over Quantity?
"It's easier to lose interest in beer when you're only exposed to the s—– stuff," says Hopkins, as he prepares his late-morning Sunday breakfast. "Especially if you're younger at
Haverford, most of the beer that you're exposed to is of a very low quality.  That's going to effect how you think about wanting beer."
Parties at Haverford exhibit no shortage of beer.  The problem is not supply, says Hopkins, it's quality.
High-quality, craft beers – despite an wealth of local and affordable craft breweries – are far from abundant on Haverford's social scene.  Instead low-cost alternatives such as Natural Light, Natural Ice, Pabst Blue Ribbon, and the like are vastly over-represented.
"I think that most people's experience with alcohol at Haverford has at least something to do with Natty Light," Hopkins explains, referring to Natural Light, one of the cheapest and therefore most readily available beers at Haverford parties.
"Natty Light is like dirty water," Hopkins continued.  "If I only had natty light for my entire college career, I would hate beer too."
"In fact," he checks himself, smiling as he does, "that's kind of why I do."
Though, to pin beer's waning popularity at Haverford solely on a shortage of high quality beer would be misguided.  Quality is merely one piece of a larger, more troubling puzzle.
The Demise of the Casual Beer
"I get the impression that people don't seem to just drink casually anymore," said Haverford senior Jonathan Ngyuen during a lunch interview on Monday afternoon.  "I think there's a lesser inclination for people to just grab a beer and watch a baseball game or something."
"Yeah," interjected fellow senior Andrew Shook, "it's headed much more in the direction of binge culture."
Binge culture is by no means a new phenomenon.  The national binge-drinking rate amongst college students has hovered consistently around 40% for nearly two decades, and studies conducted recently by the National Institute on Alcohol Abuse and Alcoholism indicate that partying is only intensifying.
The takeaways?  More students are drinking to get drunk, which often involves a preference for hard liquor over beer.
"If you're just trying to get drunk, why not just use mixed drinks or hard alcohol?" asked Hopkins, rhetorically.  "No one wants to sit down and drink seven Natty Light's."
He paused before concluding: "Less liquid, less time."
Joye Shrager sees the effects of binge culture in her office on an almost weekly basis.  As Haverford's substance abuse educator, it is her job to meet with students who have perhaps partied a little too hard.
"Whenever safety and security gets involved or a student is transported to the hospital, I get a call," said Shrager.  "Usually the very next week, the student and I sit down and have a conversation about what happened, and how to prevent it from happening again."
In recent years, she has had no shortage of these types of meetings, and more and more it seems that beer is not to blame.  By her own estimation, a decided minority of the students she meets with have earned the meeting by binging on beer.
"For the students that meet with me," began Shrager, "beer may come into play at some point in the night.  But it's the harder stuff that's most common and most problematic."
She pauses a moment before concluding: "Let me put it this way: people don't end up in my office after having a few beers with friends."