Canning food at home makes comeback
By Kelsey Peart                                                                                                        
Mina Harker, '15, is finishing up her degree this semester but something she has found during her time at Bryn Mawr will stay with her after she leaves.
Harker discovered her love for canning while juggling a knack for gardening and a tight, student budget.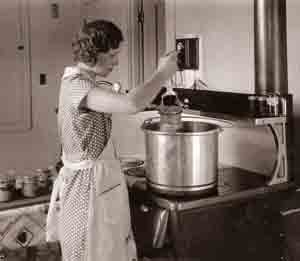 "There's something magical about opening a can up in the winter and reliving memories from the summer," she says, motioning towards her kitchen cabinet that houses her various canned creations.
The Wall Street Journal credits "the worst recession in decades and a trend towards healthier foods" as the main influences towards self-sustainability. Canning is the next logical step for an avid gardener.
Reasons to can include cost-efficiency, better taste, year-round organic produce availability, and the pure joy that comes with "a mini-time capsule," as Harker describes it.
Although there is not a lot of hard data available about canning, there is plenty of anecdotal evidence: canning-related cookbooks and workshops are popping up all over the country.
There is one solid statistic that is telling. Ball Corporation, a name synonymous with the Mason jar, has seen a 60 percent rise in stocks over the past three years,due mostly to an increase in sales.
2014 has been one of the most successful years for Ball Corp. According to its annual report, it has seen a 5.5% increase in net sales from 2013, every year's sales proving to be better than the last.
Sales up
Ad Age reveals that Ball Corp.'s sales were mostly flat throughout the '90s, so this rise in popularity is attributed to the millennials. Ball Corp. has begun targeting the younger generations as a result.
Social media campaigns and a larger online presence are not just good for targeting millennials, it is necessary in order to keep up with other companies.
With a product that reminds most people of their grandparents, it is essential to take advantage of their niche market.
Novice to experienced canners can now find recipes, tips, tricks and local workshops from Ball Corp.'s Fresh Preserving website.
In addition, they host an annual Can-It-Forward day, now in its fifth year, to "showcase the simplicity of home canning," according to their website.
2015's Can-It-Forward day invited Marisa McClellan of Philadelphia to share her expertise with the country.
McClellan is a name frequently found with anything canning-related in Philadelphia. Her blog, Food in Jars, is a popular resource for recipes and insight into canning.
In 2015, McClellan also published a book with the same name that contained her favorite recipes to preserve all manner of foods.
Plus, she hosts canning workshops year round. Her summer was jammed with events like jarring pickles and strawberry jams; now settling into fall, she has been teaching cranberry jam and sauce classes.
Put a lid on it
Harker admits that her introduction to canning was "all an accident" that happened around apple season.
"One fall break, I looked at the apples in my parent's yard and suddenly realized my applesauce potential was great enough that I needed some way to keep it fresh," she says as she reaches for an apple in her kitchen and begins slicing it.
"After Googling around, I found ways to preserve the applesauce for when I was in this dark apartment, sad and homesick during the winter," she says.
Harker says that she cans because "it's fun and cheap, and I'm learning a new skill!"
She begins shaking a jar of gooey blackberry jam to emphasize the fun, "you don't even have to add pectin like with other jams, because blackberries have a natural pectin," she says.
When asked about how she cans, she starts pulling out her supplies, "you have to be careful in the sanitation process, of course my mother nags me nonstop about poisoning myself," she says, "but I'm super careful!"
To begin, she washes the jars in the dishwasher so they are clean and hot, "they have to be hot so they don't shatter when hot jam hits them," she says.
After filling the jars, she screws on the lids and puts them in boiling water, "I use the water bath technique," she explains, "once the lid pops, they're ready to go!"
Although she hasn't tried pressure canning, she believes that this method is the easiest, "I inherited my water bath canner, but I hear it's definitely less expensive this way," she says, emphasizing how economical the process can be.
Harker has become nearly self-sufficient when it comes to anything related to fruits and veggies.
Since her garden grows more produce than a single person can consume, her research and experimentation has yielded delicious food that she keeps for up to a year.
"I have introduced all of my friends to canning because it has become a fundamental part of my life. I cannot imagine ever going back to buying things I can create," Harker says, while shuffling through her canned goods, dividing up jams, chutneys, sauces and pickles.