How one family went from brewing 5 gallons to 220 gallons of beer
By Ryan Gooding
Micro-breweries often conjure up a certain mental image: dimly lit, barrels disguised as tables, un-recognizable indie music wafting down from the house speakers – an almost hipster aesthetic.
The Crooked Eye Brewery defies those stereotypes.
Set back off of the main drag in Hatboro, Pennsylvania, the Crooked Eye sits quietly tucked adjacent to Silvio's Deli and behind the Davidian Tattoo Studio.
Above the un-marked, windowless door — that looks more like a back-door than a main entrance, sits a sign: "Crooked Eye Brewery: For What Ales You".
The brewery is not imposing, nor is it flashy.
Pulling the door open reveals, a large, fluorescently lit, almost colorless space.  Along the wall opposite the entrance, is the bar itself – completely normal save for its bare plywood side walls and white cinderblock backsplash.
"It's brand new," says co-owner Paul Hogan, gesturing towards the bar, "we just expanded it a couple weeks ago . . . big improvement over what it used to be."
Hogan stretches out his arms, as if to demonstrate the size of the previous bar.
"Couldn't have been much more than six or eight feet long," he clarifies.  "Only sat three."
Now, the L-shaped bar runs for nearly 20 feet and seats 13.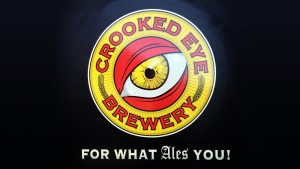 Across from the bar are four stainless steel tables – the kind of tables that might easily be confused with workbenches – and dozens more matching stools.
A garage door immediately to the left of the entrance serves not only as the bar's only window during the winter time, but also as a makeshift outdoor bar in the summer months.
The floors are concrete, and dotted with industrial, floor-level drains.  The walls are unpainted, and almost completely devoid of hanging accoutrement.
"We're going on our third year in the space," Hogan said one recent Wednesday evening, during a visit to Crooked Eye, "and it's never not been a work in progress."
I'm not surprised.  Save for the bar itself, you might easily mistake the place as a workshop.
But, you wouldn't be entirely wrong.
Just past the end of the bar is an opening in the cinderblock wall where, seemingly, two doors should be.  They are missing.  Pass through this opening, and you are transported from a bar in full swing into a fully functional fermenting room.
At Crooked Eye, nothing separates brewing from serving.
As customers drink their fill at the bar, Jeff Mulherin, co-founder and head brewer, is hard at work "re-building inventory".
Mulherin looks like a brewer.
Short in stature, big in personality, and certainly not lacking in facial hair, his love for the craft is easy to spot.  In my time at Crooked Eye, he was ceaselessly moving around.  One minute preparing the yeast to be pitched in to his current batch.  The next connecting the hoses and pumps necessary to transfer the beer from boiler to fermenter.
The brewery's name is fitting.  Crooked Eye is perhaps a little crooked in the way it operates.
But, as the saying goes: don't judge a book by it's cover.
Appearances and location aside, Crooked Eye goes neither un-noticed nor un-frequented.  By 7:30 on a Wednesday evening, the bar was nearly filled for their weekly comedy open-mic night.
In all, 25 people lined the bar and gathered round the stainless steel tables to watch a lineup of 14 comedians who had each signed up for five minute sets.
At 8:00 P.M., the lights dimmed and the hilarity began.
All the while, in the next room over, Mulherin labored on, taking occasional breaks to share in the laughter and enjoy his own creations.
From 0 Gallons to 5:
Crooked Eye is and always has been a homegrown, family project.
The bar's owners, Jeff Mulherin, 34; his father, Paul Mulherin, 58; and uncle, Paul Hogan, 61, have been home brewing beer together for the better part of 9 years.
"It started off as something I just wanted to try, thinking it would be fun to do with my dad" said Jeff Mulherin.  "So, I ordered a little home brew kit for a Canadian Ale from some store in Ohio . . . and we brewed it up in my dad's kitchen."
Their experiment was a success.  After letting family and friends try the beer on an annual golf trip to Florida in 2007, the duo ended up brewing and bringing a batch along for the next four years.
"They couldn't get enough of it."
As most home brewers do, the Mulherin's started small, brewing batches using little more than a five-gallon bucket and an inexpensive boiler.  They quickly outgrew the kitchen, and migrated to Paul Mulherin's garage, transforming it into a full-fledged micro-brewery.
"That's when I joined in," said Paul Hogan, Jeff's uncle, "we lived near each other at the time, so when they'd be brewing on Sundays, I'd go up and help them out."
Hogan exudes the Philly of yesteryear.  Born and raised northeast of the city, in Southampton, he is, like so many of his generation, the son of two Irish parents.  This is not an easily missed detail.  As he sat across from me on Wednesday evening, he sported both a black kilt and black paperboy cap to match his black Crooked Eye tee-shirt.
In Crooked Eye's early days, the trio brewed by weekend and drank by week.  Whatever they couldn't drink themselves, they shared with friends or simply gave away.
"The problem was," Hogan said, with a chuckle, "we didn't piece together how hard it was to drink five gallons of beer."
"We just couldn't drink it fast enough.
From 5 Gallons to 30:
Eventually, and somewhat inevitably, their hobby intensified.
"One weekend, all three of us were down at a small brewery in Cape May," Hogan said, referring to the southernmost seaside town in New Jersey. "After checking out their operation, we thought the beer we were making was just as good as theirs.  So, we came back and started thinking about starting up our own operation."
After pausing to glance, almost sentimentally, around him, Hogan continued:
"And we did it."
It did not take long for the trio to up their ante.
They, themselves, designed and implemented the 30-gallon brewing system, which until very recently, supported the brewery's rapid expansion.
They took on five investors – many of whom still volunteer to help with cleaning, sanitation, brewing, and even the creation of revenue reports.
They diversified their beer selection, to help bolster their marketability.
And, of course, in 2013 they purchased the piece of property in Hatboro where their brewery sits today.
"We had four early staples," said Jeff Mulherin, amidst working on his newest batch of Accidental Pale Ale, "an IPA, a brown ale, a Scottish ale, and a blonde.  They were what got us going.  But today we've got something more like 15."
And boy, are they popular.
At their peak, Crooked Eye was distributing beers to a dozen local restaurants – not to mention their in-store sales of 64 and 22-ounce bottles of beer, which their liquor license permitted them to sell.
Though, by 2015, Crooked Eye was producing three barrels – or roughly 93 gallons – of beer per week, the Mulherins still insisted on calling themselves hobbyists.
As the Hatboro-Horsham Patch originally reported, even after the trio decided to purchase property in Hatboro, each of them still considered the brewing business a side job.  At
the time, Jeff Mulherin worked nights at the Doylestown Hospital as a respiratory therapist; his father, Paul, was a tool and die maker; and his uncle, Paul Hogan, a lighting salesman.
Even to this day, Paul Mulherin and Paul Hogan work only part time at Crooked Eye.
"We have only one full-time employee," said Hogan, gesturing towards Jeff.  "And even that didn't happen until about six months ago."
He paused again, this time simply distracted by a particularly loud patron sitting at the bar.
"And thank God [Jeff's working full time] now," he continued, sounding exasperated.  "I don't know where we'd be without it."
It took nearly two years, but as 2014 turned into 2015, Crooked Eye fell on hard times.
Old problems yielded to new challenges.  What started as a struggle to drink, give away, or sell their beer fast enough, soon turned into a battle to meet demand.
"We just couldn't keep up," said Jeff Lynes, one of the brewery's five investors, assistant brewers, and longtime friend of the Mulherins.  "Twelve bars and restaurants turned into four real quick.  We had to start putting places on hold, promising them beer when it was ready."
Something had to change.
From 30 Gallons to 212:
"Guys, I'm excited.  Do you want to know why?" began local stand-up comedian Matt Beck, addressing a more than slightly inebriated Crooked Eye audience.  "I'm excited because, comedy is back at the Crooked Eye for the first time in a month!"
Cheers erupted.
Beck stands at one end of the bar room, past the end of the bar's seating and about perpendicular to the opening into the fermenting room.
Though the lights in the bar are dimmed, leaving the strings of Christmas lights hanging from the ceiling to bear the brunt of the lighting job, Beck is still half illuminated by the fluorescent glow emanating from the fermenting room, where Jeff Mulherin is still busy at work.
In recent weeks and months, much has changed at the Crooked Eye Brewery.
In May 2015, Pennsylvania's liquor code was revised, allowing many small to mid-sized breweries to sell draft beer on-site for the first time ever.
This included the Crooked Eye Brewery.
In order to qualify for the new regulation, breweries are now required to have seating for at least 10 people, and sell small snacks in house.
Ted Zeller, general counsel for the Brewers of Pennsylvania, went on record in an interview with PennLive.com, touting the regulation change as not only beneficial for breweries, but also for consumers.
Selling draft beer direct to customers, according to Zeller, is more profitable than selling wholesale to restaurants and bars, and allows breweries to expand their offerings, giving customers more variety.
In the case of Crooked Eye, the regulation change might also help to dig them out of the supply hole into which they've fallen.
In the wake of the regulation change, Paul, Jeff, and Paul quickly announced an ambitious expansion plan.  The first step?  Turn the Crooked Eye into a proper bar.
Work began in late October to expand the bar, allowing for a capacity of 49 seated customers.  At the same time, Crooked Eye also completed a total renovation of their fermenting room.
"Instead of 30 gallons per batch, and 90 per week," began Mulherin, excitedly, "our new seven-barrel system will get us 212 gallons per batch."
The new fermenting room is vast – easily equaling the size of the tap room, if not exceeding it.
In the center of the room, plainly visible from the bar, are two massive containers.
On the right: an old dairy tank that has been converted for use as mash tun – a vessel used to convert the starches in crushed grain into sugars for fermentation.
On the left: the immense boiler capable of bringing over 200 gallons of water to a boil in just minutes.
Adjacent to the boiler, bolted to the ground, is a plate heat exchanger – a device used by Jeff to cool down the beer to below 80 degrees before the yeast can be added, and the fermentation process can begin.
"It's exciting," said Mulherin, as he works to connect a series of hoses from the boiler to the plate heat exchanger, and from the exchanger to the fermentation tanks.  "We can finally start to seriously rebuild inventory, re-establish connections with bars and restaurants, and sell beer on tap."
Asked how business has been going in the weeks since the expansion, he offered one word:
"Booming."
In the week of November 15, alone, Crooked Eye brought in north of $4,000, sold over 124 gallons of beer, and most importantly, brewed 180 gallons.
"That's more weekly revenue, sales, and gallons brewed than we've ever seen around here," said Paul Hogan.
"This is a new chapter for us."