How one female school thrives in a tough enviroment
By Aliya Chaudhry                                                                                                                                                       
It is a tough time for women's colleges, but not for Bryn Mawr.
Despite the college's small size, the declining popularity of women's colleges and the rising price of college tuition, Bryn Mawr College is thriving, with application numbers increasing each year, according to Marissa Turchi, associate dean of admissions.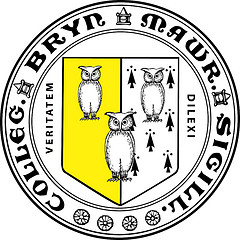 Bryn Mawr College is a small liberal arts college for women located outside Philadelphia. It has roughly 1,300 students, with around 370 students enrolling each year, according to the college's website.
This year, the college enrolled its largest class in history. The class of 2019 had 389 students, according to the college's website.
The acceptance rate, now at 38 percent, is decreasing, while enrollment is increasing, according to Peaches Valdes, dean of undergraduate admissions.
It is up to the admissions office to process the growing number of applications and select the students who get admitted.
Inside Admissions
Bryn Mawr College receives roughly 2,700 applications a year, according to the college's website. These applications are read by an admissions team of 20 people.
According to Valdes, of those 20 admissions officers, five are part of outreach and recruitment, three work in campus visits and events and seven work in operations, which is the team that collects application materials.
Admissions officers work year-round. In the fall, they spend three to eight weeks traveling across the globe.
They spend November through March reading applications. In April, the admissions officers focus on admitted students as they visit campus, attend events and select which institution to attend.
Admissions officers travel in the spring to recruit the next class of students. In the summer, they reflect on the past year and start preparing for the next, along with doing more traveling and hosting more events.
Reading applications is just one of the admissions officers' many responsibilities. But it's an important one.
"Just like a student is diverse and multi-faceted, so is our process," said Valdes, who graduated from Bryn Mawr in 1999.
When an application is submitted, it is given to the officer who handles the region the applicant comes from. Each admissions officer is assigned certain territories, and they are responsible for knowing information about schools in those areas and for contacting high school counselors there.
Thirty-five percent of Bryn Mawr's students come from the Mid-Atlantic while 13 percent come from the West, according to the college's website. The states from which Bryn Mawr received the most applicants in 2015 were California, Pennsylvania, New Jersey, Massachusetts, New York, Texas and Virginia, according to Turchi.
Each application is read by two to four admissions officers. Some are brought to committee, where the admissions officers discuss the applications at greater length.
Valdes said, "We have multiple people looking at it so it gives us a good sense that when we bring a student to campus we know that we've done all the checks and balances in the sense of academic fit, social fit, potential for growth, desire to have a transformative experience."
Bryn Mawr's admissions office uses the process of holistic review when reading applications. This means that every component of the application plays a role in the evaluation of an applicant.
Valdes said, "we look at both macro and micro – we look at the individual pieces but how do they fit in the big puzzle of who that student is."
"I think what's also important is we evaluate a student based on the context of their environment as well," Turchi said. "We like to see how a student has challenged themselves based off of the resources that they have available."
"We don't necessarily look at a student against another one," Turchi explained, "We really do look at that student as an individual applicant."
The idea of fit is important for college admissions, both for the student and the institution. The admissions officers want to be confident that a student will contribute to the college, and also that the college will be a good place for the student to learn and grow.
Turchi said, "we're also looking at making sure that it's a good fit for the students too," Turchi said, "How are they going to see themselves here? Is it going to be a place where they can grow and develop and challenge themselves? Is it a good place for them to grow academically and personally as well?"
Academics is a large factor in evaluating applications. Admissions officers want to know that students can succeed academically at Bryn Mawr based on their grades and the classes they took in high school.
Valdes said, "that doesn't necessarily mean that they're going to be a straight-A 4.0 student." Valdes said, "We have a mix of students. We have those students who are very talented in all disciplines; we have ones who lean towards a certain discipline but they show that even though they may not be strong in one area, they're willing to face that challenge."
Community engagement is also important for applicants to Bryn Mawr. Bryn Mawr is known for having a strong sense of community, so admissions officers want to see how students will be involved in the community. They assess this by looking at students' extracurricular activities.
"This is not a community where you can be locked in your room studying all day," Valdes said, "Whether you want to or not, you have to be involved."
"Passion and authenticity are really important when we're looking at a student's file and that's passion about academics or passion about extracurricular activities," Valdes said.
However, the admissions officers face a lot of challenges.
Turchi said, "the culture of higher education and college admissions is continuously evolving; we want to make sure we evolve with the culture but also stay true to our values of providing individualized admissions experiences for our applicants."
Valdes also commented on how more and more people have become involved in the admissions process. Admissions officers are not just working with one class; they're also reaching out to sophomores and juniors in high school as well as connecting with guidance counselors.
Valdes said it is difficult, "being able to juggle all of those very diverse, very distinct voices that are wanting to engage with the college."
The international dimension
Bryn Mawr also has an unusually high proportion of international students. Almost a quarter of the student body comes from outside the United States.
Valdes said, "Every admissions officer has not only a domestic territory but also an international territory, which is not common." Most universities assign all their international territories to a few officers.
Valdes said, "15 years ago, when our dean came in, at the time, she wanted to make sure that people had diversified backgrounds."
According to Turchi the countries from which Bryn Mawr received the most applications in 2015 were China, India, South Korea, the United Kingdom, Canada and Kenya.
Turchi said that Bryn Mawr's admissions office makes sure "to build relationships and maintain continuous recruitment with International schools."
She said the admissions office also "travels abroad every year to meet with prospective students and guidance counselors."
Miha Alam, a junior, is originally from Delhi, India, but had lived in India, Sri Lanka and the Philippines before attending college.
"Having international students was an important point for me because I've been brought up in international schools," Alam said. "I don't think I would be this happy if Bryn Mawr didn't have this large number of international students."
The benefits of Bryn Mawr
Current students had several different reasons why they chose to apply to, and eventually attend, Bryn Mawr. One factor was the school's academic reputation.
Fiona Redmond, a sophomore from Islip, New York, remarked that Bryn Mawr has a reputation of "being a prominent liberal arts school," and has a, "good name for going into further education."
Redmond said, "We are sort of a funnel school for graduate programs and we have sort of an edge because of our name."
Rhea Manglani, a junior from Hacienda Heights, California, transferred to Bryn Mawr her sophomore year from the University of California, Riverside. She commented on how Bryn Mawr is a school that is able to, "really push people to their fullest. Like if you want your Ph.D., you're going to a school that is a Ph.D. feeder school."
Manglani said that when she transferred, she was looking for a college with, "smaller class sizes, better community, better humanities departments and just something that would be more challenging than being in a classroom of 500 people and rarely being called to think."
Size was a factor for many students who chose to apply to Bryn Mawr. According to U.S. News, Bryn Mawr has a student-to-faculty ratio of 8-to-1. Also, 73.5 percent of the classes have 19 or fewer students in them.
Anyi Wong-Lifton, a sophomore from Portland, Oregon, said, "I wanted to be able to talk to
my professors and have them be accessible."
Alam said she wanted to have small classes, "where my abilities get recognized and I can recognize other people's abilities."
She explained, "I wanted more one-on-one with teachers and I wanted to have small class sizes." She also liked the community-like atmosphere of a small school and, "felt like if I went to a big college was I would be lost."
Bryn Mawr's strong community also appealed to students.
Manglani said, "the way this school advertises itself is really heavily on community."
Wong-Lifton said that when applying to college, she, "was looking for a good community that was not competitive."
An all-female environment
Bryn Mawr is one of a small number of remaining women's colleges.
In 1960, there were roughly 230 women's colleges. By 2014, that number had dropped to 47 in the U.S. and Canada, according to the Women's College Coalition. Also, 57 percent of college students are women, but less than 5 percent attend women's colleges.
"It is a tough sell," Valdes said.
She remarked that, "It's definitely a tough conversation to have with students but once you catch a student who becomes more open to the idea you know you've done your job."
Turchi said that, admissions officers, "have to debunk a lot of myths." Some myths surrounding women's colleges are that they are not as challenging as co-educational colleges and their graduates are less successful.
Turchi added, "You tend to recruit students all over the spectrum." She said that Bryn Mawr gets a mix of students, including "students who are really looking for that women's college piece, students who really like Bryn Mawr who are not sure of the women's college component."
Several students explained that being a women's college had very little impact on their decision to apply to Bryn Mawr.
Wong-Lifton said, "I didn't really think about it."
"It being a women's college I think didn't really have an effect," said Redmond.
Alam said, "having a co-ed school or having a women's college didn't really affect me."
Although Alam also applied to Smith and Mount Holyoke, two women's colleges in Massachusetts, their single-sex environment didn't factor into her decision to apply. She said their size played more of a role.
However, after attending a women's college, she said, "I realized how important it is to have safe space especially just during your college experience and I think having just females is beneficial towards that idea."
"It was a bonus to me," Francesca Agnello, a sophomore from Livingston, New Jersey, said, "It wasn't on my list of requirements and neither was being a co-ed school."
Agnello said, "I think women's colleges give you confidence to be a leader in areas where you might not have been confident otherwise or encouraged to pursue."
Manglani cites the single-sex environment as a factor motivating her to apply for a transfer.
"After being at a co-ed school for a year I knew I was just done," she said. "I could not do it anymore."
Manglani explained that at her former college, there was a lot of harassment. She said, "going to the gym was uncomfortable."
Many students believe that women's colleges play a large role in empowering young women.
"Since gender issues are still relevant, I think it's still important to have women's colleges," Wong-Lifton said, "It's not like the issue of women's rights has gone away."
Sarah Juma, a sophomore from Abuja, Nigeria, said, "I think women's colleges are super important, because women have more power than they think they do, and making them band together, teaching them how to use this power, wisely and from a well-informed position is really crucial."
Valdes said, "A women's college education is not abnormal; it provides just as much access as other institutions would but it's distinct, it's unique."