We profile a Jenkintown family dedicated to homeschooling
By Colleen Williamson
Mikayla Gardner has never been late to school.
Of course, it's not that impressive when first period is in her dining room.
Every morning, the high school junior wakes up in the room she shares with her sister, putting a denim skirt and blouse in the dark, and starts breakfast and a pot of coffee.
Finding a quiet corner in the house, she pulls out a well-worn King James Bible and reads for half an hour. Her mom, Joy, bustles into the kitchen while Mikayla is reading, alerting her to the time.
"I'm starting school!" she informs her mom, and walks out — to the next room, sits down, and pulls out a yellow pre-calculus textbook.
Instead of dusty, rarely-used chairs and old china plates, the room is neatly organized, with three wooden desks arranged around a larger one, bookshelves, a rolled-up American flag in the corner, and a blackboard hanging on the wall with the words "Don't forget your devotions!" scrawled cheerfully in white chalk.
It has the appearance of a one-room schoolhouse and, really, that's what it is.
"I hate math," Mikayla says, nibbling on the eraser of her pencil. "That's why I always do it first, before the little ones start school because I take breaks on my work to help them."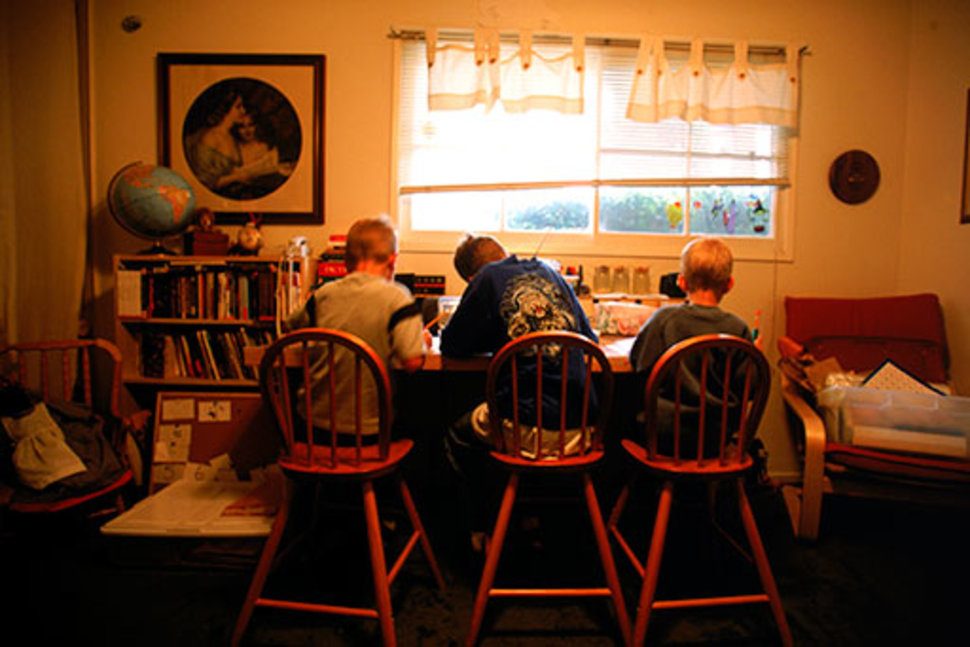 "The little ones" are her four younger siblings–Daniel, David, Makenzie, and the baby, Rosalie. The boys are still eating breakfast but 11-year-old Makenzie takes breaks from eating her oatmeal every 30 seconds to anxiously peer into Rosalie's crib. As soon as the baby wakes up and starts crying, Makenzie bounds over and picks her up, soothing her.
"I can't wait to be a mommy," she says, rocking her sister. Mikayla smiles encouragingly.
"You're going to be a great one!" she says, and turns her attention back to the same tricky problem she's been wrestling with for the past 10 minutes. Finally, she shakes her head and goes to find her mom, Joy.
Joy, wearing a denim skirt identical to her daughter's and a long navy blue blouse, walks in and slowly lowers herself onto the most comfortable desk chair. Mikayla hands her the teacher's manual for the pre-calculus textbook and Joy laughs.
"Oh, honey, I don't know how helpful I'm going to be," she laughs, but opens the book anyway and tries to walk her daughter through the problem.
Joy, who never went to college, doesn't have any worries about educating her own children. Most homeschooling textbooks are written so middle and high schoolers can teach themselves and, if they have any questions, the teacher's manuals provide step-by-step answers so the homeschooling moms can learn alongside their children if the need arises.
They figure it out, and Mikayla slams her book shut triumphantly. It's now 8:30 in the morning and time for everyone to start school — but not before prayer.
The children file into the room and the family sits in a circle on the carpet.
"Who wants to pray?" their mom asks. Six-year-old Daniel's hand shoots up, and Joy nods at him to begin.
With his palms squeezed tightly together and head bowed nearly to his chest, he begins.
Dear Jesus, thank you for my brothers and my sisters and mommy and daddy and thank you for dying on the cross for us and help us to have a good school day and not fight AMEN!" he finishes in one long breath.
"Amen," the rest of the family choruses. As they scamper off to begin their work, Mikayla looks over with an amused smile.
"He says that same prayer every day," she says. But she seems to catch herself. "Bless him," she quickly added, grabbing a Latin textbook from a stack on her desk, and returned to work.
The Gardner family are more evangelical than most, fitting the stereotype of a homeschooling family, with their long denim skirts for the women, large family, and odd evangelical terms of speech.
While most homeschooling families aren't as conservative as they are, the Gardners live according to what they believe Christ is calling them. Sometimes, though, they struggle to fit in with the more modern Philadelphia-suburb way of homeschooling.
Originally from Indiana, the Gardners moved to Jenkintown in 2012 to be near a better hospital for Joy, who is plagued with a plethora of medical conditions. In Indiana, the family blended in–they weren't anything out of the ordinary. However, ever since moving to Jenkintown, they have been subject to rude stares and disparaging comments. While they found it difficult to adjust to their new life, the Gardners didn't become disheartened.
"'Yea, and all that will live godly in Christ Jesus will suffer persecution,'" explained Joy casually as she was getting ready to drive to Upper Darby, where her children take classes in a co-op with other homeschoolers. Mikayla nods.
"The important thing is that we show the love of Christ to all people, even if they don't show any love to us," she said.
Unlike other kids in traditional schools who see their friends every day, Mikayla only regularly sees her best friend Katie Minich once a week.
Mikayla and Katie are part of CHEER, or Christian Home Educator's Enrichment Resource, a co-op group that provides homeschoolers the opportunity to participate in electives such as chorale, drama, field trips, and to interact with their peers.
CHEER meets Friday mornings at a local church, dividing the students into classes by age, rather than grade because some homeschooling parents don't use traditional grade levels. Katie and Mikayla are in the "Esther" group, Makenzie to "Deborah," and the boys to "Boaz." Katie and Mikayla take chemistry together in the church basement. Mikayla smiles as she settles into her chair.
"I like taking classes here," she confesses with a giggle. "For once, the teacher isn't my mom!"
Katie isn't so lucky, though. Her mother, an aerospace engineer turned homeschool mom, teaches this chemistry class.
Well-dressed, with long glossy brown hair and a tiny gold cross dangling from her neck, Mrs. Minich seems to be the polar opposite of the Gardner family. The Gardners and Minichs are conscious of this difference, but again, they don't seem to mind.
"The most important thing is that we have the most important person in common," said Mikayla after class. "That is, we all love Jesus Christ."