The travails of a student filmmaker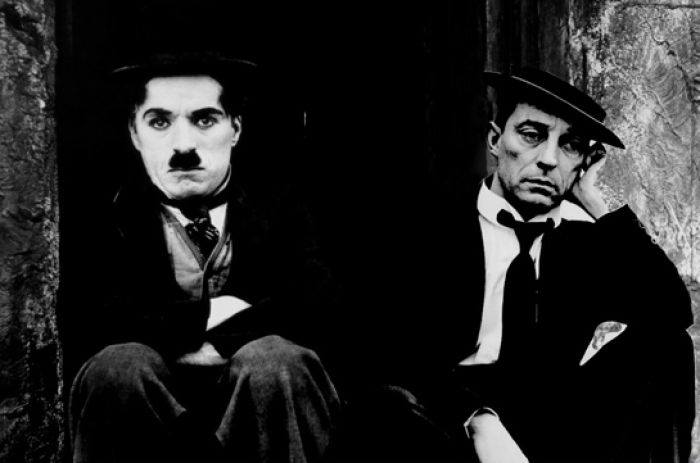 By Steve Lehman
Ethan Grugan is making a film. All he's missing are actors. And a script.
And a camera.
Grugan, a sophomore film major at St. Joseph's University in Philadelphia, had a great plan: create a short movie in the style of famous director and actor Charlie Chaplin, where Chaplin and fellow early cinema star Buster Keaton would be the main characters.
But who would play the famous filmmakers? When and where would they film? And who would be behind the camera?
On a rainy Sunday morning in his university's dining hall, Grugan explained the complex and nuanced saga of the writing, directing, and editing of this film. He just hasn't done any of it yet.
Monday, March 19th
Gabrielle Miller, Adjunct Professor of Film at St. Joseph's University, assigns a creative project for her course "Buster Keaton and Charlie Chaplin." In the class, students from a variety of disciplines study the two seminal filmmakers and their influence on the history of cinema.
The task seems simple enough: create a film in the style of Keaton or Chaplin. Black and white, mostly silent, and a healthy dose of visual gags should do the trick.
Grugan gets excited and starts to form a plan. In the earliest stages, the film begins to take shape in his mind. The next steps: storyboard, script, actors, and crew.
Thursday, April 5th
The class doesn't meet too often, due to frequent snow days and the professor being occupied with her own TV pitch. Grugan, however, doesn't mind having a professor who's busy doing real film work. "It's pretty cool, but also a little stressful."
Grugan plans to film in two weekends. The premise: Charlie Chaplin trying to get Buster Keaton to smile.
Keaton will naturally be played by Grugan himself, a 6-foot-2-inch former rower with broad shoulders and a big smile. Two of his classmates agree to play Chaplin and hold the camera, with Grugan directing.
Millie, Grugan's new poodle puppy, will be the film's MacGuffin. What's a MacGuffin? "It's like the briefcase in 'Pulp Fiction,'" according to Grugan. "It's a plot point that you don't see that much, but sort of drives the whole thing."
Later, the budding filmmaker is quick to display a picture of Millie on his cell phone: she's a puff-ball of curly black fur, small and adorable.
"She's my little stinky MacGuffin," he says proudly.
Wednesday, April 11th
Everything falls apart.
The filming is planned for the upcoming weekend, but Grugan's classmates can't come and the script and storyboard aren't finished yet.
Grugan also comes to the realization that Relay for Life, a charity event where participants stay awake for 12 hours straight doing games and activities to raise money for cancer treatment and research, is being held this weekend as well. That makes things a bit more complicated.
The new plan: get background footage and work on the plot. In other words, film some scenes without actors and try to coordinate the schedules of three over-worked college students. Everything will be fine.
Sunday, April 15th
The big weekend is finally here…
And it's pouring. Rain whips through the grey campus of the Catholic university as students run from building to building, their umbrellas useless in the wind. Grugan, of course, can't film in these conditions. Not only that, but Relay for Life knocked him out for most of the weekend.
"It was definitely worth it," Grugan says of the event, but "I was probably a little bit too ambitious thinking that I could stay awake for 17 hours straight. And film a film."
After starting at 7 p.m. Friday night and going until the wee hours of Saturday morning at the charity event, it took him most of Saturday to recover. He slept until 2 p.m., but "wasn't functional until about 7."
"You know those days where you're like 'Oh, it's only 17 hours.' Yeah I get those a lot."
Instead of filming in the rain, he explains over coffee and breakfast sandwiches the plan moving forward.
If he were to be filming today, it would be footage of two of his dogs, Millie (the puppy) and Oso (an adult), running around his house in Bala Cynwyd. This would serve as background for the real footage that would include actors.
Grugan uses salt and pepper shakers to explain how he'll film Chaplin and Keaton. Gesturing with the two plastic cylinders on the table- which represent the two characters- he demonstrates that the best method is to film each scene from multiple angles to create a 3-D effect in the editing process.
He's still trying to figure out a rain date for filming. "She [the professor] still hasn't told us when it's due… so that would be helpful to know."
Even after the storyboard is turned in and the filming is finished, Grugan will have to edit the final product into a cohesive five-minute movie.
"Or we might just scrap it," he says simply, after spending the past hour explaining the filming process, his plan, and the steps needed to finish the project. If he doesn't end up filming, he can always just explain his ideas to the class verbally… just like everyone else.
As it turns out, the actual assignment was to describe to the class, out loud, what film you would make, if you were to make film. But actually making one? That's optional.
And in the class of 25 students, how many other people will be making actual films? "Oh it's just me," Grugan says cheerfully. "You can just describe it, but I don't see the fun in that."
Grugan also reveals that, once he does establish a filming time, he doesn't actually have access to a camera from the film department because it's not an official class project. Technically, it's just an oral presentation.
He'll use his iPhone instead.
Suddenly Grugan remembers that he has to go to play rehearsal this afternoon. He sips a blueberry smoothie as he looks off into the distance, thinking about all the time he doesn't have.
Despite playing a cop with four lines in the last scene, Grugan found out last night that he has to go to all four hours of rehearsal. He's not sure why.
After breakfast, Grugan pulls up his YouTube channel to talk about other videos he's made. Besides class projects, he also likes to make highlight reels for Philadelphia sports teams. His film about the Eagles has almost 500 views.
"All my videos combined don't even hit that," he says as he checks the views of his other movies.
"Holy shit!" he yells suddenly, almost spilling the large purple smoothie he had been drinking. A surprise: his Sixers pump-up video reached over 1,000 views in just one week.
Grugan can't believe it. "Holy shit. Okay. Holy shit," he says as the number sinks in. He puts his phone down on the table and looks out at the rain lashing against the window.
After a tough week, finally, some success.