Haverford College has a farm — yes, a farm — on its campus.
By Sally Pearson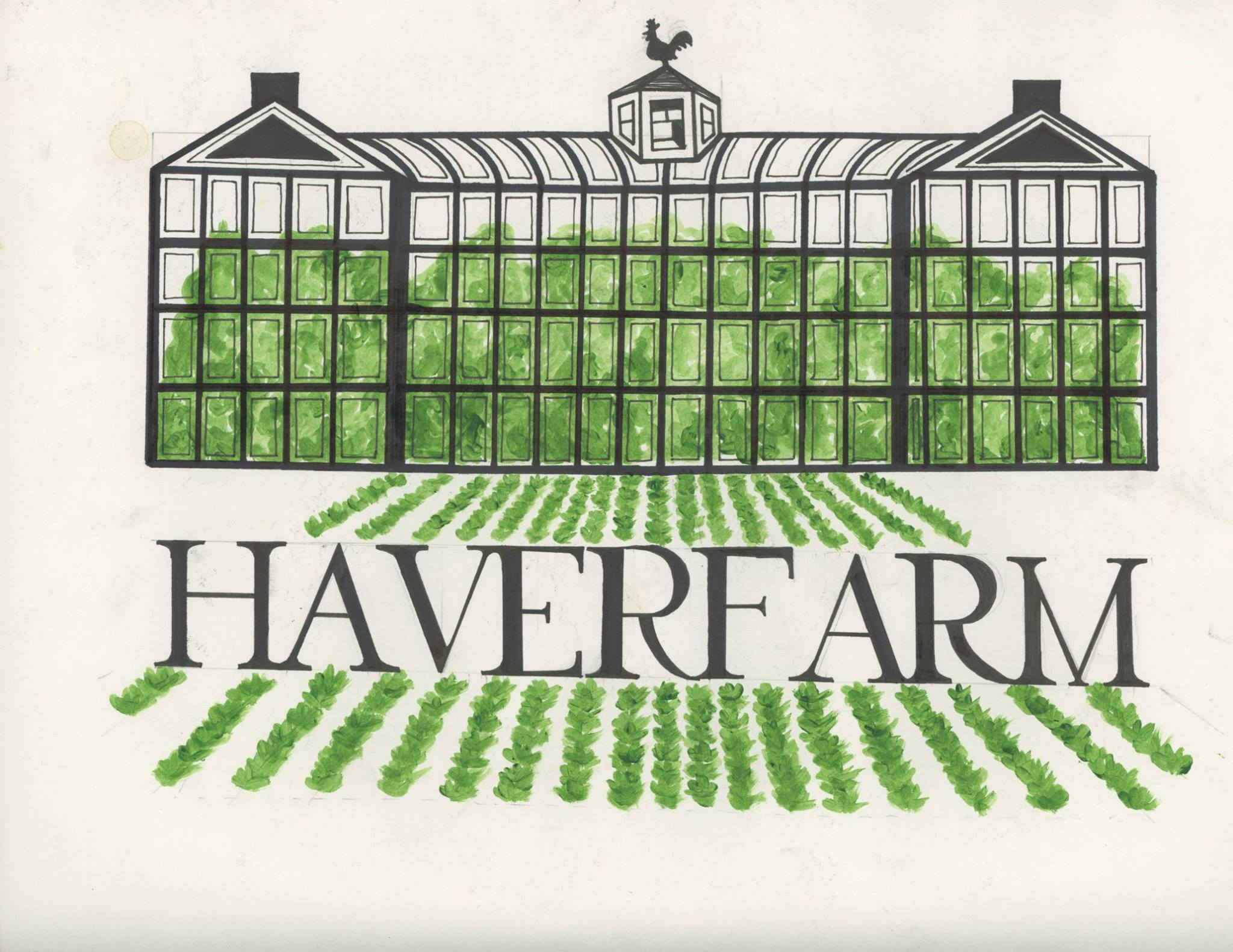 Wandering between beds of produce–carrots sprouting in one bed, spinach in the next—Ellis Maxwell, my tour guide for the afternoon, identified plants as we walked. The spinach under the tarp here was recently planted and would grow quickly. The onions here would grow over the winter and could be harvested in early spring. These rows had already been harvested so the green ground cover was revitalizing the soil.
This day in late October the Haverford junior wandered in black sweatpants and a black hoodie. He was comfortable on the farm, a year-round farming and educational space on the Main Line campus.
The Lavender plants were hiding under a white cloth. Maxwell crouched down and pulled up the cloth and bent off a muted green stem to smell.
Many of his favorite plants seemed to be those with tea making potential. He said he liked trying different combinations of herbs in his tea. He taught himself to make his own. Now, he admitted, he makes it almost every day.
Outside the fence of the garden, Maxwell picked a sprig of Chocolate mint, a brown and green marbled plant growing along the ground near the outside fence and handed it to me, it could have been mistaken for a weed to a less experienced eye. It can also be used for making tea, he said. He rubbed his own stem between his fingers. "Or I just eat it" he smiled, and chewed his bit of chocolate mint.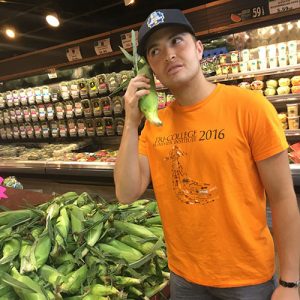 Ellis Maxwell strikes a comic pose
Haverfarm was quiet that afternoon. It was just Maxwell, me, the Farm Fellow who was working that day, and the occasional dog walker taking a detour from Haverford College's nature trail.
These walkers remind you of your close proximity to the rest of the world. A neighborhood was behind a few lines of trees, a road was within calling distance, and Center City Philadelphia was nine miles from the secluded community garden where we stood. Haverfarm's existence is a bit unexpected.  Maxwell, too, is full of the unexpected.
For one, my confident farm guide did not grow up among weeding and planting. He grew up in New York. New York City, New York? I asked. Yes, indeed.
The only experience he had with farming was volunteering at Haverfarm when he decided to apply for a summer internship at Haverfarm. He worked there all summer with a couple of other Haverford students. He and his fellow interns chose what to plant, ran Friday farm stands on Founders Green, organized produce boxes, and did general upkeep on the farm.
As a Junior this year, he was helping run the Haverfarm volunteer program. His work during the school year was unpaid, but after this summer, he said, he always wants farming to be a part of his life. A dream, he told me, would be to live on a farm with a whole bunch of his friends after college.
Recently he had organized a Rethink Incarceration call-in campaign at the Haverfarm to protest violations of prisoners rights and to demand the evacuation of prisoners in the path of Hurricane Florence. In between the calls, he and the volunteers weeded at the farm.
Prison reform and farming intersect in other ways, he explained while we paused near a patch of bright yellow zinnias. There are many programs where inmates are able to farm. When society incarcerates people are removing them from the system and from communities, but when inmates are able to work on farms they are able to be a part of a system and build a community, he said. Many of these programs are losing their funding, though. Something he is trying to work against.
Farming's ability to build community is something Maxwell brought up a lot. He said that he has seen it with other people and felt it himself. One of his favorite memories of the summer was when all of the staff had to band together to pick and move the tool shed from inside the fence to outside of it. The days this summer where he worked alone because schedules with his fellow farm workers conflicted, were not as enjoyable.
He was particularly interested in how the community built at farms can create really positive environments at educational farms. He reflected on a time when he was volunteering on the farm when he attended a workshop where they worked on the farm while poetry was read.
He pointed out a community member's plot on our left and remarked at the beauty of the flowers growing in it. Maxwell seemed to know and appreciate every corner of the small farm. From the compost pile to the tall purple okra.
His plans for the rest of the fall afternoon at the farm were to dry some herbs that could later be used to make tea. Now that was not unexpected at all.