Philadelphia is passionate about beekeeping
By Sally Pearson
There are many unknowing Philadelphians living with a beehive right next door.
"When a hive is happy and healthy and non-aggressive, there's no issue," said beekeeper Eli St. Amour. "Neighbors don't even know that there are bees."
St. Amour's hives at Haverford College are likely overlooked by many students. They hide in the corner of campus on the small Haverford farm.
Most beekeepers fall into one of two categories: hobby beekeepers or commercial beekeepers. Hobby beekeepers might sell honey and break even on a good year, but don't treat beekeeping as their main job, said St. Amour. Whereas commercial beekeepers do, often owning hundreds of hives.
St. Amour doesn't fall into either of these categories.  He operates about 20 hives at 10 different locations around the Philadelphia area and focuses on the educational aspect of beekeeping. In the younger schools where he keeps hives, like Friends School Haverford, the focus is on sharing the importance of bees and getting kids excited about them. "'Hey look, bees, bees are good bugs', that sort of education," said St. Amour.
At the colleges where he operates, like Haverford and Bryn Mawr , education factors into their wider sustainable education initiatives.
"It's one of the most easy insects to study", said St. Amour. "You can take apart one of these hives and look at every single cell and put it back together and you haven't destroyed anything"
The bulk of his income comes from the contracts with these locations to install and care for hives, but he also sells honey and lip balm.
St. Amour is experienced–he has been beekeeping for 10 years he's only 23. He started when he was 12  after a field trip.
He was homeschooled so had time to pursue beekeeping. He apprenticed at Harriton House, in Bryn Mawr, where he learned a lot about beekeeping. He started his first hive soon after. He's just graduated with a degree in Sustainable Business from Saint Joseph's University and plans to pursue beekeeping full-time.
The Changing Face of Beekeepers
Twelve is a remarkably young age to start beekeeping, but even a 23-year-old beekeeper would have been unusual a few years ago.
"When I started the average age of beekeeper was in the 60's. It was definitely an old man's profession." said St. Amour.
But about six years ago there was an influx of new, younger beekeepers.
"A lot of it is the media attention," said St. Amour. "With the bees having a tougher time there's more news stories, there's more media attention towards beekeeping in general. Before people hadn't even really thought of it."
The Obamas were particularly outspoken about bees. Michelle Obama added a hive of 70,000 bees in the White House's Garden, and the former president created a task force to save pollinators in 2014, according to the Obama White House website.
This media attention on shrinking bee populations made people more aware of beekeeping, but most new hobby beekeepers didn't take up the challenge to save the environment, though that was sometimes a part of it. They often just realized how cool beekeeping sounded.
Many of these new beekeepers were women.
Philadelphia Beekeepers Guild President Sarah Plonski was one of them. "I believe women are the future of beekeeping," she said .
The makeup of the Philadelphia Beekeepers Guild supports her prediction. Four of the ten people on the leadership board are women, and there were more women than men at the Guild's December meeting.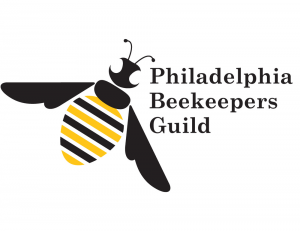 The trend extends beyond Philadelphia. In an interview with National Public Radio, longtime Ohio beekeeping instructor Kim Flottum noticed this increase in women beekeepers. "The surge has really been with younger, urban women," he said.
There isn't a consensus on why this increase in female beekeepers in particular occurred.
"I believe we are observing a phenomena among women in which it appears that we are beginning to value ourselves and our skills and becoming more willing to learn from each other" said long-time beekeeper and founder of Cascade Girl, Sharon Schmidt in an article with University of California Davis.
Plonski suspects that for some women, beekeeping is an extension to gardening. It's also pretty badass to take care of bees, Plonski said.
One of Plonski's new goals for the Philadelphia Beekeepers Guild was to continue to increase diversity, especially racial diversity within in the beekeeping community.
Most of these new beekeepers, of all genders, start with apprenticeships or classes held by local organizations or experienced beekeepers. St. Amour teaches beekeeping to students and community members every year and the Philadelphia Beekeepers Guild has three-day workshops every spring. But a lot of the learning happens as they go.
"There's a learning curve," said St. Amour. "It's a different kind of business. You're always dependent on the weather and the crops."
Philadelphia Urban Beekeeping
            Philadelphia has a deep history with beekeeping. The traditional ten frame, Langstroth hive was invented by Philadelphia native Reverend Lorenzo Lorraine Langstroth in 1851, according to the Smithsonian website. In reality, Langstroth spent most of his life in Massachusetts, but Philadelphia beekeepers still hail him as one of their own.
Today, Philadelphia is a popular beekeeping city for its size and density. Plonski suspected it's because of Philadelphia's broader sustainable agriculture movement. Beekeeping is another way to eat local and sustainable and help the environment.
The laws in Philadelphia also help. The government has kept it pretty easy to keep bees.  All beekeepers need to do is register their collection of hives with the state for $10 and comply with an annual or bi-annual inspections of their hives.
In some cities and states, beekeepers pay higher fees and have to comply with stricter regulations.
In Minneapolis, for example, urban beekeepers pay $100 for a permit application and can only apply after completing particular beekeeping courses, according to the City of Minneapolis website.
Hatfield Borough, in Montgomery County, recently passed a regulation on beekeeping after neighbors complained about stings, said an article in the Philadelphia Inquirer. The regulation limits beekeepers to two hives for every 2,000 square feet of property.
Hatfield Borough is an exception to the trend. Beekeeping laws are becoming more relaxed overall. "With more beekeepers, laws become more friendly to them," said St. Amour.
New York legalized beekeeping the city in 2010 and Los Angeles started allowing it in 2015, according to National Public Radio.
Laws might be easy to follow in Philadelphia, but that doesn't mean that urban beekeeping is an easy task.
It involves a lot of ingenuity. Beekeepers are squeezing hives wherever they can–often using rooftops and small backyard areas.
Beekeepers Carol and Davey Rance keep hives on their windy Philadelphia roof. To prevent them from blowing over, Davey Rance constructed a horizontal hive. Rather than tall stacks, his hives are long rectangles. His system also eliminates heavy lifting of large stacks. The top of the box comes off and the frames slide out.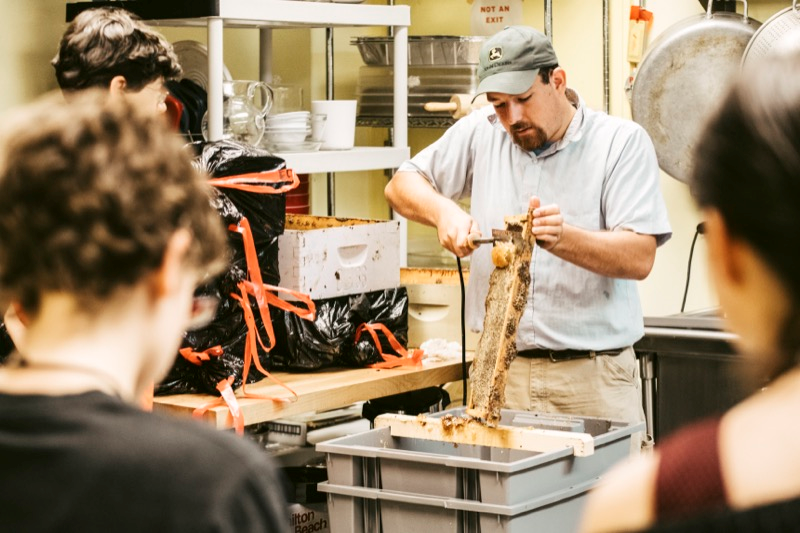 To get bees water on their city rooftop, they plumbed a watering bowl usually used for chicken coops into their household watering supply. Then the bowl was suspended over the side of their roof to prevent water from damaging their ceilings.
The Rance's have dealt with the usual, though still difficult challenges, of urban beekeeping which they document on their website–roofhoney.com.
They've had hives after hive that die in the winter, dead queen bees (one because of an accidental stepping on), topled hives, hives robbed of their honey, and–of course–varroa mite infestations.
The Threats to Bees
The varroa mite problem is common among beekeepers. The mites spread on worker and drones bees that move between colonies.
The mites spread viral infections and weaken bees by feeding on their blood, according to the Centre for Agriculture and Bioscience International or CABI. If untreated the mites cause the most colonies to die within one or two years.
There is a big debate in the bee community today over chemically treating for mites.
Plonski is in favor of chemical treatments. "It takes a lot of time to manage mites without chemical treatments and people don't realize that chemical treatments can still be organic", Plonski said. They are chemicals bees would produce themselves, but at very high levels.
Some oppose chemical treatments dislike human interference with hives, but raising bees in boxes is already human interference, Plonski pointed out.
Some beekeepers are concerned that chemical treatments affects the quality of the honey and the wellbeing of the bees. It is true that many of the treatments, including the natural treatments, leave residue in the honey and are linked to bee mortality and reduced queen reproduction, according to an article from Cornell University.
Varroa mites weren't always a problem.
They were first detected in the United States in 1987 and have since spread to most of North America, said the CABI. They are in almost every area of the world today, except for Australia.
The other danger to bees today are neonicotinoid pesticides, which are widely used in farming.
The pesticide leaves a residue in the pollen bees bring back their hives. This results in sharp declines in queen bees and impairs bees ability to navigate back to their hives, leading to colony collapse disorder, said an article from Yale School of Forestry & Environmental Studies.
They impact commercial beekeepers more than hobby beekeepers because the pesticides are primarily used in commercial agriculture, but there are trickle down effects.
"It's definitely a concern for me," said St. Amour.
When commercial beekeepers lose a lot of bees, they buy up the nucleuses and starter hives, raising prices. When St. Amour started ten years ago, he could buy a hive for $60, but today the the price has gone up to $185.
While the growth of hobby beekeeping helps, bees face a serious challenge from mites, neonicotinoids, and other threats like climate change and habitat loss. It's something that could impact everyone.
"Bees are really important, a third of everything we eat is pollinated directly by honey bees", said St. Amour. "Without them, it's kind of dire for humans."