Sneha Sadarangani is a native of Mumbai and a student at Haverford College.
By Sneha Sadarangani
The spirit of Mumbai is like a spring. No matter how much you try to compress it, it always bounces back. It's carried the city through the riots in1993, the floods in 2005 and the train blasts in 2006. Within days, the city is back on the go, busy and bustling as ever. Rallies, rain and RDX have thus far been ineffective in keeping it down. But this time the citizens are tired of this default setting. The spirit of the city is getting them through via necessity, not personal choice.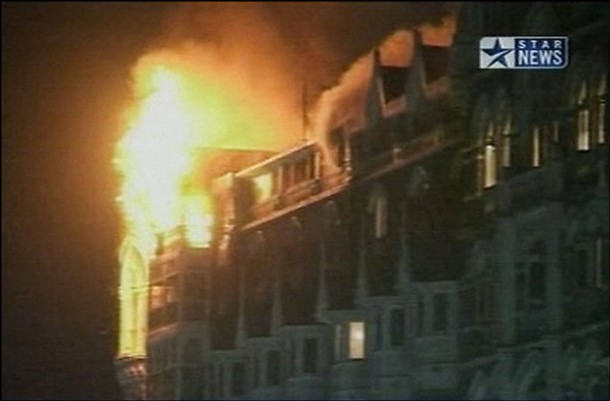 The world is ruthless and doesn't stop for terror attacks. They still have mouths to feed and heads to shelter. Their four children, ailing mother and retired uncle are relying on them and even a day of missed work costs them heavily.  They try to resume normal activity and continue with their routine lives.
But this time they want more than their undying spirit to brave these attacks.
This time they want action.
They want their sleepy politicians to look beyond their spacious apartments bought of bribes and secure the safety of the citizens instead of their next Honda Civic.
They want to be able to enter a multiplex or a restaurant without the fear of being bombarded with grenades and crazed terrorists.
They want a catastrophe to be ably handled instead of false promises of a more competent response in the future.
The damage to the city in terms of the dead and wounded citizens and destroyed structures is apparent. What isn't evident is the utter fear in every Mumbaikars heart, the anger, frustration, dejection and uncertainty. Anger at those who dared to mar their beautiful city. Frustration at the lack of preventative and corrective action. Dejection at having lost stark symbols of the city. Uncertainty at not knowing when it could happen again.
To bring a city of 13 million to its knees is no mean feat. To keep it hostage for 60 hours seems close to impossible. Yet it took no more than ten armed youths to accomplish this horrific act of brutality.
Growing up, weekly family dinners at Golden Dragon, the gourmet Chinese restaurant at the Taj was the norm. Staying back after hours at school led my friends and me to the intricate streets of Colaba Causeway, which houses the lively Leopold Café. We'd make our way through stacks of butter naan, spiced tandoori chicken and their special masala chai. Before the advent of multiplexes, the new English movies would be screened at Metro Cinema. Excited to see the latest James Bond or Indiana Jones, I'd wait in line on humid Friday afternoons, hopeful of securing balcony seats for their next show.
Going back to these spots is like revisiting myself. Going back will now recall images of terror. 
The potpourri of Mumbai attracts people by the truckloads, hopeful of being the next Dhirubai Ambani or Amitabh Bachchan. They come with dreams and a will to succeed to the glitzy, glamorous tinsel town of Mumbai, which holds a place for everyone and finds a place in everyone's heart. These aspirations will now be accompanied with skepticism and fear. Synonymous with its stretching marina, Bollywood, business magnates and sprawling slums, Mumbai is now evocative of terror.
This sensual, electrifying city used to seduce with its charm. As you stand at Marine Drive, fondly known as the Queens Necklace for its stretch of streetlights along the extensive coastline, you can vividly see the skyline of Mumbai. It's a mix of Victorian style architecture of the British colonial era, domes and minarets of the marbled mosques and soaring peaks of the skyscrapers. Lights dazzle and reflect in the Arabian Ocean, rippling on the waves. There is a magical aura woven into the nights of this city which never sleeps. But that night, the lights were accompanied by the glow of fire. The balmy breeze tinged with salt spray carried the fumes of the burning structures. The carefree banter of the lovers taking a late night stroll was intermixed with whispers of fear.
Citizens have since organized peace marches, vigils, candle ceremonies and protests. They have lined themselves from the arch of the Gateway of India to the sandy shores of Chowpaty beach with burning candles for the martyrs, with signs denouncing corrupt politicians and with their voices, strong and crying out against the injustice of it all.