Flirting via texting on your cell has become de rigueur in college today
By Raffi Williams
Saturday night for college students is filled with dancing, drinking and flirting. Unlike the dancing and the drinking, the flirting continues after the night is over, as it has for decades. This generation of college students, however, has changed the game. No awkward pick up lines, no waiting for the girl to pick up the phone: this generation flirts by texting via their cell phones.
"The risk is less," said Haverford College senior Oleksa Gerlak. "I do not have to immediately have to say something I can take my time to write a response."
Gerlak who — by his own accounts — text flirts with at least one girl a week, is not alone is seeing the benefits of text flirting. Bryn Mawr junior Steph Schorsch agrees with Gerlak, "You are more in cont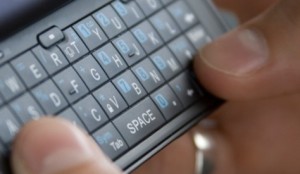 rol with text flirting."
Bryn Mawr College and Haverford College both have become more technologically advance institutions in recent decades. The students have also become more technologically savvy. One of the advantages to living in a technologically advanced society is the speed of communication. Cell phones give unprecedented access to people. Everyone is a button away, no matter where they physically are located.
Businessmen use this quick access to people to do business, parents use it to check in on children and college students use it to flirt.
Serious business
Gerlak predicts that for him about half the girls he flirt texts with he kisses or does more. This is not flirting just for fun, each word is carefully selected and meaning pored over. "I put more focus on the individual words of a [text flirt] message than I do most words in papers in write for class," said Haverford senior J.P. Cashiola.
Haverford senior Robert Breckinridge unabashedly admits to seeking out friends advice when text flirting. "When flirting with a girl over the phone or in person, you can't turn to your friend and ask how should I respond to that, but when texting you can."
Even when using multiple minds to put together a text, it does not always work as planned. Sarcasm is almost impossible to express through text messaging and emotion can be difficult as well. "I like the ease of texting but sometimes it can feel restrictive; emotion is very hard to express," said Gerlak.
But failing at text flirting does not mean that nothing with come of the text. "The guy I am currently seeing is terrible at flirting over text," said Bryn Mawr senior Elizabeth Svokos "and I know he has used his friends to help him."
Svokos went on to explain how the relationship had formed even though her boyfriend was terrible at flirt-texting.. "Every time I was out partying he flirted with me in person. During the nights we didn't see each other is when we would text flirt. And even though the text weren't great, he was charming in person, cute and the fact that he was putting in the effort to text me meant something."
But not all girls are as forgiving; Breckinridge told stories of multiple girls who had stopped texting him after a series of bad lines. "Sometimes a girl will give you her number just because you asked," said Breckinridge, "with girls like that they usually give you less of a chance and are quicker to stop responding."
When to stop?
When flirt-texting should stop can sometimes be unclear to students, even a point of stress. "Sometimes it is unclear if the girl is ignoring you or just hasn't read your
text," said Breckinridge, "Every time you don't hear back right away from a girl you get a little nervous, thinking where might I have messed up."
Many times such confusion can only be cleared up in person. "Recently I was texting with a girl who was responding sometimes, other times she wouldn't respond at all and other times she would flirt really aggressively," said Breckinridge, "Eventually I had to go up to her and ask what was actually going on between us."
Everyone interviewed agreed that text flirting can only get you so far before you actually need to start seeing the other person — in person. Sometimes this step is quite simple, as in Svokos's case, but other times this can be a challenge. "One girl I was text flirting with agreed to come over but it turned out we were only compatible through text and not in person," said Gerlak.
Most often, the first time students hang out with the person they have been text flirting with is when the students are drunk. "Alcohol makes that first non-text encounter easier, less stressful," said Schorsch.
"You can tell when the night is ending when you start to receive or send text to girls you haven't seen all night, 'seeing what their up to," said Cashiola.
Sometimes these drunken meet-ups work to start a relationship and sometimes they fail. "I have drunkenly met up with many guys I have been flirting over text with," said Schorsch, "yet they don't always work, sometimes one person is too drunk, sometimes we don't actually mesh, but its a chance that you need to take at some point."