Tickets may soon be a thing of the past
By Vanessa Ide
When Arcade Fire went on its U.S. tour this summer, one stop was the Mann Center for Performing Arts where tickets could be purchased from several outlets. But for their show in New York City, all general admission tickets were paperless and in Boston, only paperless tickets were available.
The paperless ticketing option is becoming more widespread for concerts and sporting events. Just bring your credit card to swipe at the venue, along with an ID.
Ticketmaster, the company that began its "Paperless Ticket" system in the U.S. as a way to fight illegal resale, hopes it will become the primary method for purchasing tickets. The system is so still so new, however, that buyers aren't certain how it works.
When students were asked about the paperless ticketing option, most had not experienced it and were unenthused with the method when it was explained to them.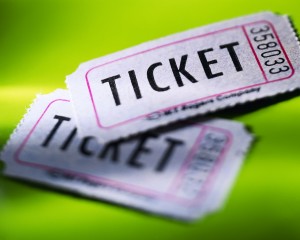 "I don't think I like [it]," Said Lilly Catlin, a sophomore at Bryn Mawr College. "I don't mind so much printing out [tickets] but something about going to a concert and having a [physical] ticket…and them ripping it… is exciting."
Another student, Gabrielle LoGaglio, a junior at Bryn Mawr, goes to one or two concerts a month and said having paper tickets are "a point of pride. People cover their [bulletin] boards on their dorm doors with all their tickets…its like bragging rights."
In a press release last December, Ticketmaster announced that it had surpassed sales of one million paperless tickets since the system's launch in May 2008 with a tour by artist Tom Waits.
Paperless technology
"The success of our paperless technology establishes another viable ticket delivery option for our clients and fans," said Dave Butler, president of ticketmaster North America in the press release. "We feel that paperless ticketing will become far more commonplace in the near future…paperless is a great, fan-friendly option for [artists, promoters and teams] should they choose to embrace this technology."
Pennsylvania State University ranked number five in the top five sellers of paperless tickets, according to same December press release. Penn State was also one of the major stops on Miley Cyrus' North American Wonder World Tour, where ticket prices ranged from $39.50 to $79.50.
Cyrus' entire tour was paperless and was number one of the top five paperless ticket live music events. Attempts to reach a spokesperson for Penn State were unsuccessful.
Ticketmaster's website describes paperless ticketing as "an alternative delivery method to Ticketfast, mail, UPS, Will Call or In Store Pick Up." And the website has instructional videos, FAQs, and pictorial step-by-step instructions on the process of paperless ticketing.
When using paperless tickets, buyers do not receive physical tickets. Instead they present the credit card they used to make the online purchase and valid government issued ID to the venue on the day of the event. An usher will swipe their credit card and print a seat locator slip for each member of the party – all of whom must be present.
Stopping Scalpers
This new method helps prevent the resale of tickets through scalpers (a serious issue with previous Miley Cyrus concerts across the country as tickets were resold for thousands of dollars), the distress of lost or forgotten tickets and shrinking will call lines.
"All it takes is a single swipe of a credit card at the door of the venue and a photo ID check by door staff that leads to a quick, secure, and simple way to experience live entertainment," David Goldberg, Ticketmaster's executive president, said in a press release when the system was announced.
However, Ticketmaster's paperless ticketing does have critics who are able to pick out the method's serious design flaws.
Paul Farhi of the Washington Post wrote in July that the system's major flaw is the inability of the consumer to buy paperless tickets for someone else. Jeff Gelles of the Philadelphia Inquirer republished Farhi's comments in a July blog post on Philly.com.
"Unlike a conventional ticket, Ticketmaster's paperless tickets can't be transferred from one buyer to a second party," Farhi wrote. He was referring to the fact, for example, that tickets cannot be bought as a gift for someone in one part of the country from someone else in a different part of the country.
"Another drawback:" Farhi continued, "groups hoping to attend an event can be shut out if the person who bought the tickets on the group's behalf fails to show up for some reason."
Along with ticketmaster, online distributors such as Ticketfly and Ticketweb have also adapted the paperless ticket option for some of their artists and venues.
An informal review of ticketing methods at Philadelphia venues indicated that many have not yet adopted paperless tickets for some or all of their events. These venues include: The Electric Factory, Theatre of the Living Arts, Kung Fu Necktie, and World Café Live.
Moving past live arts, the sports world seems to be embracing paperless tickets at a faster pace. Again, Penn State was one of the earliest places to adopt the system for its tickets to its sporting events. The Philadelphia 76ers basketball team and the Philadelphia Flyers hockey team have been discussing for at least one year whether to go entirely paperless.
Ticketmaster said hockey and basketball teams in Arizona, Connecticut and Texas are the leading sports sellers for paperless tickets.
For fans, the days of physical tickets may be coming to an end. That emotionally valuable souvenir may be set aside by technology.
"I don't necessarily like it. I like having a ticket," LoGaglio said. "You get them in the mail and you're all excited…it's more fun. And you save it, it's been in your pocket all night and its all beat up and then you tack it on your board."