Injuries happen often at a school where one of of three students are on varsity sports teams
By Jonathan Yu
Drive around the campus Haverford College in suburban Philadelphia long enough and you will notice there are no big football fields, no marching bands, and no cheerleaders.
But that doesn't mean the small Division III school is not sporty in it's own right.
Roughly one-third of the 1,200 at Haverford play a varsity sport. And that means that in any given season, varsity athletes – particularly those in high-risk contact sports, such as men's lacrosse and men's soccer – suffer an array of injuries, ranging from minor to major. In fact, injuries related to sports are an everyday prospect at the college.
"Most of what we see are minor injuries, aches and pains, due to repetitive use or just the incidental contact involved in sports," said Curt Mauger, Head Athletic Trainer at Haverford College.
According to Mauger, minor injuries include bumps and bruises, cuts, overuse injuries like tendonitis, and ankle sprains. Treating these conditions can be as simple as using ice and ibuprofen to using corrective stretching techniques.
But from time to time, serious injuries, like ACL tears, concussions, and some shoulder injuries, will sideline players for extended periods of time.
"We do see our share of more significant injuries that require testing, physician's visits… but because we don't have some of the very high-risk sports, for example, football, wrestling, ice hockey, we don't see as many surgeries as some larger athletic departments," Mauger said.
"We've been lucky to not have too many severe, season-ending injuries," said Cory Walts, Fitness Center Director and Strength and Conditioning Coach at Haverford College.
* * *
Lacrosse player Leks Gerlak never expected to put down his stick so soon.
Gerlak, recruited from a top high school lacrosse program, was only a few weeks into his freshman year in 2007 when he cut hard on his right knee and "felt everything pop out of place."
"I kind of hobbled over to the sidelines," Gerlak said. "It wasn't like it was excruciating pain or anything, so I was like, alright, maybe I just twisted my knee."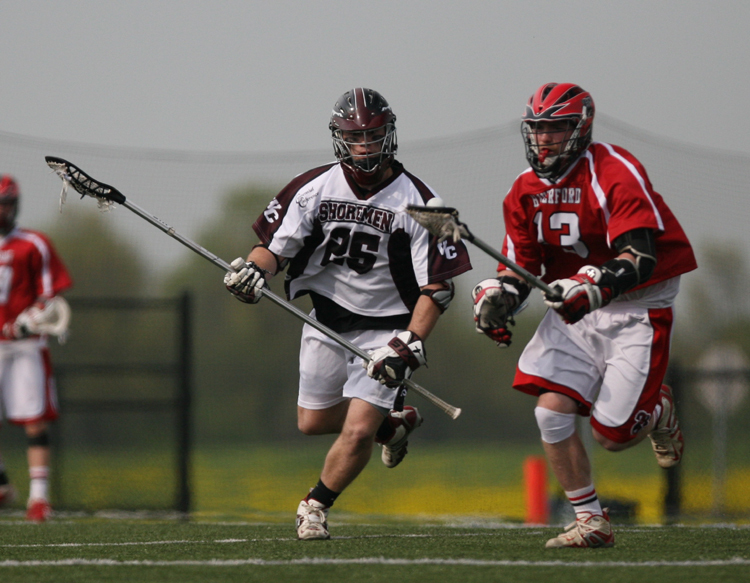 Up until that point, Gerlak never had an injury – not even a sprained ankle. But the next day, the doctor told Gerlak that he had torn his ACL, a major ligament of the knee. The tear ended Gerlak's lacrosse career.
ACL tears do not happen frequently at Haverford, but they are considered serious injuries, according to Mauger. Surgery is often needed to fix the tear and it usually takes about six to nine months to recover fully.
Most of the post-surgical rehabilitation is done on-site at Haverford. Mauger and two other athletic trainers provide treatment and rehabilitative services to varsity athletes from Haverford's 23 teams with everything from sprained ankles to ACL tears.
For the past three years, Haverford has contracted with NovaCare, a corporate physical therapy provider, to give students, faculty, and staff access to a NovaCare physical therapist three times per week.
But it is not easy to predict how long a player will sit out due to an injury.
"I think it all depends on the nature of the injury and the individual," Mauger said. "Pain is a very individual sensation. Everyone feels it differently and lets it affect them in different ways."
Mauger said that the athletic training staff treats injuries as aggressively as the athlete is comfortable with.
"We try to maximize the opportunity that these student athletes have to participate in college sports," Mauger said. "They have a four year window in which they're able to participate. We try to be as aggressive as the student athlete is comfortable being in allowing them to take advantage of competitive opportunities, whether that be practices or games or meets."
* * *
The days after the injury were scary for Gerlak. He had to sit on a couch and lift his legs up. But he couldn't do it.
"There was zero connection between my brain telling my leg to move and the neurons in my leg itself," Gerlak said. "It was scary at first, but eventually you make small progress."
Gerlak did a bulk of a his rehabilitation at Haverford, after getting ACL surgery over Winter Break of that school year. In his initial stages of recovery, Gerlak did physical therapy five times per week in addition to working out with the lacrosse team. The experience was a tough and demanding one.
"[Physical therapy is] a solid hour of time," Gerlak said. "It's not just an hour of going in and screwing around. You're really getting down to business. You're doing tough exercises [and] it's painful."
But years later, Gerlak said that he is probably not even 75 percent recovered – that he is "nowhere close" to being fully recovered.
"I guess my lack of, I don't know, motivation in that first month after surgery kind of held me back from my progress in recovering, and because of that, I just never fully recovered," Gerlak said. "I still just don't feel confident playing any sort of competitive sports."
Now a senior at Haverford College, the former lacrosse player is not going through physical therapy anymore. Instead, he runs, rides his bike, and goes to the gym. He has even given golf a try.
But Gerlak said he was happy with his decision to quit lacrosse.
Looking back, there are some things which Gerlak would have done differently.
"I definitely would have been a little more proactive with the physical therapy, taking it more seriously, had I known I would have ended up like this," Gerlak said.
* * *
Mens soccer co-captain Matt Wetherell has experienced a slew of injuries. A hip injury during his freshman year benched him for about five games during the fall season. He made it back onto the field for his sophomore fall season but was sidelined during the spring season due to the lingering hip injury. And just this year, Wetherell got a minor concussion during a heading drill which kept him off for about a week.
But after being slide tackled towards the end of the last season, Wetherell is battling the most serious injury he has faced so far – a torn meniscus, ACL, and bone bruising.
"I didn't think it was going to be as serious as [the doctors] thought it might be, so I guess I'm pretty upset right now," Wetherell said.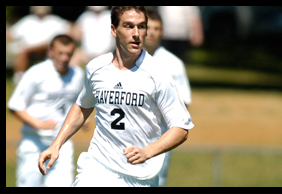 Wetherell said that the details surrounding his injury are still unclear. The best case: a three to four month recovery period. But if he suffered a full ACL tear, he estimated that it will take him about six months to recover, which means that he will miss the spring season again.
While he has not had an operation on his knee injuries, Wetherell has already been working on recovering. He works with a physical therapist on campus two to three times per week to maintain the strength in his leg. But even though the exercises are tough and painful, Wetherell keeps going.
"I'll do anything just to get back in playing," Wetherell said.
Wetherell could play a few games even with his hip injury. Sometimes the pain became unbearable and he had to sit out, but there was always a drive to keep playing.
"No one wants to be out for an injury," Wetherell said. "And if you get hurt in the game, you really want to try to keep going, especially once you're in a game and you have adrenaline."
But not even a concussion could stop Wetherell's drive.
"[Even] when I hurt my head and was out for a whole week with a concussion, I was thinking: I just shouldn't have said anything," Wetherell said. "I know it sounds weird, but I just wanted to be playing."
It goes without saying that the junior co-captain wants to get back onto the field as soon as possible.
"I think as a captain, the best way to lead is [to] lead by example and be out there and be playing with the team, so that's also going to be hard. I haven't really processed it. I'm trying not to get too far ahead of myself."
With about nine months (check it) until the next fall season, Wetherell maintains a positive outlook. He wants to be on the field for his senior year.
"I'm still not considering that I won't be able to play," Wetherell said. "You do everything that you can, and the school, the trainers are behind me, the coach is behind me, my family is behind me. I have people there to help."
* * *
Raffi Williams considers himself to be fortunate.
The defensive midfielder and senior at Haverford College has not suffered serious injuries such as ACL tears or concussions, but he has suffered from a number of ankle sprains and is dealing with a lingering wrist injury from last year.
Ankle sprains are among the most common injuries to happen in lacrosse, according to Mauger. Williams said that when he sprains his ankle during practice, he will usually go off the field for about 20 minutes to get taped up. Those who can make it back onto the field during the same day do, and those who cannot usually sit out for the rest of the practice.
It usually takes between four to six weeks for the ankle ligament to fully heal, but with rehabilitation and supportive bracing and taping to stabilize the joint, athletes can often return to play even before the ankle has fully healed, according to Mauger.
The first ankle sprain is usually the toughest to deal with because good ligament is being torn, so the sprain tends to hurt more and swell more than torn scar tissue.
"The first time you sprain your ankle, your body has not yet learned how to adjust to [the injury], how to compensate for it, or how things are going to be," Mauger said.
For Williams, taping up his ankle and wrist are extremely important in reducing pain. Still, Williams did not think that his ankle injuries would impact him later in life.
"People get sprained ankles all the time," Williams said. "It's not really that big of a deal."
There is a lot of self-treatment that happens for "little things" like ankle sprains. Instead of being treated for the sprain by an athletic trainer every day, an athlete may choose to wear an ankle brace instead, according to Williams.
"It's just easier because you don't have to show up as early before practice and you're already in the GIAC so long every day, so any time you can save is pretty good," Williams said.
While athletes at larger scholarship-granting universities may be more pressured into recovering quickly, Williams does not see that mentality at Haverford.
"I don't think anyone on the lacrosse team is pushing themselves beyond their limits," Williams said. "They're pushing themselves to their limits, and I think that there is a strong desire to win and there is a strong desire to do very well. It's something you take pride in."
But Williams and his teammates, many of whom are seniors, are moving on after this next spring season. Williams has secured a job with a public relations company in Washington. Some will work on Wall Street. Others will attend law school.
"I think [for] all of us, this is the last time we're really going to be competitively athletic," Williams said.