A Profile of Laura Kemper, Bryn Mawr's assistant athletic director
By Sarah Fischer
The phone rings and Laura Kemper answers. Her tan face, speckled with freckles, becomes serious as she begins a series of interrogations.
"Is Heidi okay? Are her pupils dilated?" There is a pause.
"Well, can you check?" Another pause.
"Anyway, your ski gloves are on top of the dresser…or maybe in the attic on one of the bins"
Before she hangs up, she gives a final reminder:
"Look if one pupil is bigger than the other, or if she has crusted up blood in her nose"
After hanging up with this caller from home, Kemper apologizes and explains.
"It's my dog Heidi. I'm checking her for a concussion."
Kemper, assistant athletics director at Bryn Mawr College, routinely checks for concussions — but not usually in dogs. She works with the Bryn Mawr athletes to "manage prevention and care of injuries"
Kemper, 32, describes her job with a care and eloquence that shows how seriously she takes her job.
"I provide emergency first response care to the athletes…I evaluate and treat as needed. That includes sprains, joint and muscle, contusions, wounds, and concussions."
In addition to this job description, Kemper also is the faculty liaison for the Bryn Mawr College Body Image Council and coordinator of Bryn Mawr's Fit Club, an initiative to encourage Bryn Mawr students to work out amidst their busy academic schedule.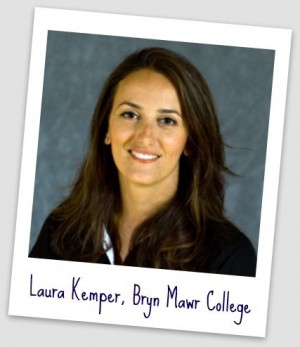 Kemper calls these jobs her "three primary responsibilities," but her dedication  make it so much more. Kemper holds a deep passion beyond any job description.

Laura the Giver
Before coming to Bryn Mawr College in the fall of 2007, Kemper held a variety of jobs, most of which involved her background in athletic training..
After graduating from Hofstra University with a degree in Athletic Training and going on to graduate school at University of Delaware for a masters in Exercise Physiology, Kemper returned home to Connecticut. There she worked per diem at Wesleyan University as a trainer and a personal trainer at Health Trax.
Health Trax, Kemper explains, was not the "typical meat head type gym." The gym attracted an "older, conservative type crowd." Health Trax enforced a dress code, too, which banned spandex and midriffs.
Kemper explains that the dress code promoted a healthier body image, an idea that Kemper had long studied in undergraduate and graduate school. (Kemper knew that she wanted to incorporate body image into her career, but wasn't sure where that fit in)
At Health Trax, Kemper worked with special populations, including athletes, children, and people with medical restrictions such as cancer.
Kemper got married to her husband, Tom, who worked as a landscape contractor. They moved to East Norriton where Kemper worked as a physical therapy assistant and athletic trainer at the local high school. Kemper said that she loved working with the students and teachers, but she wasn't satisfied.
"I wasn't quite happy [at the high school]. I felt restricted. I felt like a glorified school nurse."
At the same time, Kemper also helped her husband with floral arrangements for his work. She began to work in a plant nursery and shadowed floral designers. When she left her job with the local high school, Kemper became a full time floral designer for one year of her life.
Kemper laughs as she tells this story, admitting, "It was nice to take some time off and try something else."
Now at Bryn Mawr College, many years later, Kemper still gives to the community in numerous ways.
One way includes her lectures and activism on positive body image. Last year Kemper gave several lectures at the Baldwin School in Bryn Mawr for parents, middle school students, and high school students on "sports tips slash body image"
On March 27, Kemper will also be in charge of Bryn Mawr College's National Eating Disorder Awareness (NEDA) walk, a 3k walk that raises money to help combat eating disorders.
Another way Kemper continues to help her community is her involvement with the local animal shelter. Kemper volunteers there, helping dogs find loving homes. Kemper has rescued several puppies herself and fostered many more. The possibly concussed Heidi, a German Short-Haired Pointer, was one of her firsts.
Kemper beams as she pulls up pictures on her computers of Heidi sitting on Santa's lap.

Laura the Teacher
"Alright ladies. When you're ready to perform your skills you can come in and do them"
Kemper's flawless brown hair is down. She wears a gray ruffled cardigan over a white long-sleeved shirt and black slacks. Instead of the usual white sneakers she has on black ballet flats.
On the table in front of her are two large bags labeled "Baby Anne" and "Little Anne."
Kemper commands the attention of the students. It could be her powerful personality, dry sense of humor, or intense brown eyes – either way, they listen.
"Make sure you review the difference between infant choking and infant CPR"
Today, the students of the Bryn Mawr College First Aid, CPR, and AED Class are completing their final tasks. Kemper gives them a scenario where they must perform the appropriate actions.
"Baby Anne" or "Little Anne" could be choking, unconscious, or apneic. These Bryn Mawr students must revive them or the child will suffer…and their grade will, too.
Kemper welcomes the first student into the classroom and unzips "Baby Anne" from her bag. The plastic, African American doll has a clear tube running from its trachea to its chest.
Kemper gives the student the situation: she is babysitting with Kemper and goes to check on the baby. The baby is unresponsive. What do you do?
The student leaps into action, listening for breathing, tapping the doll's foot and asking its plastic face, "Are you okay? Are you okay?"
Kemper watches with intensity, her lips slightly pursed. The student tries to resuscitate the "Baby Anne."
Halfway through the student's attempts, Kemper stops her.
"Let's try that again."
The panic-stricken student looks at her teacher before repeating the same error again. Kemper finally gives the increasingly insecure student some hints. She finishes successfully.
"If you're going to babysit somebody's baby, I want you to know what you need to do," Kemper says. The student completes her task, signs her name, and scurries out.
It's not that Kemper is harsh or mean, she simply does not coddle. Her intense gaze does not show malice, but rather a deep care for what she does. Kemper is patient, but firm.
"It's really important to me that they know what they're doing," she says.
This mentality applies not only to her First Aird, CPR, and AED class, but to her position as coordinator of the Bryn Mawr College Fit Club as well. The December Fit Club schedule ("Warm-up with the Fit Club!!" The flyer shouts) includes weight training, indoor cycling, yoga, and zumba. Kemper makes sure that the instructors are trained and knowledgeable. She meets with them individually and even takes the classes with the students.
Next semester, Kemper will teach "Middle Management," an abs and core strengthening class.
But for now, class is over and Kemper is off to work out before she has to be back in the office.
Laura the Trainer
"So what happened?" Kemper asks as she delicately unwraps the ace bandage around sophomore Hannah Lehman's foot.
Lehman, a lacrosse player, explains that she was catching the bus to nearby Haverford College when she fell and sprained her ankle.
"Did you hear a pop, snap, or crack?"
Lehman shakes her head as Kemper, with one hand on her leg and the other on the sole of her foot, begins to pull her hands away from each other, seemingly disconnecting the leg and foot. Kemper's already intense face watches.
Kemper's job as Assistant Athletic Trainer is not for the squeamish.
She explains to Lehman the three ligaments in the foot, pointing to each part of the foot for visual, and goes on to describe the types of sprains that could have occurred. Kemper takes out a tuning fork from a drawer and bangs it on the table, touching it to Lehman's anklebones. Kemper explains that the vibrations of the bone can help determine if any bones were broken.
"Well, you're not jumping off the table."
That's a good sign, apparently.
Kemper tells Lehman to put her foot in the cold whirlpool and do "ankle pumps" to force the fluid out of her ankle.
"Everyone that's here for rehab, make sure you sign in!" Kemper yells to a bustling room of athletic college women.
The L-shaped training room is packed with athletes in short-shorts, five black tables for athletes to sit on, rolls and rolls of tape, and countless drawers. Orange Gatorade and blue Powerade jugs sit on a high shelf, with the whirlpool and ice container beneath. On the wall there is a huge white board, divided into columns by days of the week, and rows by practices, games/meets/matches, and rehab.
Attached to the training room with minimal privacy is Kemper's office that she shares with Terry McLaughlin, Head Athletic Trainer. Kemper's part of the room has numerous pictures of her dogs (those she fostered and those she currently owns) and a magnet on her mini-fridge that instructs one "how to high-five." On her desk she has her computer and an enormously packed binder. Underneath them, a desk calendar that she constantly refers to.
Kemper wears jeans and a white fleece today (the fleece says K 2009 on it, and she laughs as she explains her father-in-law's affinity for family gear), and of course, her white sneakers.
Natalie Armentrout, a senior, shuffles in to begin her rehab for her torn meniscus. Even though Armentrout's injury occurred in October, she still comes in to see the trainers for strengthening exercises.
Kemper intently watches Armentrout stretch her leg in the air, correcting her form every so often.
"It's going to be slippery outside today," she reminds Armentrout.
Although Kemper has only worked at Bryn Mawr for four years, she has built many strong relationships with her athletes. Kemper focuses mainly on field hockey, swimming, and lacrosse, but covers anyone that enters the training room. Kemper has worked with Armentrout, a rugby player and former track runner, all four years.
Kemper's supervisor, McLaughlin, knew that Kemper would love the students and the environment at Bryn Mawr. Kemper and McLaughlin worked together at Hofstra University, working primarily in wrestling, a Division I sport.
"Terry was my mentor at Hofstra. He helped me study for my national exams," Kemper says.
She shows a photo of McLaughlin, another trainer, and herself at a wrestling event, arms around each other. Kemper laughs at her bright red lipstick.
"I don't know what the hell I was thinking," she says, rolling her eyes.
Kemper and McLaughlin recall some of the funnier times they shared at Hofstra, however the memories were often tinged with resentment towards the bigger university.
"I had a problem with the football team," Kemper admits, "I got sexually harassed…I got them back though"
She smiled, but refused to mention how she got them back.
Kemper kept in touch with McLaughlin as her career took her other places. But in April 2007, McLaughlin coaxed Kemper into looking into athletic training at Bryn Mawr College.
Kemper recalls her hesitation. At the time, she was "jaded" when it came to training, but McLaughlin "opened [her] eyes again to the athletic training world."
Now at Bryn Mawr College, in a Division III athletic conference, Kemper describes herself as "extremely happy."
"I never thought about a women's college. I always thought I'd go pro."
But as she settled in, Kemper knew she had found the perfect fit.
"[The students] are talented but they play because they love the sport," Kemper explains, "With the athletes so intelligent I enjoy that they want to participate in their treatment."
Just then, a student, soaking wet and in her bathing suit, bounds into Kemper's office, waiting for Kemper to take care of her injuries.
Kemper smiles, "they're great."