Haverford College had apathetic fans until the Squirrel Squad came along
By Raffi Williams
When most people think of college sports, they picture large stadiums with raucous ans who refuse to sit for the entire game. They see students with their faces and chests painted screaming as if every extra decibel they reach is another point for their team. It's loud, it's emotional, and it's the college experience.
Mike Troup, a senior at Haverford College, pictured this voracious scene, too. Sadly, fans like the ones of Troup's dreams did not exist at his college, where the crowds at varsity games were sparse and the sounds muted. .
Troup, a former college lacrosse defensemen, decded to do something about it. In the fall of 2009, after two years of lamenting about the lack of fans at games, Troup started the Squirrel Squad; a Haverford College sports fan organization. The Squirrel Squad's goal was to be a Division III version of Duke University's Cameron Crazies, by "raising school spirit and fan participation in sports at Haverford," says Mike Troup.
School spirit and fan participation were at dismal levels before the Squirrel Squad. Kiley Norton a Haverford College senior and lacrosse midfielder, fondly remembers his days in high school when what "seemed like the whole school was out to support the team." He continues, "My sophomore year [at Haverford College] we hosted a game for the second round of the NCAA tournament and the opposing team had 3 times more fans in our stands than we did."
It was not just the lacrosse team that noticed the lack of support. Lauren Kemph, a senior and former field hockey player, says, "Our bleachers used to be empty… only filled by parents."
Senior athlete Max Hjelm says, "I used to get more excited to play away games since I knew more fans would be there."
Even without fans, Haverford College sports teams were good. The 2008-2009 school year saw Haverford College win the Centennial Conference in volleyball, go to the NCAA tournament in men's lacrosse and volleyball as well as qualify for the Centennial Conference playoffs in softball, baseball, men's tennis and men's lacrosse. "At Haverford College we had a lot of good sports, but not that many people went to the events," says Troup.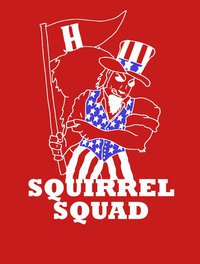 The Squirrel Squad was created to change the attitude towards going to games. To do that, Troup worked on creating a fan culture.
The first step was tio come up with a name. The Haverford College team name is the Fords. Most teams' mascot is the Black Squirrel. "The alliteration, just popped in my head and it was too good not to use," says Troup.
With a catchy name decided upon, Troup had to figure out how he was going to change the fan culture of Haverford College. He knew he had to make the games more appealing.
"The only game [before the Squirrel Squad] that people went to was the Swarthmore basketball game. It was also the best fan experience of the year," Troup says. "I want to get every game to be like that."
In order to increase the fervor around sports, Troup made Squirrel Squad t-shirts. "Part of the problem was that there were almost no fun Haverford athletic gear that was not team specific."
Fan uniform
The Squirrel Squad t-shirts filled the clothing void. The bright red t-shirts have a drawing of a muscular squirrel with a large "H" on its chest. The simple color scheme allows for the shirts to blend together when placed side by side. The fun graphic made the shirt appealing to students. The shirt became a 'cool,' item to own on campus.
Over 300 shirts were purchased during the last order, an impressive stat for a school of 1,200. The latest incarnation of the shirt is a muscular squirrel dressed up as Uncle Sam. "The shirts are supposed to be like a fan uniform, allowing [the fans] presence to be better felt."
The t-shirts also allow the fans to feel good about themselves –20 percent of the proceeds go to LEAPS, an after school program, that teaches kids lacrosse as well as good study skills. Up to now the Squirrel Squad has donated over $1,500 to LEAPS.
Selling t-shirts does not put people in the stands; Troup knew that. In order to encourage people to go to games Troup began a Facebook group and Twitter account. Social media was the best and easiest way for Troup to spread the word about games on campus. But sponsoring every game was impossible. "Its difficult to balance a Haverford work load and keep track of every single game on campus," says Troup.
To make sure no team was overlooked, Troup gave each captain administrative privileges on the social media accounts. Being an administrator meant that each team became responsible for sponsoring their own games. "It took a large burden off my shoulders and also made the teams on campus more aware of the Squirrel Squad."
Currently, the Squirrel Squad Facebook group is the largest at Haverford College, according to Troup.
Troup also started a Squirrel Squad website. "In our second year we got a URL and are giving it a go at being more than just Facebook events."
The website www.GoSquirrels.com is a site completely focused on Haverford College sports. It hosts Mike Troup's podcast that he does with fellow Haverford senior Ethan Glore as well as articles written by Glore and others. The website is trying to give the students' perspective of their sports teams.
"We are looking to be like a sports section, student interest, student athlete life articles," says Troup. "There are some recaps but what we really want to do is bring some flavor to the sports writing on campus by talking about more than the score."
A Couple of Nuts
Troup and Glore's podcast, Just a Couple Nuts, brings the flavor. In their latest podcast the two brought the senior women's soccer goalie onto the show to discuss the playoffs and more with her. They act as a connection between athletes and fans. "It's fun to be a fan and the site makes it easier to be a fan," says senior Robert Breckinridge.
People who love Haverford sports do the site and it is noticeable to the reader. "The articles and podcast are done by people who know Haverford sports," says Breckinridge. "They are done so that it's easy to act like an expert on all things Haversport after reading them and listening to the podcast."
The website has received over 3,000 visits since its inception in late September. Yet it is still relatively unknown on campus. In an informal survey of close to thirty students at Haverford, only the handful of students who checked the Facebook group frequently had heard of the website.
Every student interviewed for this article had heard of the Squirrel Squad. The athletes appreciated the group the most. "Seeing students in the crowd cheering my team on, fills me with pride about my school and team," says softball senior Lisa Karmel. "It reminds me that I am out here for more than just me."
Squirrel Squad is a difficult group to track. There are no official meetings, no ticket sales, thus no real way for Troup to count the effect his group is having. Even without stats, Troup is not worried about his group's impact.
"The other weekend I was at a basketball game when somebody came up to me at half time and said I didn't know there was a game today," says Troup. "There was no Facebook message."
It's conversations like these that make Troup feel as if he is making a difference on campus. His only regret is that he did not start the group earlier. "I wish I had started the group earlier but that would have been impossible," says Troup.
Troup played lacrosse his freshman year, leaving him no time to organize fans. "My freshman year, like most athletes here I was also disappointed with the fan turnout to games, but couldn't do much about it."
His sophomore year, Troup quit lacrosse. "It wasn't until I actually stopped being an athlete and became a fan that I realized how terrible our school spirit was," says Troup.
Those first two years were used to figure out the problem. These past two years have been about fixing it. "I wanted people to gather and cheer on the games cause it's a lot of fun," says Troup.
The future is hazy
The Squirrel Squad is a very new club; in many ways it is still trying to figure out exactly what kind of organization it is going to be. The website was one of those projects that Troup was not positive was going to stick. But, with the positive feedback coming in, Troup sees the website as permanent function of the group.
Another first for the group this fall was organizing a fan bus to Swarthmore to watch the rival game that determined if men's soccer would make the playoffs. "I went to Wendy Smith (the Athletic Director at Haverford College) to see if she would fund a fan bus to Swarthmore," says Troup. "She was skeptical that I was even going to fill one bus but the day after I put up a sign up sheet I had to got back and ask for another bus. We had over 100 people at the Swat game."
A couple of years ago soccer could barely attract 20 fans to its games but as the team gets better and with the support of the Squirrel Squad, soccer attracts the second largest number of fans at Haverford. "Men's basketball attracts the most, followed by men's soccer. Women's soccer also attracts a lot of fans," says Troup.
The future for the Squirrel Squad is hazy. The two most active members, Troup and Glore, are both seniors, leaving no one as an obvious choice as successor. When the group is larger in numbers than two grades at the school combined, and membership requires nothing more than attending games, picking the next leader can be difficult. "In the long term I am looking for a protégée to continue this after I'm gone," says Troup. "Currently I have no clue who that person could be."
But future leadership is not the most pressing issue on Troup's Squirrel Squad plate at the moment. Currently he is trying to make a big social event out of the Swarthmore Haverford men's basketball game in January. His plans include trying to get the largest turnout in the history of the game, organizing half time entertainment for the fans and new synchronized chants. "I want people to enter a raffle to get a chance to go against the other school's fans in a shooting contest," says Troup. "The proceeds would go to LEAPS, the winner would get a gift certificate and the fans would be entertained; a win for all."
The future for the Squirrel Squad is not set in stone. What is in stone is the need that Haverford College has for the Squirrel Squad. "The school needs a school spirit group," says Breckinridge. "Troup made us all aware of that."