The grand plans and busy life of Luz Jimenez, owner of Los Gallos Restauran
By Olivia Haber-Greenwood

Ask Luz Jimenez a direct question, he will answer you directly.
"Do you believe in the American Dream?"
"Yes."
Looking around his bustling grocery store and growing restaurant, where a young Mexican couple feed their toddler bites of quesadilla next to chatty FBI agents with full sleeves of tattoos, it does feel awfully believable, tangible, tastable.
Los Gallos, a taquería and Mexican grocery located at the corner of 10th and Wolf Streets in South Philadelphia, is the successful result of the hard work of its hustling owner and his family..
"I'm here 14 to 16 hours a day," says Jimenez, 31, who has owned Los Gallos since he opened it a year ago. The front half of Los Gallos is a grocery store; the back half is a taquería with just six tables and a handful of newspaper reviews mounted on the walls. Jimenez is seated at the table that abuts a fruit hutch hung with paper mache pears and oranges, and displays pineapples, avocados, limes, tomatoes, and jalapeño peppers arranged in wicker baskets.
Wearing a blue sweater and baseball cap over his dark hair, he greets each person that walks past the fruit to sit down at a table. He is affable, gregarious, always moving. A charmer who can slip between Spanish and English in mid-sentence.
He says to a young man with piercings and skinny jeans selecting a glass bottle of Jarritos soda: "Hola, amigo, que dice?" meaning approximately: "Hey, man, whad'ya say?"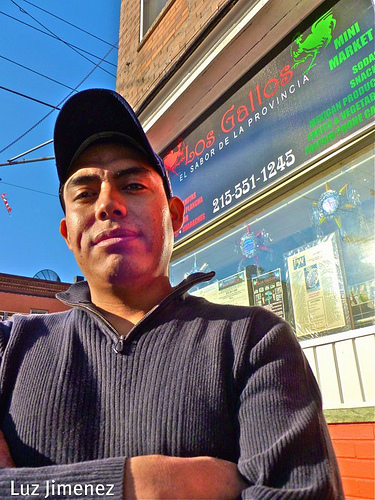 Three Anglo men in sweatshirts walk in and sit at a table next to the counter.
Hola amigo!
"Hey guys, how's it going?" Jimenez welcomes them, speaking English with hardly a trace of an accent. "Thanks for coming in." They nod and smile back, turning to the menus that Lupe, his cousin, puts in front of them.
"Everything here is made from scratch," says Jimenez, moving his hands across the green table top like an umpire calling a runner safe as they slide onto home plate. This call is black and white, his standards for Los Gallos are not negotiable.
If a tomato is served in this establishment, Jimenez can vouch it was chopped that very day. He starts each day early in the morning, working in the kitchen with this brothers and cousins doing prep work for the food that will be served later.
"What I have tried to do here" he says, "is something a little different. I want people to have a reason to come here."
Is the aroma of Mexican sausage and spices that you can smell wafting up the street a block away not reason enough?
"This is mostly an Italian neighborhood," he says, "and, I'm not going to say," he pauses and glances at two Latino guys drinking coffee at the adjacent table, "I'm not going to say they're racist. But sometimes, it feels like that. I used to hear people walking by, saying 'This is an Italian neighborhood', you know?"
Jimenez wasn't much fazed by the frosty reception. He set about getting his neighbors inside Los Gallos. "I tempted the Italians to try my food. They said they wanted some hard shell tacos like at Taco Bell." He laughs, shaking his head.
"I said, 'no, this is better than Taco Bell,' they said 'No, I don't think so, Taco Bell is real Mexican food, this is crap!" But, he is happy to report, he won a lot of them over.
A taste of Mexico
Presenting his food to members of the Mexican community that has grown up in South Philly has its own challenges. Most Mexicans in Philadelphia are almost all from Puebla, a city in south central Mexico, according to Jimenez. They were "raised on this food. If it doesn't taste right to them, they aren't coming back."
And yet, the two tables he started with at the back of his grocery store have multiplied themselves to six. As the afternoon progresses, the place fills up with a mix of people and languages, sweet drinks and spicy foods.
Dripping with grease, the chorizo tacos leave your lips burning and your stomach warm. Served with limes, slices of radish and a jalapeño on the side and topped with a pungent pile of cilantro and strong onions-these are flavors that mingle together like old friends.
Wash it all down with a cold glass of creamy horchata (rice milk topped with a generous spoonful of cinnamon) and you might just forget about the cloudy weather with its groaning winds and rains and find yourself carried away to a much warmer, more colorful place.
"Provecho," says Lupe as she places two plates in front of the men drinking coffee. The one with gelled, dyed-blonde hair wearing a leather jacket unwraps the corn husks from around his tamales as his friend in a baseball cap and tennis shoes spoons salsa and guacamole onto his tacos.
The two men don't speak for a few minutes after they start eating, but instead give themselves over to the flavors. In fact, they don't even look up until they each reach for a napkin from the ceramic rooster napkin holder.
The rooster (gallo in Spanish) is a recurring theme throughout the restaurant, featured on the plates mounted on each side of the door leading into the kitchen, on the coffee mugs and in figurine form next to a little welcome sign on top of the glass case in the back displaying meats and Mexican cheeses. Jimenez named the restaurant after the street he grew up on outside of Puebla which was called Calle de Los Gallos, meaning Street of the Roosters.
A woman walks into the store, and, passing between the baskets of fruit and bins of dried chilies, exclaims, "Está casi llena hoy!" meaning "it's nearly full today!" She takes a box of pineapple juice and a long straw up to the front of the store to pay, then sits down at the one remaining table to savor it.
Hola Lupe
Three more women enter, speaking English. "Where will we sit?" they say to each other. Both of the four person tables are taken, but customers happily shift around to accommodate them. Lupe approaches them with menus, and Jimenez asks them how they are.
Going over to another table to drop off the bill he urges the three men seated there to stay as long as they want, "Take your time guys, no rush please," and heads off briskly behind the counter.
A Latino couple enters with a baby dressed in a bright pink snow suit. They are greeted in Spanish and handed menus.
Three more guys walk into Los Gallos, two of them are FBI agents. They're Anglo but call out "Hola amigo!" in heavily accented Spanish to Jimenez's brother, José, who is stocking the glass case with cheese.
He smiles back and disappears into the kitchen. "Hola, Lupe," they say as she walks over with menus.
"Hola, como están?" she replies. They order in a mix of Spanish and English. Languages are fluid in Los Gallos.
They ask Lupe to get José, Jimenez's brother, from the kitchen. He comes out and sits down in an empty chair next to their table. They've heard he's going back to Puebla.
"When are you leaving?"
"January 20th"
"Will you be back?" He doesn't know.
"Do you want to come back?"
"Yes, I want to come back."
"Well take Joey with ya!" they joke.
"Hey!" protests Joey. They start telling José a joke in both Spanish and English.
"Hey, José, what's the word for wife? It's esposa. What's the word for handcuffs? Esposas! Get it?"
"Yeah," laughs José.
"So what kind of family you got back there?"
"I've got kids."
"Kids? You got kids? José's got kids! You got a wife?"
"Yeah, I have a wife."
"Oh, you got to go back there," they say. "You got to see your family."
The three of them grow quiet.
Jimenez returns to Los Gallos from a setting up a catering job. He sighs as he sits down, his heavy eyelids drooping a little, but it's only 5 pm, he has a ways to go before his day is done.
When asked if the guys who just came in are regulars, he nods. "I think two of them work for the FBI. They always have a gun. But they're nice guys, they say hi when I see them in the street, and ask if I have any problems."
Jimenez has found most people in the United States to be nice. In addition to the FBI agents who frequent Los Gallos, he mentioned the judge who he had to go before in order to obtain a permit to have more than two tables in the back of Los Gallos. He said he spoke to her honestly and respectfully and she gave him what he needed.
There are a lot of rules in this country. According to Jimenez, everything you think of doing, you have to ask the city first. In his experience, though, if you just follow the rules, things turn out for the best.
And he believes they have turned out for the best.
"I'm a religious person. I'm a Catholic. I believe in God. I believe God put me here," he said. "I feel like I'm living a dream. I went to sleep and I woke up here." For him, nothing could feel as good as having something of your own, a place that you built and can be proud of.
This wasn't always his plan, to own a restaurant in the United States. There was a time when it didn't even cross his mind. Growing up, he didn't plan to come north at all.
After he finished high school, Jimenez moved from where he lived in the mountains outside Puebla, to Mexico City where he studied accounting at a private university. In order to pay for his education, he worked at his uncle's restaurant, but he wasn't able to finish his degree because of the cost of attending.
After he left school, he worked for a couple of companies in Mexico City, including one, Electrica, where he was about to be promoted to management when his brother (one of five currently in the states with him today) told him to join him in Camden, NJ where he was working.
He decided to leave his parents and the rest of his family still in Mexico to join his brothers in the United States. He was 21 years old at the time. That was 10 years ago. Since then, over 10,000 other Mexicans have moved to Philadelphia, the majority of whom work in the restaurant business.
According to a report on South Philadelphia conducted by philaplace.org, many of these Mexican immigrants have settled south of Washington and Snyder avenues and established successful businesses, particularly along Washington Avenue, 8th and 9th street.
Jimenez's brother said he would be able to go to school in the states. When he got here, however, he was denied financial aid, "a razon de no tener papeles." Because he didn't have papers. In the mean time, he got a job at a sausage factory in New Jersey, until a friend told him about a job in a restaurant at 20th and Samson Streets in Center City called Cibucan. There, he started out washing dishes, which he didn't like much but soon he was a bus boy, then a food runner, and then a sous chef helping run the kitchen.
Getting a license
"That place was my school," Jimenez said. Since he always had two or three jobs at a time, he worked at a lot of restaurants and learned the ropes.
Looking for more experience, he landed a job as a kitchen manager at Bonté Wafflerie & Café. There, he managed multiple locations and helped the owners open new franchises by training their staff. When he left that job, he decided he knew enough to open his own place.
Now that he had his papers in order, he could present his tax returns and apply for a license to open up a grocery store, with a couple of tables. He decided he would see how things went.
At the time, he and his brother were renting an apartment above a food shop called 'Spices of Life' run by an Italian man. Then the shop closed and the space opened up at the right time. It was perfect. With plenty of brothers and cousins to support him (his staff is all family members) he decided to rent it out and start his business there.
Was he nervous?
"Yes!" he smiles, pulling on the frayed bill of his baseball cap. But he hoped and prayed it would work out and that people would like his food, and keep coming back. Besides, the way he looks at it, he didn't have too much to lose.
"Where we come from, people have no food, no money, no transportation, you have to walk everywhere. Here in America, you have everything. Us, we always start with nothing. Americans are afraid, we just try and hope it works."
His plans for Los Gallos are simple: "Grow, grow, grow." One day, he hopes to have a fancier place, where people who dress up nice can enjoy spending the evening, maybe it will even be a B.Y.O.B. It might be in South Philly, or it might not, he has to take things as they come.
Jimenez looks around his taquería. It's getting dark outside, and only a couple people are in the shop. One of his younger cousins sweeps under the fruit hutch and around the tables. A look of pride spreads across his tired face.
Is this dream he is dreaming the American dream?
"Yes. For me, definativamente, yes." Definitely.