More and more vegan food establishments are popping up in Philadelphia
By Stephanie Trott
Amidst the sea of cheddar cheese sauce and soft pretzel salt lies a select group of culinary gems in Philadelphia. Long known for its cheesesteaks, hoagies and pizza pies, the city is now home to a steadily increasing population of vegan restaurants, bakeries, and coffee shops.
"Philly has a really big and growing vegan population," said Sweet Freedom Bakery owner Heather Esposito, citing four other establishments in Center City alone. "It's going to be one of those things that start coming up more and more. Everyone makes so much of it."
In this piece, we will profile three of the vegan businesses in the city. Sweet Dreams bakery, Horizons Restaurant and the Grindcore House coffee house.
Sweet Dreams, 1424 South Street
Owned and operated by Esposito and business partner Allison Lubert, Sweet Freedom is a vegan (dairy-free, egg-free, casein-free) and kosher bakery, serving goods void of gluten, soy, corn, peanuts, and refined sugars. The organic bakery opened in January 2010 is located on South Street just west of Broad.
Esposito, who received her Master's degree in Counseling in 2004 from Philadelphia Biblical University, worked in mental health counseling before realizing her passion for food. After two years in private practice, she decided to delve into the culinary world after discovering the impact diet had on clients.
"When I was counseling I started to realize both with my clients and also with myself how much of a difference diet and lifestyle make," Esposito explained. "You can make changes in people relatively quickly when you change diet and lifestyle in comparison to just doing therapy."
Esposito decided to go to culinary school while still counseling, and attended the Institute for Integrative Nutrition in 2007 and the Natural Gourmet Institute for Health and Culinary Arts in 2008, both located in New York City.
Esposito, 36, cites her own health concerns as another reason for opening Sweet Dreams. "I'm hypoglycemic and very sensitive to gluten, and so I really wanted to start creating items that I could eat, she said.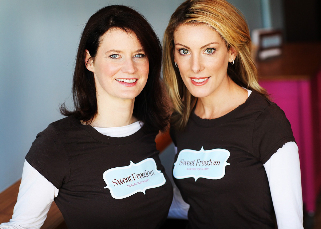 Sweet Freedom serves a variety of baked items including cupcakes, cookies, and donuts, as well as cakes and pies. Also featured are weekly, seasonal, and holiday specials.
One of the biggest problems Sweet Freedom has encountered, said Esposito, has been finding sources for the ingredients for their baked goods. "You have to make sure all of the things you're getting are '-free.' It was definitely a lot of research and took a lot of time."
Most of the ingredients are purchased from the West Coast, said Esposito. "We would love to be more local, but there's nothing on the East coast."
In addition to those with food sensitivities, the bakery also has a steady following of Philadelphians who are simply in the market for a sweet treat
"We want to have products that anyone would eat and not be able to tell the difference," she said. "You can't really tell the difference."
Although the bakery has only been operating for about a year, Esposito said that they have expansion plans, including a possible cookbook and opening a second location.
"We definitely want to be able to serve as many people with food allergies as possible, who can't have typical baked goods," she said.

Horizons, 611 South Seventh St.
Eight blocks East of Sweet Freedom lies Horizons, a restaurant opened in 2006 that uses local and seasonal ingredients to create one-of-a-kind vegan fare.
Working alongside co-owner, executive chef, and husband Rich Landau, Philadelphia native Kate Jacoby serves as Horizon's pastry chef and manager. Whether working directly with ingredients for menu items like Pumpkin Cheesecake or managing the front of the house, Jacoby's food ideology is an ever-present motif of this modern vegan venture.
Jacoby was working on her Ph.D. at Temple University when she realized she no longer wanted to be involved in academia and desired something more. "After spending a summer working full time at Horizons between college and graduate school, I was compelled to pursue a career in the restaurant industry," she explained in an e-mail.
Jacoby has several personal philosophies when it comes to food. Primarily, she believes that food must "look and taste delicious." She also believes that it's important to have an appreciation for the food we consume and the efforts that go into producing it.
"If you are conscious of what you're eating and actually think about how it gets to your plate," she said, "then I believe you're more likely to eat in an animal-friendly, healthy, environmentally stable way. But again, it's got to taste good and make your eyes roll back in your head first!"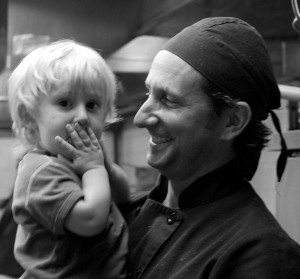 These beliefs can be seen directly in Jacoby's work with Horizons, originally opened by husband Landau after he grew frustrated with lack of food options available to him when he chose to adopt a vegetarian diet. He began experimenting with food and creating vegetarian-friendly dishes, eventually going on to establish Horizons Café in Willow Grove in 1994. Jacoby joined his team in 2001, and moved the restaurant with Landau to its current Center City locale in 2006.
While getting products and ingredients may be more difficult for newer establishments, Jacoby looks at the business as "fun and inspiring." Between researching new spices from new vendors, perusing local farms, or finding the perfect wine to serve with Pacific Rim Grilled Tofu or Cauliflower & Smoked Eggplant Braciole, the challenge is anything but a chore.
Unfortunately, like many American businesses, Horizons has also taken a hit from the declining economy. "The economy shapes exactly how restaurants do business," she said."That's why
There's no more Susanna Foo in Philly, and Le Bec Fin is shutting. Now, small plates and gastro pubs are all the rage because this is how people perceive saving money when they dine out."
While Jacoby would someday like to live somewhere where the weather is consistently warm, Horizons won't be moving any time soon. In the meantime, the husband-wife duo is working on releasing further cookbooks and creating dinners for the prestigious James Beard House in New York City.
"When I wake up in the morning," said Jacoby, I know there will be new challenges with new menu ideas, new employees and new customers, new vendors and new industry trends. It's all very exciting and very inspiring. There is never a boring moment. And being in control of what we're doing is priceless."
Grindcore House, 1515 South Fourth St.
Vegan eateries aren't only limited to the confines of South Street, however. Venture deep below into the Pennsport neighborhood and you'll find Grindcore House, a no-nonsense all-vegan coffeehouse with a deep-seated activist aura.
The shop is owned by David Anthem, 33, and Mike Barone, 30, both Pennsport residents. Anthem, who lives above the coffee shop and is originally from North Carolina, studied Film at North Carolina State University and attended Drexel University for Library Sciences. Barone, once a resident of South Jersey, studied Computer Science at Rutgers University Camden and does consulting work aside from the shop.
Both are longtime vegans — Anthem for 14 years and Barone for the last 10. While Anthem noted that the lifestyle certainly has its health benefits, he said that the decision to go vegan was entirely based upon ethics.
"At first it was something that I resisted because I come from a pretty conservative background," he said.. "Even growing up through high school when I got into punk hardcore [music] and became straight edge, veganism and vegetarianism were big but it was something that I kind of resisted to be different. It wasn't until I turned 18 that I finally started reading about vegetarianism on my own."
The business partners met when Anthem was asked to do videography work for a friend in Philadelphia, with whom Barone was living at the time. The two found a common ground in their musical and lifestyle choices, and as a result became close friends.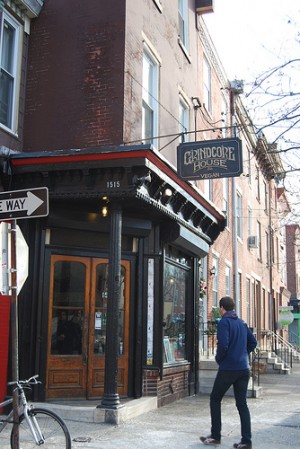 The idea for Grindcore House came from one of their brainstorming sessions, said Barone, who has had a longtime interest in the history of coffee shops. The brains behind the coffee end of the business (Anthem is a tea-drinker), Barone goal is to operate a business that reflects all aspects of his and Anthem's beliefs."We're trying to create a place that has this interesting,open-ended discussion feel to it," he said. "In a way, we hope that whatever it is that really opened our eyes to vegetarianism and veganism will just follow us here. Deep down, there's a hope that we might do that to somebody else."
The space has come full circle since its original establishment as a butcher shop back in the 1930's. Later a deli and eventually falling into disrepair, Anthem and Barone faced no restrictions from their landlord when they purchased the space.
"It was important to us to remain in our neighborhood and not somewhere like West Philly or Fishtown," said Anthem. "We wanted to remain enmeshed in our neighborhood here, to reach out to other folks in our specific space and introduce something new to the area."
Just open this summer, the offerings of Grindcore House remain subject to tweaking. "We're trying to walk this fine line," said Barone. "We have this name that invokes some connotation to people, and I don't think that they necessarily expect what they see when they come in here. We're trying to find the balance between all of these things that we care about or these motivations we have."
"We'll constantly be tweaking and working on things to make it better and more interesting and more accessible," continued Anthem. "We're thinking of ways we can challenge people that come in here, even if we're just challenging their aesthetics."
In addition to coffee, tea, and vegan goods, Grindcore House is home to an extensive collection of political art and propaganda. The walls, currently graced with works from the Just Seeds Artist's Cooperative, display a new collection of works every two months.
While space for food production is limited in-house, Anthem and Barone use their closeness to local vegan bakers to provide an array of pastries, cookies, and cakes.
"We have about seven different bakers bringing us stuff pretty much every week," said Anthem. We're reaching out to different people who bring in different elements."
Anthem has humble goals for the future. "Make a million dollars, sell out, I don't know," he said with a laugh. "Some of the immediate goals right now would be having a check-out policy for our in-house library so that people can bring stuff home. We're kind of concentrating on getting all of our events lines up for January and February, and the back is going to be transformed as well."
Involved in the area's civic association, the gentlemen of Grindcore House are hoping to improve the community through their business. The Pennsport area, according to the business pair, has been "gentrified" and is "definitely in flux."
"We don't want to lose sight of why we're here and rest on our laurels, or just turn it into a coffee shop and a food place and get complacent about what we want the space to be about," said Anthem. "It's just finding new ways to not be just a store in the community that people can buy shit at, but to really take an active role in bettering where we live."
"We need to prove that we can exist and survive," concluded Barone.