That horrid creature at the Fright Factory is a Bryn Mawr student
By Maire Clayton
Weekend nights, Helen Hardiman can be found covered in sliver paint in a dimly lit toolshed. Skeletons, ropes, and blades surround her as she lures customers into their nightmares.
Hardiman is a Bryn Mawr College junior, majoring in English with a double minor in Classics and Education. She plans to become a high school English teacher.
But, for five weeks a year, Thursday through Sunday, she works as a contortionist at The Fright Factory.
The Fright Factory is an evening tourist attraction in Philadelphia. In its few weeks of operation every year, the Fright Factory pulls all its customers for the entire year, brave souls looking for Halloween scares. The 103-year old warehouse features a set of rooms from toolsheds to toxic waste rooms and everything in between. Actors improvise each set.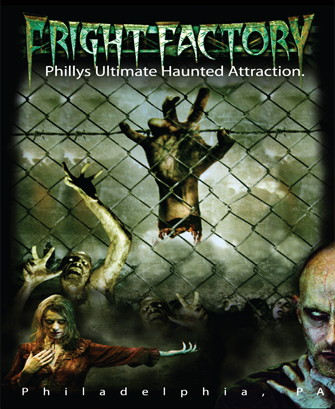 For Hardiman, the afternoon feels like the early hours of the morning. Her shift starts in the evening and occasionally finishes at 3 a.m. During the interview, she vigorously clawed at the glue remaining on her face from the previous night.
"She's my baby," said Hardiman in a giddy voice, referencing the character she created. At work, she transforms into Madame Rust, a girl horrifically disfigured in a factory accident. Ever since, Madame Rust has replaced her injured parts with metal.
Dressed in all black with a corset cinching her waist, Madame Rust is a slender creature with long, wavy, raven hair. Hardiman often hears, "Oh my God, you look like the grudge!"
"She is incredibly polite, to a fault," said Hardiman. Just do not make her angry or she will spider crawl towards you.
It is impossible for Hardiman to become Madame Rust in the daylight. "She just kind of emerges," said Hardiman.  "I can't do her voice or her persona outside of my room of the haunt."
"You get into a weird zone," said Hardiman about portraying Madame Rust. "As soon as 7:30 hits, everyone is in character."
The intense environment does not stop until the lights come back on.
A rope is suspended from the ceiling in Hardiman's room. She climbs up and down all night while contorting her body into strange positions.  Shockingly, Hardiman does not use any type of harness.  "A lot of people think I'm crazy for doing it," said Hardiman.
The job can take a physical toll. Hardiman showed the bruises on her arms left from crawling, contorting, and aerial work. She confidently said, "It's worth it."
Since a young age, Hardiman has always loved Halloween. She loves to make prosthetics and sew her own costumes.  "It was a natural progression," said Hardiman in reference to her love of the season. "It just kind of made sense."
Hardiman has worked at Fright Factory for two years. Prior to this job, she created a haunted house with her father. It started in the driveway and quickly moved to the yard and garage. One year, the police shut it down because too many people arrived.
While she loves her job, it has downsides. In a melancholic tone, she said, "You become Halloween."  She focuses so much on trying to make the customers enjoy themselves, it becomes difficult to celebrate it herself.
The customers, at times, can also be a challenge. Hardiman has been grabbed, pulled off her rope, punched, and kicked. "People have no boundaries," she said in an annoyed tone. The Fright Factory, in problematic situations, uses color codes to communicate with the other actors and staff.
"You could do things that you could never do in acceptable society," said Hardiman. One night, two girls wandered into her room and proceeded to fall on top of one another as they tried to escape.  "They got really freaked out," said Hardiman.  "I do the logical thing and crawl at them."
Hardiman offered some advice for those wanting to attend the haunt, "Never say your name in a haunted house. We will echo it throughout the entire haunt."
There is no set script for the actors in the haunt. They have the freedom to say whatever they wish.  Hardiman has heard actors sing Disney music, which always freaks people out.  Hardiman's new favorite line to whisper is "take their hearts and use it as paperweights."
The Fright Factory will close on Halloween, which means Hardiman will celebrate the only way she knows how. "What do people that work at haunts do for fun?" asked Hardiman. "Go to the haunts."
"I hate normalcy," said Hardiman with a yawn and a tired face. It was mid afternoon and time to get some rest before another night of haunting at The Fright Factory.