That horrid creature at the Fright Factory is a Bryn Mawr student
By Maire Clayton
Weekend nights, Helen Hardiman can be found covered in sliver paint in a dimly lit toolshed. Skeletons, ropes, and blades surround her as she lures customers into their nightmares.
Hardiman is a Bryn Mawr College junior, majoring in English with a double minor in Classics and Education. She plans to become a high school English teacher.
But, for five weeks a year, Thursday through Sunday, she works as a contortionist at The Fright Factory.
The Fright Factory is an evening tourist attraction in Philadelphia. In its few weeks of operation every year, the Fright Factory pulls all its customers for the entire year, brave souls looking for Halloween scares. The 103-year old warehouse features a set of rooms from toolsheds to toxic waste rooms and everything in between. Actors improvise each set.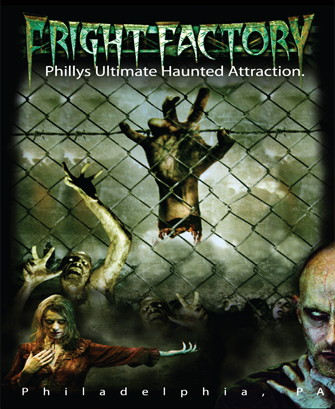 For Hardiman, the afternoon feels like the early hours of the morning. Her shift starts in the evening and occasionally finishes at 3 a.m. During the interview, she vigorously clawed at the glue remaining on her face from the previous night.
"She's my baby," said Hardiman in a giddy voice, referencing the character she created. At work, she transforms into Madame Rust, a girl horrifically disfigured in a factory accident. Ever since, Madame Rust has replaced her injured parts with metal.
Dressed in all black with a corset cinching her waist, Madame Rust is a slender creature with long, wavy, raven hair. Hardiman often hears, "Oh my God, you look like the grudge!"
"She is incredibly polite, to a fault," said Hardiman. Just do not make her angry or she will spider crawl towards you.
It is impossible for Hardiman to become Madame Rust in the daylight. "She just kind of emerges," said Hardiman.  "I can't do her voice or her persona outside of my room of the haunt."
"You get into a weird zone," said Hardiman about portraying Madame Rust. "As soon as 7:30 hits, everyone is in character."
The intense environment does not stop until the lights come back on. Continue reading →