How Etsy gives crafts people access to an online market
By Jian White                                                                                                          
The holidays are on the horizon. People across the country are searching for the perfect gifts to surprise their family and friends with, as well as treating themselves to something special. However, they aren't shopping only in the traditional department stores anymore.
They've taken to the internet to do a lot of their holiday shopping. However, it's not only the big box stores seeing all this extra influx of customers. Small business owners are seeing it too, even shops that don't have their own website.
This age of mass produced items has shifted some people's values. More people want to connect to the people making their items. "I really feel good about buying things that have a story behind them," said Sophie Mongoven, a senior at Bryn Mawr College. "I also like buying things for myself and other people that you know everyone else won't have."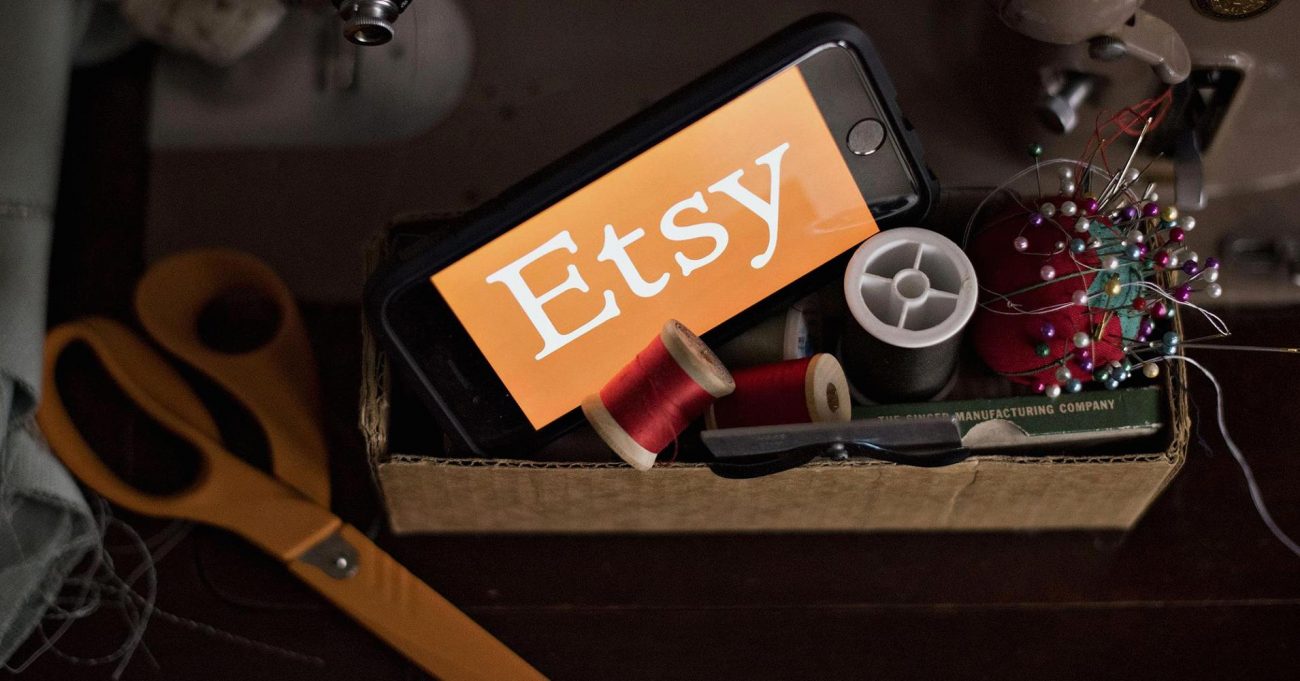 "It feels really good when you buy jewelry or accessories and someone asks you where you got it and you can say that it was one of only five made and add in the interesting background story of the owner." said Mongoven. "That's why I really like shopping on Etsy compared to bigger stores."
Shopping isn't only getting personal. It's getting handmade.
Mongoven isn't the only one who enjoys buying unique, handcrafted items with a story. Statista.com reported that Etsy annual merchandise sales had risen to 2.39 billion dollars in 2015 from 895 million in 2012. Etsy is currently the home to 1.7 million active sellers with upwards of 27.1 million active buyers across the world, since opening its online doors in 2005.
Etsy found its niche within the handcrafted world of online goods. It appeals to artisans, thrifters, and crafters alike to showcase their talents and finds with the rest of the world. People are selling every from their vintage clothing to art prints. "It's really easy to get art prints that aren't too expensive and not everyone else has on Etsy." said Mongoven.
The site has built a community around not just for buyers like Mongoven, but also for the crafters that are selling on Etsy itself. That's what sets it apart from other retailers like Amazon and eBay. Sellers and buyers alike can come together to ask questions and share ideas on Etsy online forums boards.
Purchases might not be at the doorstep in two days, but the detail and thought put into not only the products sellers on Etsy but also the packaging is not something you find on Amazon. "When I bought jewelry a few months back, it came in cute packaging with a handwritten note by the seller," said Mongoven. "You won't get that by shopping on Amazon or even in big department stores."
"I think buying presents on Etsy shows that you put more thought into a gift," said Kira Schmit, a senior at Bryn Mawr College. "You can get a lot of items personalized with names, monograms, photos, etc. It really does make for a special gift."
It's relatively easy to start selling on Etsy once you have an account. All it takes is a few clicks. Individual sellers on Etsy create their own postings in their online store for each item that they are selling. Each posting in an Etsy shop costs 20 cents to put up in their online sops. Sellers do have to pay monthly fees to maintain their shops and listings which is dependent upon their item price points. When an item sells in an Etsy shop, the site takes a three and a half percent sales fee per listing.
The ease of starting and selling on Etsy makes the competition between the 1.7 million active shops fierce. "Try searching custom logo design from the Etsy homepage," said Erin Craig, a graphic design artist who has an Etsy shop, on Erin Elizabeth Studio blog. "It seems everyone and their mothers are selling their designs on Etsy, which can easily lead to the feeling like you are a needle in a haystack."
Sellers on Etsy already have a potential 27.1 million customers when they post a listing for a new item. Marketing to them, however, is relatively simple. "[They] visit Etsy when they are already looking for what you're selling," said Craig on Erin Elizabeth Studio. "Other than promoting yourself on social media accounts for additional exposure, you don't have to put a ton of effort or extra funds into driving traffic to your shop."
However, they must be able to distinguish themselves from all the competition on Etsy. "It comes down to targeting your ideal client with amazing photos, creatively written descriptions, and slaying title game, so make sure your shop's brand identity is on point." said Craig on her blog. This is what gets potential buyers excited over your items over others.
"I go in with a plan when I shop on Etsy," said Schmit. "It's not like a department store or a big that you can wander around for hours until you see something. You really have to think about the person you are buying for or you might get stuck on there for hours and still never find something."
Mongoven's search for a cute bag for Christmas present for her sister turned up hundreds of thousands of results. "I wasn't going to sit there for hours upon hours," she said. "I knew I needed to narrow my search down even more if I was ever going to find a bag for my sister."
Etsy allows customers to narrow their searches by location, price points, categories (e.g. home goods, women's accessories, etc.). "However, I knew that if I didn't find something right away in my price point there would always be something similar that I could find on Etsy that would work too." said Mongoven.
Her search ended when she came across a bag with the months in French and corresponding cartoon vegetables and fruits. "Ultimately, I bought this bag because not only was it something I knew my sister would enjoy, but the seller also had an interesting and creative description." said Mongoven.
Craig and Mongoven aren't the only ones paying attention to the descriptions of products. The descriptions sellers write need to not only sell the product but also be eye-catching. J.D. and Kate Dobson who sell Justin Trudeau scented candles on their Etsy shop, J.D. and Kate Industries, play upon the current pop culture fascination with this Canadian Prime Minister. They said "well, we've got good news. We know exactly why you were born into this (admittedly cruel) world – and it's to buy a Justin Trudeau-scented candle!" in their description.
Etsy sellers also face the same problem other online stores face. The customers can't be there in-person to see the product for themselves. They must illustrate what it's like to have that product in hand. The description for a sycamore fig soy candle on Hannah Turner's Wax and Wane
Candle Etsy shop begins by telling its potential customers that they can "transport [themselves] to the groves of the Mediterranean with this earthy sweet fig candle."
Sellers can also see where customers, like Mongoven and Schmit, are coming from. "It's easy to see exactly where traffic is coming from on a daily, weekly, or monthly basis," said Craig. "Etsy gives you real-time analytics (at no extra cost) to aid in the promotion of your shop." This helps them not get lost among the 1.7 million sellers because they can tailor their product descriptions and know what's grabbing the attention of customers.
Etsy also allows for everyone on the site to communicate with each other through private messaging. "There's really something special about feeling like you belong to a community of like-minded, creative people just like you," said Craig. "I've built client relationships with some of the sweetest people, some fellow Etsy shop owners, and #girlbosses who aren't looking for a bargain or to ask for too much."
Individuals not only can buy the items listed in a seller's shop, but can also ask sellers to commission specific individual pieces for them. They might do this if like their work or something isn't exactly what they are looking for. "This opens the door to massive opportunity!" said Craig on her blog. It gives sellers opportunity to form long lasting, returning customers.
However, like any other business, it's about being active, engaged, and building connections. "I do believe presence has a lot to do with it," said Craig. "[The more] active I am with my shop (i.e. renewing items, favouriting and/or purchasing from other shops, engaging in forums or discussions, updating shop info & photos) the more views I seem to get."
Buyers can also favorite shops and specific items on Etsy. "I usually go on every week or two weeks just to check out if a specific shop I like has anything new and interesting." said Mongoven. Creating those connections are cruicial to a successful Etsy shop.
Sellers must also be able to provide a great customer experience, to get customers to favorite their shops and keep coming back like Mongoven. People can leave feedback after they have purchased and received a product from your shop. "[Reviews] are so so so important to build a reputable Etsy shop […]." said Craig.
"It's important for me to buy from owners that not only have a cool background story, but also have other people willing to back up their products' quality." said Schmit. "When you buy online, you don't really know how something is going to look or feel just by the photos. I don't want to waste my money or give a bad gift because it wasn't as good of quality as I was expecting."
"The reviews are also helpful so you don't get ripped off by sellers who never send the product or don't ever send your money back if you return something" said Mongoven. "It's hasn't happened to me yet, and I would kind of like to keep it that way."
Etsy, like any other online selling platform, isn't without its deterrents for both sellers and buyers. "I tend to buy most of my gifts last minute," said Schmit. "I'm a pretty big procrastinator. So, I don't buy often on Etsy because the items can't usually get to me fast enough like they can on other sites."
"However, the gifts that I have purchased from Etsy have always been the ones people love the most." said Schmit. "That's what ultimately matters and motivates me to stop procrastinating on gift buying."
A big issue that sellers face on Etsy is copycats. "Unfortunately, there's not a whole lot that can be done from a seller's standpoint other than trying to contact the copycat itself and ask that he/she very nice to pretty please stop doing that." said Craig.
The pros to shopping and selling without Etsy easily outweigh the cons, especially for small businesses and those who just do it to share their hobby. "For now, it's been nothing but great for me […] and I get to do what I love every day." said Craig.