Erdman Hall serves 1,700 meals a day.  How do they do it?
By Sophie Webb
One of two dining halls on the Bryn Mawr campus, Erdman is the boxy, gray powerhouse that keeps the Bryn Mawr community fed. Erdman is run by the Bryn Mawr College Dining Services and is a hub for student life at Bryn Mawr.
Bryn Mawr was ranked in the top ten for the best college food by the Princeton Review for 2017. But what is it about Bryn Mawr food that makes it so good? Where does it come from, and what is done to it before students can indulge?
The food at Bryn Mawr is good, but it's also somewhat of a mystery. A curtain shields consumers from the inner workings of where their food comes from, how it's prepared, and where it goes once they're done.
Let's peel back the curtain and examine the journey of food at Erdman.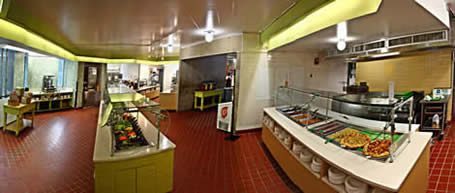 Act 1: The Preface
The Banana Slug String Band wrote a song called "Dirt Made My Lunch," and they're not wrong, all food does come from the Earth. But how does that food make its way to Erdman dining hall?
Since the entirety of the Bryn Mawr campus is not a garden, and all of the students don't spend their days planting, tending and harvesting crops, the food has to be brought to Erdman from outside the "Bryn Mawr Bubble."
Kevin Williams, the Unit Manager for Erdman explained that the majority of the food served at Erdman comes from the company US foods. US foods is a large foodservice distributor that operates across the country. Erdman sources from warehouses located in New Jersey, meaning that although it wasn't grown on Merion green, the food is less than an hour truck ride away. Because of the diversity of the menu at Erdman, US foods can't supply all of the food for Erdman. Bryn Mawr uses Sysco, another food provider, located in Pennsylvania, as a secondary source. The produce is provided by Four Seasons, another Pa. based provider.
In addition to the companies mentioned, Erdman also tries to source its food from local providers whenever possible. Williams says that it is tough to provide local food all the time on the east coast, "it's not like we can get lemons, cantaloupes and stuff like that," he says.
He mentions that West Chester and Kennett Square are known for their mushrooms and there is a tofu farm in the area.
Whenever possible, Bryn Mawr College Dining Services create special meals and events that emphasize local food. In addition to local food, organic food is also hard to come by. Williams says that they're trying to lean towards more organic food, but they can't really promise it on the menu due to availability and cost. Williams sounds disappointed while talking about organic food, saying how the college doesn't have the budget to afford the high prices.
Erdman receives food deliveries around five to six times a week, from US foods, Sysco, four seasons, or other local sources. Once delivered, it's ready to be unpackaged and handed off to the kitchen staff. Williams says that of the fifteen full time workers at Erdman, about six of them work in kitchen production, alongside about ten percent of the 130 part time student workers. Co-Cook in the kitchen and longtime Bryn Mawr College Dining Services employee Gwen Bennett explains what the food goes through after it arrives in the kitchen. Bennett says that in order to prepare, she has to check the menu to see what is being served in the coming days. She then figures out what she needs, how much she needs, and how to best store it. Bennett goes through this planning process because most meals have to be prepared at least a day in advance of when they will be served. Bennett works mainly with the salad and deli bars, remarking that, "anything that goes on that salad line, the students eat… they love a lot of fresh veggies."
Both Williams and Bennett say that although some entrees and side dishes come pre-prepared, the majority (Bennett estimates 80 percent), is made from scratch. As Bennett and her colleagues prepare meals for the upcoming days, student workers set up the food in the service area.
Act 2: The Show
Erdman student employee and supervisor Isabell Gerbig '19 explains that there is more to the presentation of the food than simply laying it out and sticking a serving utensil in it.
Gerbig says that, "the student workers set up the salad bar, the omelette bar, and the dessert bar…our main goal is to usually keep it as neatly arranged as possible. That includes mixing up the colors (the two options of cream cheese should never be next to one another), and placing the dessert in neat rows."
She explains that it's also the student worker's responsibility to "refill the items on both the hot food line and the salad bar," so that the food always looks appealing. Each dish served at Erdman is accompanied by a specific label, detailing any important ingredients in the dish.
Now that the food has been shipped, prepped, cooked, and served, students can have at it, within operating hours of course. Erdman is open 7:30 a.m. to 11:00 p.m. for breakfast, 11:00 a.m. to 1:30 p.m. for lunch, and 5:00 p.m. to 7:00p.m. for dinner, on weekdays. On weekends Erdman opens from 10:00 a.m. to 1:30 p.m. for lunch and 5:00 p.m. to 7:00 p.m. for dinner.
Williams says that on a typical day 1,700 to 1,950 students will frequent Erdman, with breakfast and lunch being the most popular. Williams said that one of his goals as unit manager is to keep "coming up with new ideas to keep customer satisfaction at the highest level."
In pursuit of this goal, the Erdman menu features dishes as eclectic as Butternut Squash Soup to Char Grilled Pesto Chicken to good old pizza. And of course there are the Erdman staples like the salad bar, the cereal, and the granola.
Bryn Mawr student and frequent Erdman patron Kinbrae Sperstad '19 says that for her an Erdman plate typically includes, "granola, spinach, soup, cottage cheese and sometimes potatoes, they have a lot of potatoes," she remarks.
Act 3: The Epilogue
After each meal is over, the food is now one of three things: leftovers, inside the stomachs of students, or waste. For untouched leftovers that would otherwise be disposed of, Erdman partners with a local church, donating 30 to 40 pounds of food each week.
Food that can't be donated, and food scraps from student's plates are composted. When a student is done eating she places her dishes on a rotating apparatus that brings them to the dish room. Once in the dish room, Utility Kitchen workers such as Harold Lattore bring the food through the last leg of its journey at Bryn Mawr, disposal.
Lattore explained that the dish room operates as a process. Plates are taken off of the conveyor belt and leftover food is scraped into the compost. The dishes then go through an industrial dishwasher, where they come out clean and are returned to their places. Lattore said that all the food goes into the compost, and plastics have to be put in the trash.
Lattore noted that, "mostly every plate got something left on it," when it gets to the dish room. In the 2015/2016 semester, Bryn Mawr College Dining Services (New Dorm Dining Hall included), composted 38,000 gallons of waste.
According to Kitchen Harvest, the composting company used by Erdman, that amount is the equivalent to 100.41 metric tons per month of avoided carbon dioxide emissions, or the equivalent of taking 260 cars off the road. The compost is picked up two to three times a week by Kitchen Harvest, and brought to local Linvilla Orchards in Media, Pa. where it goes back to the earth once again, ready to make someone else's lunch.
Erdman is a dining hall, a place for food to be prepared, cooked, and eaten, but it's also a community. Bennett said that she "loves it here [at Erdman]." She says, "I enjoy everything I do…" and feels very close to her colleagues, full time workers and students alike. "We're like a small family here," she says.
Williams also emphasized that, "we have great relationships with students here," and that the Erdman community works to make people with questions feel comfortable about being able to ask. Williams explained that at Erdman they really care. He said, "we want to make sure you guys [students] experience not just dining…" but a great experience.