Erdman Hall serves 1,700 meals a day.  How do they do it?
By Sophie Webb
One of two dining halls on the Bryn Mawr campus, Erdman is the boxy, gray powerhouse that keeps the Bryn Mawr community fed. Erdman is run by the Bryn Mawr College Dining Services and is a hub for student life at Bryn Mawr.
Bryn Mawr was ranked in the top ten for the best college food by the Princeton Review for 2017. But what is it about Bryn Mawr food that makes it so good? Where does it come from, and what is done to it before students can indulge?
The food at Bryn Mawr is good, but it's also somewhat of a mystery. A curtain shields consumers from the inner workings of where their food comes from, how it's prepared, and where it goes once they're done.
Let's peel back the curtain and examine the journey of food at Erdman.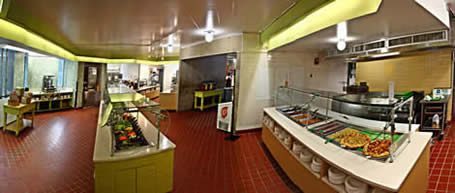 Act 1: The Preface
The Banana Slug String Band wrote a song called "Dirt Made My Lunch," and they're not wrong, all food does come from the Earth. But how does that food make its way to Erdman dining hall?
Since the entirety of the Bryn Mawr campus is not a garden, and all of the students don't spend their days planting, tending and harvesting crops, the food has to be brought to Erdman from outside the "Bryn Mawr Bubble."
Kevin Williams, the Unit Manager for Erdman explained that the majority of the food served at Erdman comes from the company US foods. US foods is a large foodservice distributor that operates across the country. Erdman sources from warehouses located in New Jersey, meaning that although it wasn't grown on Merion green, the food is less than an hour truck ride away. Because of the diversity of the menu at Erdman, US foods can't supply all of the food for Erdman. Bryn Mawr uses Sysco, another food provider, located in Pennsylvania, as a secondary source. The produce is provided by Four Seasons, another Pa. based provider.
In addition to the companies mentioned, Erdman also tries to source its food from local providers whenever possible. Williams says that it is tough to provide local food all the time on the east coast, "it's not like we can get lemons, cantaloupes and stuff like that," he says. Continue reading →