Bryn Mawr students have their own definition of what success means
By Sydney Espinosa
There was something strangely tense at Bryn Mawr College.
The campus was quiet and still underneath the winter-chilled midday sun, which shined lazily behind thin, feathery clouds.
The crunchy brown leaves rolled by like the tumbleweeds in a 1960's Spaghetti Western. A small group of students hurried into nearby dorms and libraries.
Outside, the campus was almost empty. Inside the dorm rooms, libraries, coffee shops, and computer labs were a hive of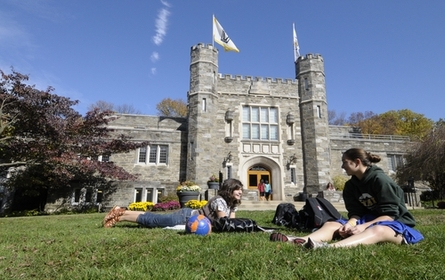 activity, buzzing furiously.
Students occupied every table in the Lusty Cup cafe, each of them in a different stage of stressed exhaustion.
Chargers for laptops, phones, and music players filled each outlet, jutting from the wall like roots, sprawling out into nearby Canaday Library.
It was finals week for the 1,300 women at this prestigious liberal arts college in suburban Philadelphia.
Why were they working so frantically? They wanted to do well in their finals. This last-minute push was their way of trying to succeed.
The dictionary defines success as "the favorable or prosperous termination of attempts or endeavors; the attainment of wealth, position, honors, or the like."
But, what exactly characterizes this elusive concept called "success," at least among Bryn Mawr women?
To find out, a survey was sent to Bryn Mawr students asking them to supply their definition of "success"—not only today, but in the future as well. With a response rate equal to eight percent of the student body, several clear trends emerged.
To begin with, the vast majority of respondents chose "High grades/GPA" as best describing success at Bryn Mawr. This ranked well above several other traits that were listed, such as "Volunteerism/Civic Engagement," "Involved in lots of clubs," "Scholarships/Fellowships," and "Lots of internships."
When asked to indicate what they wanted their future to hold, respondents said happiness was most important, then — in this order — social network/relationships, a career, romance/marriage, financial security, an advanced academic degree, making a lasting impact, and, finally, parenthood.
Reasons for attending Bryn Mawr centered on financial aid offered and the college's sense of community. Almost no one had changed their major, but many wished that they had. Plus, most thought that their Bryn Mawr experience had made an impact on their definition of "success," their academic interests, their post-graduation plans, and career path.
Interestingly, students described themselves as "goal-oriented," "hard-working," and "a leader," much more often than as "successful."
Why don't students feel that they are "Bryn Mawr College" successful?
It might be that there is a disconnect between definitions of personal success and what success at Bryn Mawr is perceived to be.
For 19-year-old History major Quinn Conlan, '15, from Annapolis, Md., academic achievement does not necessarily exemplify success for her personally, even though it may by the college's standards.
"Success is not how well I do [in class]," said Quinn, "but how much I get out of it."
Quinn exemplifies a viewpoint that the college administration has pushed on its students through various efforts such as offering free SEPTA tickets that can only be used for non-academic purposes. According to the administration, these "fun initiatives" were meant to encourage students to focus less often on grades.
Yet, as the survey showed, the old image of Bryn Mawr success is still there, and students can still get hung up on the academics.
"Academic pressure holds me back from changing my definition of success to a more holistic one," said Emma Mongoven, 20, a Classics major from St. Paul, Minn.
Still, Mongoven and many other students reported that their own personal definition of success had changed over time.
She described how her personal focus had moved away from her grades and more towards thinking about her satisfaction with life. Continue reading →