Flirting via texting on your cell has become de rigueur in college today
By Raffi Williams
Saturday night for college students is filled with dancing, drinking and flirting. Unlike the dancing and the drinking, the flirting continues after the night is over, as it has for decades. This generation of college students, however, has changed the game. No awkward pick up lines, no waiting for the girl to pick up the phone: this generation flirts by texting via their cell phones.
"The risk is less," said Haverford College senior Oleksa Gerlak. "I do not have to immediately have to say something I can take my time to write a response."
Gerlak who — by his own accounts — text flirts with at least one girl a week, is not alone is seeing the benefits of text flirting. Bryn Mawr junior Steph Schorsch agrees with Gerlak, "You are more in cont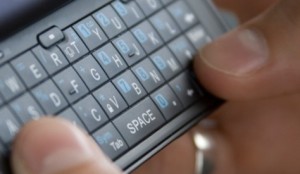 rol with text flirting."
Bryn Mawr College and Haverford College both have become more technologically advance institutions in recent decades. The students have also become more technologically savvy. One of the advantages to living in a technologically advanced society is the speed of communication. Cell phones give unprecedented access to people. Everyone is a button away, no matter where they physically are located.
Businessmen use this quick access to people to do business, parents use it to check in on children and college students use it to flirt.
Serious business
Gerlak predicts that for him about half the girls he flirt texts with he kisses or does more. This is not flirting just for fun, each word is carefully selected and meaning pored over. "I put more focus on the individual words of a [text flirt] message than I do most words in papers in write for class," said Haverford senior J.P. Cashiola.
Haverford senior Robert Breckinridge unabashedly admits to seeking out friends advice when text flirting. "When flirting with a girl over the phone or in person, you can't turn to your friend and ask how should I respond to that, but when texting you can."
Continue reading →