A day in the life of a man who delivers the U.S. Mail
By Aarionna Goodman
6635-37 Charles Street: Mayfair Garden Apartments
There was power at the end of his gold chain. As he swung it back and forth in his gloved palm, the keys jingled and clanged against each other, announcing their unordinary presence.
"Do not duplicate" they all read in tiny raised letters.
He had on Under Armour sneakers and the standard issued blue with navy striped pant; which was pressed and creased to perfection.
"The loss of feeling always starts with your fingers," he said in light of the cold day. "They no longer feel like your own, or like they're a part of your body."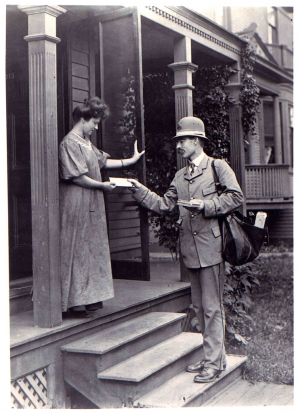 His hood was drawn around his neck and tied under his chin to block out the biting wind. On his back, under the official seal of the eagle read, "United States Postal Service" in capital white letters. On his shoulder, reaching the middle of his left side, sat his bag. Big, wonderful and endless. It held the lives of the people around him. Cable bills, PECO bills, acceptance letters, or credit card applications. All and more have seen the insides of this blue canvas bag.
His possession of both the keys and the bag, however, was not unique.
Many other Mail Carriers swung their chains and wore their bags over their shoulders. There is, however, only one Aaron Goodman; and this route is his route.
Goodman, 43, husband, and father of three, has been with the Postal Service for almost 16 years. During those years, Goodman has carried for three different stations; this station marks his third route which he has been with for three years.
Northeast Philadelphia was colorful under the afternoon Fall sky. Trees were almost bare with the steady tones of red and brown hanging onto their branches. With the snow the day before turning to slush underfoot, the world looked muted and wet. The colors seemed pale without the shining of the sun. The cold breeze that brushed against the skin bit in small bites. Continue reading →