Haverford's soccer team comes back from a bad year
By Alexander Clark
For the Haverford men's soccer team, 2017 was a year to forget.
Starting the year in all of the national rankings, the team started 6-1-1, accentuated by a 2-1 win over eventual national champion Messiah College. After the strong start, Haverford finished the rest of it's their games a combined 4-4-2.
A 10-5-3 record with an appearance in the conference tournament is nothing to scoff at. For the Haverford standard, though, it simply wasn't good enough. A 5-0 thrashing by Dickinson in the first round of the conference tournament ended the Fords' season of bitter disappointment.
As those who follow Division III soccer know, keeping up dominance for years on end it an extremely challenging task. After two straight Centennial Conference championships and an appearance in the NCAA Elite 8 the previous two years, those within the program knew that the 2018 season would be a defining year for the Fords.
Losing three all-conference performers and the entire coaching staff from the 2017 squad, the spring and summer would prove to be vital if Haverford were to restore its place as one of the premier teams within the region.
Safe to say, Haverford soccer is back.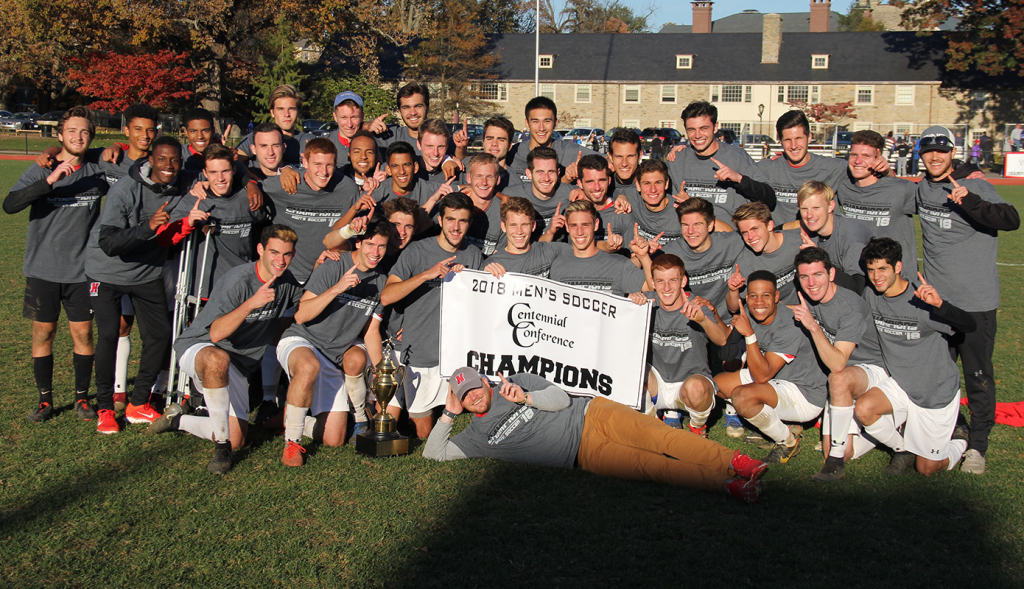 Led by the 10 seniors in the class of 2019, Haverford soccer reestablished itself as the team to beat in the Centennial. Picked fifth in the preseason conference poll, the Fords' revenge tour resulted in a 14-4-1 record, highlighted by another Centennial Conference championship, the seniors' third in four years.
After a 2-0 start to the year under new head coach Zach Ward, the Fords ran into a rough patch. Losing four of their next five, with two of those games being against nationally ranked opponents, Haverford had run into an early stumbling block. The season had reached its turning point, for a slow start sometimes can doom a team, keeping them out of the at-large bid discussion when it is time to select teams for the NCAA tournament.
The seniors, through their experience and leadership, had the roster regroup and refocused heading into the bulk of the conference schedule. Sitting at 3-4, the Fords ripped off 11 straight wins, including an undefeated October, en route to the Centennial Conference championship.
Haverford's year of redemption was brought on by uncharacteristic losses during the 2017 season. A 2-0 loss to Johns Hopkins, a 4-1 defeat at the hands of Gettysburg, and two losses, 3-2 and 5-0, to Dickinson had left Haverford out of the national conversation.
This year? The Fords went undefeated in matches against those teams. A 1-0 win against Johns Hopkins opened the conference slate, while 2-0 wins against both Gettysburg and Dickinson helped the Fords to win the regular season title, giving them the right to host the conference tournament. Continue reading →