Young Jews find new ways to celebrate old traditions
By Sasha Rogelberg 
In Judaism, welcoming strangers into one's home is considered a commandment and virtue.  For Shosh Lovett-Graff and Rel Bogom-Shanon, two Jewish food justice activists, it means an opportunity to create the Jewish community they have yet to find as recent college graduates living in Philadelphia.
On a Friday night in early December, the intersection of Shabbat, the Jewish day of rest, and the fifth night of Hanukkah, the Jewish festival of lights, Lovett-Graff and Bogom-Shanon decide to host a "Shabbanukkah" dinner. Each would invite a few people over who did not already know each other. Everyone would bring something over and break bread together.
Bogom-Shanon expected guests to arrive at "around seven," which really, to her, meant before 8:00 p.m.  Over the course of an hour, about seven people file into her kitchen. They drop off the side dishes they brought onto the wooden island and pour themselves a mug of cider warmed in a Crock Pot that has seen better days.  Most pour a glug of brown liquor into their mugs too.  It's cold and rainy out, after all.
Bogom-Shanon is trying her best to make small talk, but mostly she's incessantly checking her small challah in the oven.
"About an hour ago, I realized it's Shabbat and we don't have a challah, so I just decided to make one!" she explains.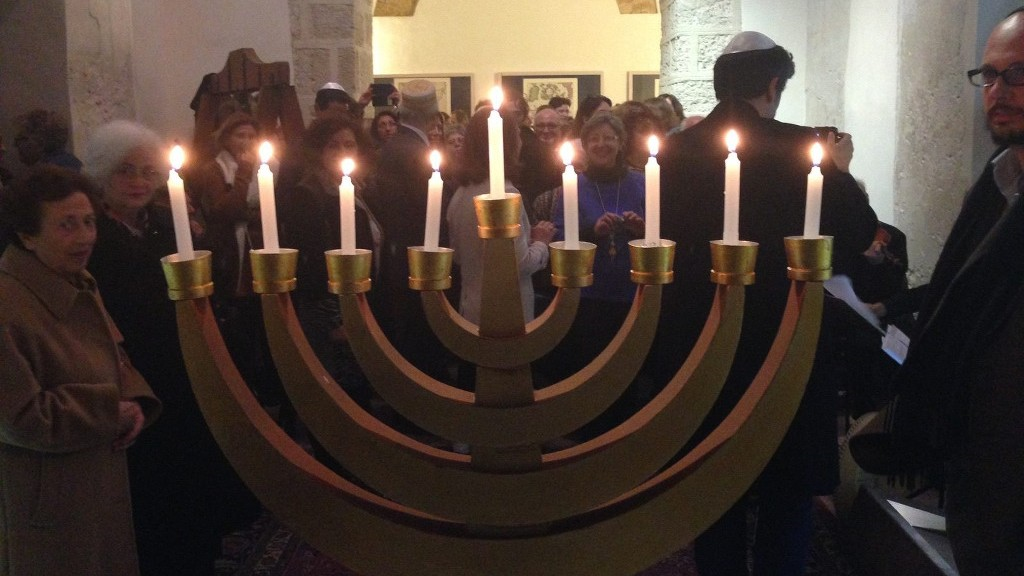 She just started watching The Great British Bake-Off, a British baking competition that has gained popularity in the United States, thanks to Netflix, and feels inspired.  Despite her admiration of the show, Bogom-Shanon knows her challah needs some help.  It didn't have enough time to proof, for the yeast to absorb the sugars and expand the bread into the fluffy and eggy loaf she is familiar with.  She keeps opening the oven door, then closing it, then opening it again.  The challah looks the same every time she checks on it: a small braided log, pale, with a crack running right through it.
Scraps of fried beet, potato, and sweet potato are piled on top of the stove above the oven.  It's the latke graveyard, the remnants of the fried pancakes cooling on a tray on the kitchen island.  Bogom-Shanon picks at the crispy fried bits every time she checks the bread.
Meanwhile, Lovett-Graff is coolly leaning against the counter by the cider and booze. She's trying to facilitate conversation, insisting everyone goes around and introduces each other.  It seems likes she's the only person in the room who knows everyone else. Continue reading →