On second thought, it can wait 'til later
By Phuong Nguyen
 "Procrastination is like a credit card. It's a lot of fun until you get the bill."
— Christopher Parker
It was 12 a.m. on a cold December night. In a small dark room in the basement of Bryn Mawr College's Erdman dormitory and Tran has been staring at the blank Word Document for two hours.
Her heart was beating fast. Her greasy 3rd-day hair was tied up in a messy potato-like bun. Clothes and papers were scattered over the floor. Banana peels and a dining hall take-out box with half of the pizza left sat sadly in the corner of the room.
After spending the whole week finishing season one of Gossip Girl on Netflix, sending tons of snapchats, texting endlessly with her friends about the fact that she was not doing anything, scrolling over and over and remembering every new story on all social media pages, Linh Tran '17 finally ran out of ways to procrastinate and found herself stuck, panicking and mentally dying over the five-page paper that was due in nine hours.
The majority of college students would share the "been there, done that" sympathy with Tran's situation.
Procrastinating 101
According to a research, procrastination has more than quadrupled in the last 30 years while another suggests that 85-95% of students have problems associated with procrastination.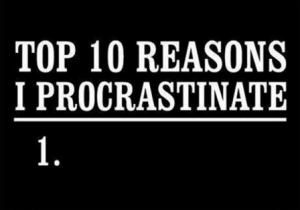 "I think everybody procrastinates, just at different levels and procrastination is actually very contagious," said Stephanie Cao, a Bryn Mawr sophomore. "When my friend sitting next to me chooses to go on Yik Yak over writing her paper, I can continue watching makeup tutorials on YouTube instead of studying without feeling guilty."
Adds Mai Hoang, a freshman:"I procrastinate so much that now I accept that procrastinating is a part of the process. When I plan for doing an assignment, I set aside a few hours for doing nothing before I actually get down to it."
Walking around the library at night in finals week, it's not hard to spot the Facebook logo on some computer screens, catch some people glued to their phones or see a group of procrastinators with tired faces complaining about work instead of doing work in a corner.
If procrastination is a subject, most college students should all get A for their unlimited creativity for ideas how to delay doing work.
Yinlu Gong, a sophomore, was very excited to talk about her most favorite distractor of all time – Hay Day game on her iPhone.
"I always started promising myself I will just log in for five minutes and harvest what I planted the previous day," she confessed. "But most of the time I ended up spending hours working on how many more cows and vegetables I need in order to earn the most money as a farmer, instead of doing my microeconomics problem set on profit maximization."
Some other nominees for the best procrastinating idea award include: "practicing my autograph believing I'll need it when I'm famous", "stalking Facebook of my primary-school friends to see who gained weight", "scrolling through 50 pages of Forever 21 new arrivals and adding tons to shopping cart but never actually buying anything", "going through every single picture in the camera roll and feeling nostalgic about the time when I don't have a deadline", etc.
Procrastination's consequences, however, are not fun at all.
Freshman Mai Hoang admitted "I become anxious so badly when the deadline comes closer and that decreases the quality of my work a lot. I really want to cure my procrastinating habit, but I don't know how."
A recent research with a sample size of 374 undergraduates found that students who put things off were more likely to eat poorly, sleep less and drink more than students who do things promptly.
Out of 2,700 responses to the question "To what extent is procrastination having a negative impact on your happiness" in an online survey by The Procrastination Research Group, 46% said "very much" or "quite a bit", while 18% chose "extreme negative effect."
The World of Procrastinators Continue reading →