Students admit to mixed feelings about how grades are handled 
By Chloé Bellamio 
As the second week of December comes to a close, the students of Bryn Mawr College and Haverford College seem to get busier by the minute. Holed up in the libraries or in their dorm rooms, they are hunched over heavy textbooks and squinting at their computer screens, learning various formulas and writing multiple papers.
Finals week is upon the 2,500 students of Bryn Mawr and Haverford, dragging along its fair share of stress and worry.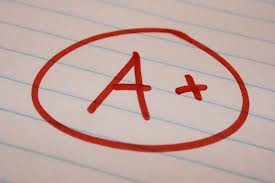 It would be natural to assume that grades, and their anticipation, play a large role in this stress and worry, even though both colleges they do not emphasize grades and discourage their students against discussing them too much.  This is done in the name of creating a less stressful learning environment.
To test this theory, we conducted dozens of interviews with Bryn Mawr and Haverford students and also conducted an email survey of all students with the goal of getting a clear picture on what students' think about the present system.
We got replies to the survey from 118 Bryn Mawr students and 332 Haverford students. This sample, representing about 10% of Bryn Mawr's enrollment and 25% of Haverford's, offers a good notion of the students' thoughts on grades.
Here are our major findings:
Most Bryn Mawr and Haverford students do not think there is too much emphasis on grades and too much open competition over grades, but they think the competition is mostly internally driven.
If most Bryn Mawr and Haverford students come from competitive high schools, their high school experience mostly did not influence their choice to attend Bryn Mawr of Haverford. When it did, it was more because their high school encouraged them to look at top-level colleges than to escape grade competition.
While most students agree with the emphasis the colleges put on grades, for some students, the lack of insistence on grades make it more difficult to know where they stand academically compared to others.
Students from both colleges strongly dislike the fact that the 4.0 scale does not allow for an intermediate grade between 3.3 and 3.7, and want a 3.5 inserted.
While students have a lot of thoughts about the systems in place at Bryn Mawr and Haverford, they are not inclined to make many changes, if any.
The emphasis of both colleges on grades appears to be at the heart of the students' perspectives on grades.
When asked to quantify the emphasis of their colleges about grades, 68% of Bryn Mawr respondents indicated it is "about right," against 27% arguing there is too much emphasis on grades and 11% too little.
The results for Haverford indicate a slightly different view: 59% of the respondents believe grades are talked about enough, whereas 41% wish grades were more discussed.
Internal pressure
For Meredith Scheiring, a Bryn Mawr College junior, the perceived emphasis on grades depends on the individual.
"If grades are something that is important to you, you'll see it influences more, she said."I think there is a lot of pressure to do well, but I don't think it equates to grades. I really don't see people comparing numbers or letters per say… There is a level of competition and high expectation […] but I don't see it specifically with grades."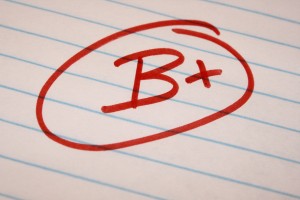 Bryn Mawr College senior Amy Callahan agrees that the emphasis put on grades by the college instills more of an
"internal competition" rather than setting up people to be "super-competitive with one another." She added that it "creates a really intense energy, so [students] almost don't need to be competing against other people".