How one family went from brewing 5 gallons to 220 gallons of beer
By Ryan Gooding
Micro-breweries often conjure up a certain mental image: dimly lit, barrels disguised as tables, un-recognizable indie music wafting down from the house speakers – an almost hipster aesthetic.
The Crooked Eye Brewery defies those stereotypes.
Set back off of the main drag in Hatboro, Pennsylvania, the Crooked Eye sits quietly tucked adjacent to Silvio's Deli and behind the Davidian Tattoo Studio.
Above the un-marked, windowless door — that looks more like a back-door than a main entrance, sits a sign: "Crooked Eye Brewery: For What Ales You".
The brewery is not imposing, nor is it flashy.
Pulling the door open reveals, a large, fluorescently lit, almost colorless space.  Along the wall opposite the entrance, is the bar itself – completely normal save for its bare plywood side walls and white cinderblock backsplash.
"It's brand new," says co-owner Paul Hogan, gesturing towards the bar, "we just expanded it a couple weeks ago . . . big improvement over what it used to be."
Hogan stretches out his arms, as if to demonstrate the size of the previous bar.
"Couldn't have been much more than six or eight feet long," he clarifies.  "Only sat three."
Now, the L-shaped bar runs for nearly 20 feet and seats 13.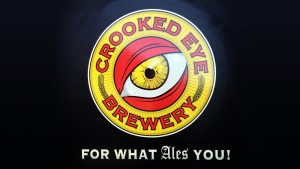 Across from the bar are four stainless steel tables – the kind of tables that might easily be confused with workbenches – and dozens more matching stools.
A garage door immediately to the left of the entrance serves not only as the bar's only window during the winter time, but also as a makeshift outdoor bar in the summer months.
The floors are concrete, and dotted with industrial, floor-level drains.  The walls are unpainted, and almost completely devoid of hanging accoutrement.
"We're going on our third year in the space," Hogan said one recent Wednesday evening, during a visit to Crooked Eye, "and it's never not been a work in progress."
I'm not surprised.  Save for the bar itself, you might easily mistake the place as a workshop.
But, you wouldn't be entirely wrong.